Winter storm to bring snow, icy mix, flooding concerns for up to 200 million Americans
A developing storm system is forecast to bring major impacts across two-thirds of the country heading into the middle of the week, bringing the threat of heavy snow and ice from the Midwest to the Northeast in addition to flooding in parts of the South.
The National Weather Service said Tuesday that a swath of heavy snow is expected from Oklahoma into the Midwest, Ohio Valley, mid-Atlantic, and the Northeast from Tuesday through Wednesday.
Parts of the mid-Atlantic and Northeast could get several inches of snow, including Washington, D.C., which may "easily" see 2 to 4 inches, according to Fox News' Senior Meteorologist Janice Dean.
"We all know what happens to D.C. when they get measurable snow, that things shut down quickly," Dean said Tuesday on "FOX & Friends."
DRAMATIC 47-CAR PILE UP IN MISSOURI LEAVES AT LEAST ONE DEAD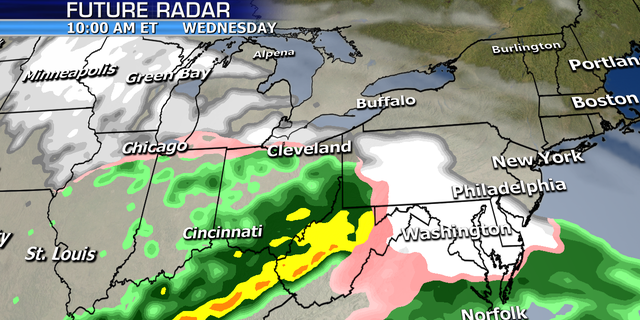 Several inches of snow are likely before changing to sleet and freezing rain, mainly along and west of Interstate 95, the NWS said. The storm is bringing the threat of "significant icing" for some inland valley locations.
The winter storm will also bring moderate to "locally heavy" snow to the the Great Plains and Midwest, with winter storm warnings being posted for parts of Iowa and Minnesota stretching east through the Chicago area.
About 200 million Americans will be impacted by the storm, according to AccuWeather.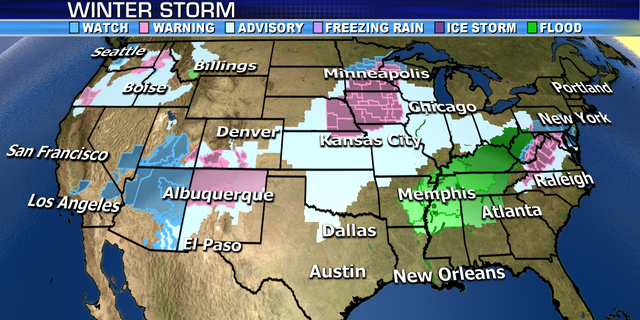 Delta Airlines said that due to the anticipated impact of winter weather for the Northeast, the airline has issued a travel waiver for Wednesday.
Frozen precipitation is now the only threat due to the storm, as heavy rain is also expected to fall across parts of the South due to the storm being energized by moisture from the Gulf of Mexico.
"Areas from Louisiana to Kentucky could get 2-5 inches of rain with isolated strong storms," Dean said.
COLORADO AVALANCHE KILLS 2 BACKCOUNTRY SKIERS IN AREA KNOWN AS 'DEATH PASS'
The NWS warned that there could be a "corridor of copious rainfall" that develops and lasts through Thursday morning.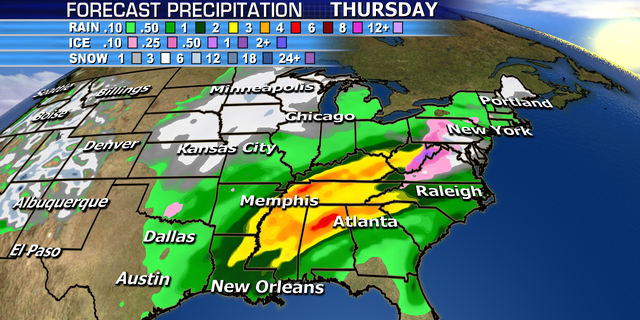 "With much of this falling on already moist ground from the rainfall this past weekend, flooding will be a concern and a moderate risk of excessive rainfall exists over parts of that region," the NWS' Weather Prediction Center said.
CLICK HERE FOR THE FOX NEWS APP
Just as the storm system moves out on Thursday, another round of wintry weather will move into parts of the Rockies and Cascades. Cold air is expected to remain across much of the U.S. over the next few days, according to Dean.