Veterans organization helping war heroes forge special bonds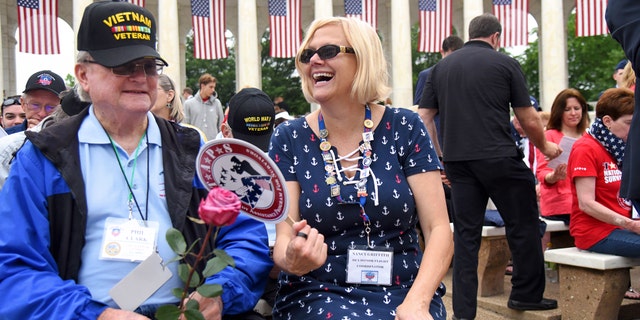 WASHINGTON – She's a millennial and he's an 84-year old Korean War veteran. Despite their age difference, Molly Tims and Ace Hessler share a unique and special bond.
It began at Reagan National Airport a couple years ago thanks to the Honor Flight Network, a nonprofit that takes the country's senior most veterans to Washington, D.C. to visit the memorials built in their honor. Hessler got a last-minute ticket when a World War II veteran canceled. Tims was assigned to be his chaperone.
The organization was first created in 2005 to honor veterans for their service by giving them an all-expense paid trip of a lifetime. Priority is given to World War II veterans followed by Korean and Vietnam vets.
MICHIGAN GIRL RAISES FUNDS FOR VETERANS USING LEMONADE STAND
With an entourage of help, Tims showed Hessler around Washington that fall day. He spent decades trying to forget the war. But she got him talking and somewhere along the National Mall a friendship was born.
"I thought I'd walk around and see a few monuments and come back home," said Hessler, a retired U.S. Army infantry officer from Michigan. "I had no clue I'd meet this gracious young lady and that we'd become such great friends. It was serendipity."
They exchanged contact information and before saying goodbye they promised to meet again in Michigan, half way between Kalamazoo and Detroit, her hometown. They have met for lunch several times since.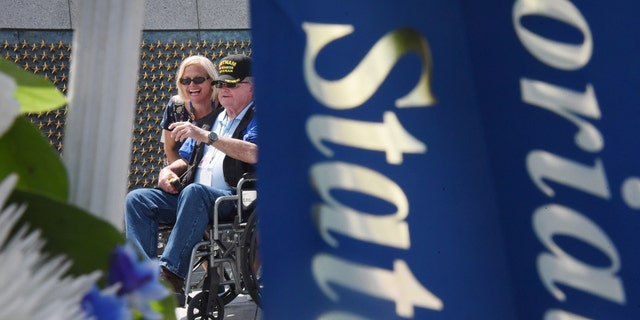 Both are history buffs and classical music fans. They email most weeks, talk religion and give each other book recommendations – kindred spirits of sorts, they say.
DYING ARMY VETERAN ASKS FOR PHONE CALLS, TEXT MESSAGES
"You expect to enjoy hearing their history, but what you don't expect is to feel connected," Tims said. "That's the thing about honor flights: It's an unexpected blessing."
They are not alone. Many honor flight volunteers – known as guardians – stay in touch with the veterans they meet during their daytrips.
Those relationships represent the heart of the organization, Tims said. For the veteran, the day is therapeutic. For the volunteer, the experience is rewarding.
"They've suffered a lot in their heads. When they come here, they get to talk about things they think young people don't care about," she said. "It makes people open up in a way they never have."
For years, many of these veterans have remained silent about the memories that haunt them still, even with their closest family and friends. But those emotions resurface at the memorials. The guardians are there to listen and friendships are made.
Hessler is grateful Tims was interested in hearing his story and recently said meeting her left a lasting impact.
"That's the commonality between all the volunteers," Tims said. "They genuinely care."
Thirty veterans visited the nation's capital in 2006 during Honor Flight's first year, said Lauren Spranger, a Washington Honor Flight volunteer coordinator. Last year, 21,000 veterans took part in the honor flight program.
What started with six flights on small planes from Ohio, has turned into a national movement, said Allen Bergeron, Chairman of Honor Flight Austin. Today, the free trips for veterans are funded and organized by separate hubs in 45 states across the country.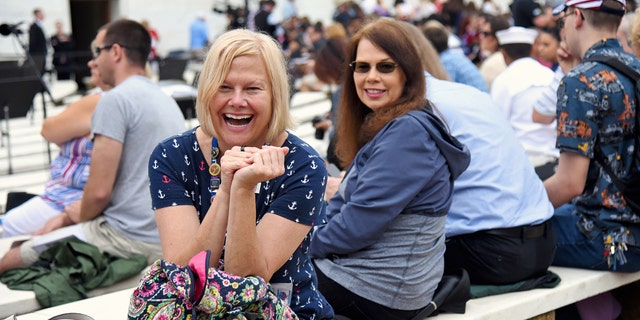 According to the Department of Veterans Affairs, about 696,000 of the 16 million Americans who served in WWII were alive in 2016 and about 400 die each day.
"The rush is to get as many veterans to see the memorials. We want to let our most senior veterans know that we have not forgotten about them" Bergeron said. "They are living history."
Longtime volunteer Nancy Griffith knows firsthand they don't have the luxury of time. Her father – a WWII veteran – suffered a massive heart attack on Sept. 11, 2001 and died before he could see the memorial built for him.
Volunteering is her way of honoring her dad. She has been a guardian dozens of times and while most of the veterans she meets become friends, others become family, she said.
Lang Spicer is one of them. He's a 93-year-old WWII veteran who served as a mechanic in the Navy during the war. Griffith and Spicer met in Washington four years ago.
"No one will ever replace my dad," she said. "But knowing Lang has helped heal some of the gaping hole in my heart,"
They email and talk on the phone weekly and when Spicer was diagnosed with cancer, Griffith scheduled an appointment for him with the best doctor in town. When his wife, Shirley, turned 90 years old, she planned a big birthday surprise bash to celebrate.
"We bonded in a special way," Griffith said. "He is one of the sweetest souls I have ever met."
Griffith continues to volunteer as often as possible, most recently on Memorial Day when 25 Purple Heart veterans traveled to Washington from Austin. Vietnam Veteran Phil Clark was among them and Griffith was his guardian.
He was quiet and reserved at first, but once they arrived at the Vietnam memorial, Clark described his experiences serving as a medic for two tours in Vietnam. In his mind, he could still see the faces of all the soldiers he could not save.
By the end of the day, they laughed as though they had known each other for years. She had made another friend. After touring the city, with police escorts clearing the way, the veterans' bus headed back to Reagan for their trip back home. They promised to be in touch soon.
"You become friends so quickly," she said. "It's so beautiful and so special."
As for Tims and Hessler, they plan on meeting again in August – this time with her boyfriend in tow. Hessler sees wedding bells in her future, but he wants to meet the new beau before giving his stamp of approval, he said.
"I feel really fortunate, I really do. I was lucky she was there to greet me that day," Hessler said. As for the wedding? "I will be there. I wouldn't miss it for the world."