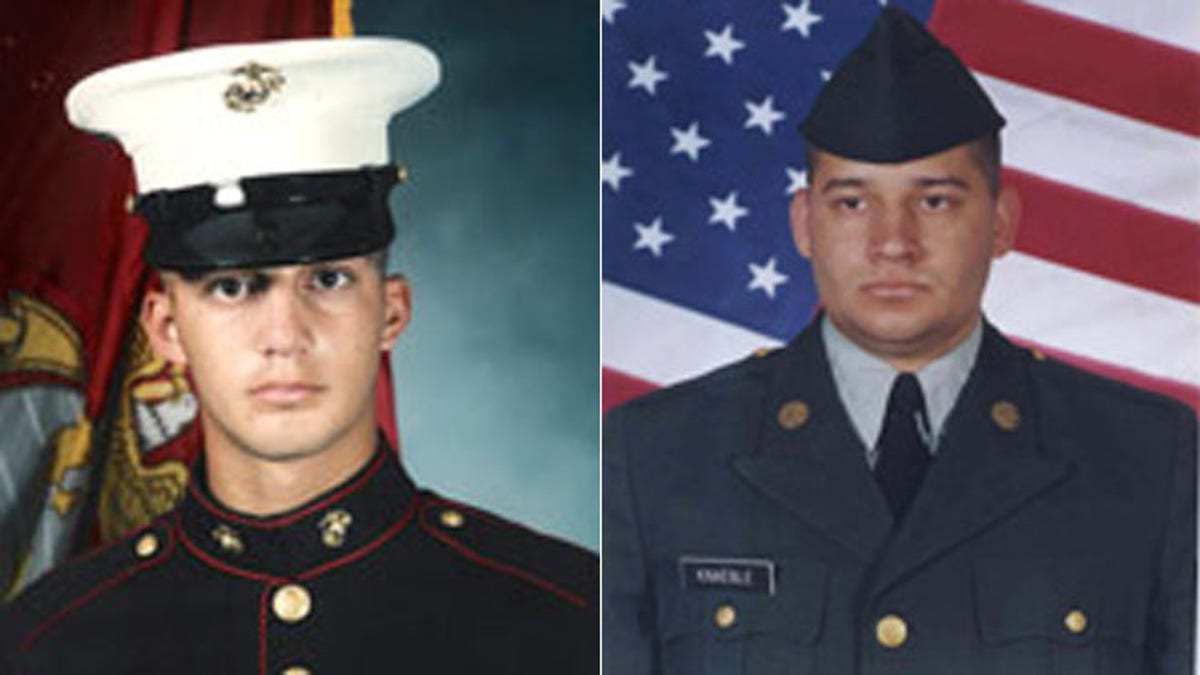 The military happily gave Raymond Earl Knaeble IV plane rides when he was serving in the Army, but now that he's a civilian — who converted to Islam — he finds himself on the U.S. government's no-fly list.
Knaeble is one of 13 people, including four veterans, who are suing the government, claiming their inclusion on the list deprives them of due process rights. A federal judge has rejected Justice Department claims that not being able to fly is no bar to travel by other means, but government attorneys are now balking at divulging how they form the list and how those on it can challenge the evidence behind their no-fly status. Knaeble's father said his son's life has been turned upside-down.
"It's affected him immensely," the elder Knaeble told FoxNews.com during a phone interview from Texas. "He can't travel unless it's by car or by foot. And he has the FBI following his every move, 24/7. They've pulled him over on the interstate, just harassing him. It's affected him immensely."
[pullquote]
In early 2010, Knaeble learned he was on the list when he tried to fly home after getting married in Colombia. He was barred from boarding, and left to make his way home largely by bus. Such ordeals are common, say the plaintiffs, who also include veterans from the Marines, Army and Air Force. They claim being grounded by the federal government has left them unable to travel with their families, attend school and conduct business trips. The American Civil Liberties Union, which is representing them, says the process by the FBI's Terrorist Screening Center — which creates and controls the list — is unconstitutional because citizens on the list have no ready means of learning what evidence landed them there, much less confronting it.
The Associated Press reported in 2012 that the federal no-fly list had "more than doubled in the past year" and had grown to about 21,000 people, including some 500 Americans. All 13 Americans in the pending lawsuit were barred from boarding domestic flights or planes leaving or bound for the U.S. between June 2009 and November 2012.
Knaeble could not be reached for comment, but his father, a devout Christian who admits their relationship is strained, said his son has been continually harassed by federal authorities following his conversion in 2009. The younger Knaeble, who served in the Army from 1999 to 2003 before getting an honorable discharge, began working in 2008 for a private contractor in Kuwait, where he later converted to Islam. Although he's a member of an anti-war group, Knaeble's father insists his son is a loyal American.
In a 2010 blogpost, Knaeble said he fully cooperated with authorities, providing his cellphone's SIM card and details of all contacts he knew in the Middle East. He claims he was "interrogated day in and day out by the FBI" despite not being informed why he could not fly home.
"I believed it was because of my new faith that the FBI forced me into exile earlier this year," Knaeble wrote in late 2010. "In March, I tried to fly home to the United States from Colombia, where I was recently married. I was not allowed to board the plane. Airline representatives told me to go to the U.S. Embassy, and when I got there a government official took my passport. No one told me why I couldn't fly home."
In August, U.S. District Judge Anna Brown, sitting in Portland, Ore., rejected the government's assertions that people on the no-fly list can travel by other means and that being on the list does not deprive them of personal liberties. Brown ordered federal attorneys to explain how American citizens who wind up on the list and don't know why can get answers and maintain their right to due process.
On Monday, lawyers representing the government asserted that a person's right to a hearing concerning his or her no-fly list status is limited, given the national security issues. They cautioned Brown not to "take over the policymaking" by writing new rules if she decides that the system is unfair.
The government, meanwhile, has neither confirmed nor denied that the plaintiffs are on the list. Government attorney Amy Powell said the plaintiffs were merely denied boarding and don't know specifically that they were included on the no-fly list, which determines who is barred from flying into or out of U.S. airports. The list is also shared with ship captains and 22 other countries, and the FBI has said the list requires secrecy to protect sensitive investigations and to avoid giving terrorists clues for avoiding detection.
Under the current system, would-be travelers barred from a flight can fill out an online form with the Department of Homeland Security, which then makes a decision on the traveler's status. Those unhappy with the result can get a judicial review, but not a hearing where evidence would be presented. The procedure, according to the Justice Department, strikes an appropriate balance by providing a review without requiring the release of classified information.
ACLU attorney Hina Shamsi said that system doesn't allow American citizens to confront the evidence against them.
"When the government deprives people of those rights, it must provide them notice and a meaningful opportunity to clear their names," ACLU attorney Hina Shamsi told FoxNews.com in a statement. "The government refuses to provide even those fundamentals of due process to our clients on the No Fly List."
A better system, Shamsi said, would allow for people to challenge the unclassified portions of the information used to put them on the list, or to have their attorneys given security clearances to review classified material.
Another plaintiff in the case, Abe Mashal, said he learned he was on the list while trying to fly from Chicago to Washington state. The Marine veteran said he missed several life events due to his inclusion, including weddings, funerals and graduations, as well as lost business.
The lawsuit filed in 2010 moved between district and appellate courts before a decision last summer by the 9th U.S. Circuit Court of Appeals put the lawsuit back under Brown's jurisdiction. Brown did not give an estimate for when her decision would be released.
Knaeble, meanwhile, is now back living in the Chicago area, according to his father. He ultimately flew to Panama from Colombia, then traveled by bus through Costa Rica, Nicaragua, Honduras, El Salvador, Guatemala and Mexico.
"I am a veteran of the U.S. armed forces and I have no criminal record. I am no threat to national security and have been charged with no crime," Knaeble IV wrote in 2010. "The FBI put me on a list that turned my life upside-down and there is no process in place to make them tell me why, or let me respond to any accusations they may have against me."
Much like current challenges to government surveillance programs, how district courts rule in cases like these is the beginning of the story rather than the end, said Stephen Vladeck, a professor of law at American University's Washington College of Law.
"Whether courts can meaningfully review the procedures by which individuals end up on lists like the No Fly List is a question that will eventually be answered by the courts of appeals — and perhaps even the Supreme Court," Vladeck wrote to FoxNews.com. "And there are a whole lot of reasons to think that courts will be reluctant to answer that question categorically in the negative."
The Associated Press contributed to this report.