US aiding intervention efforts in Mali but clear about what its involvement won't entail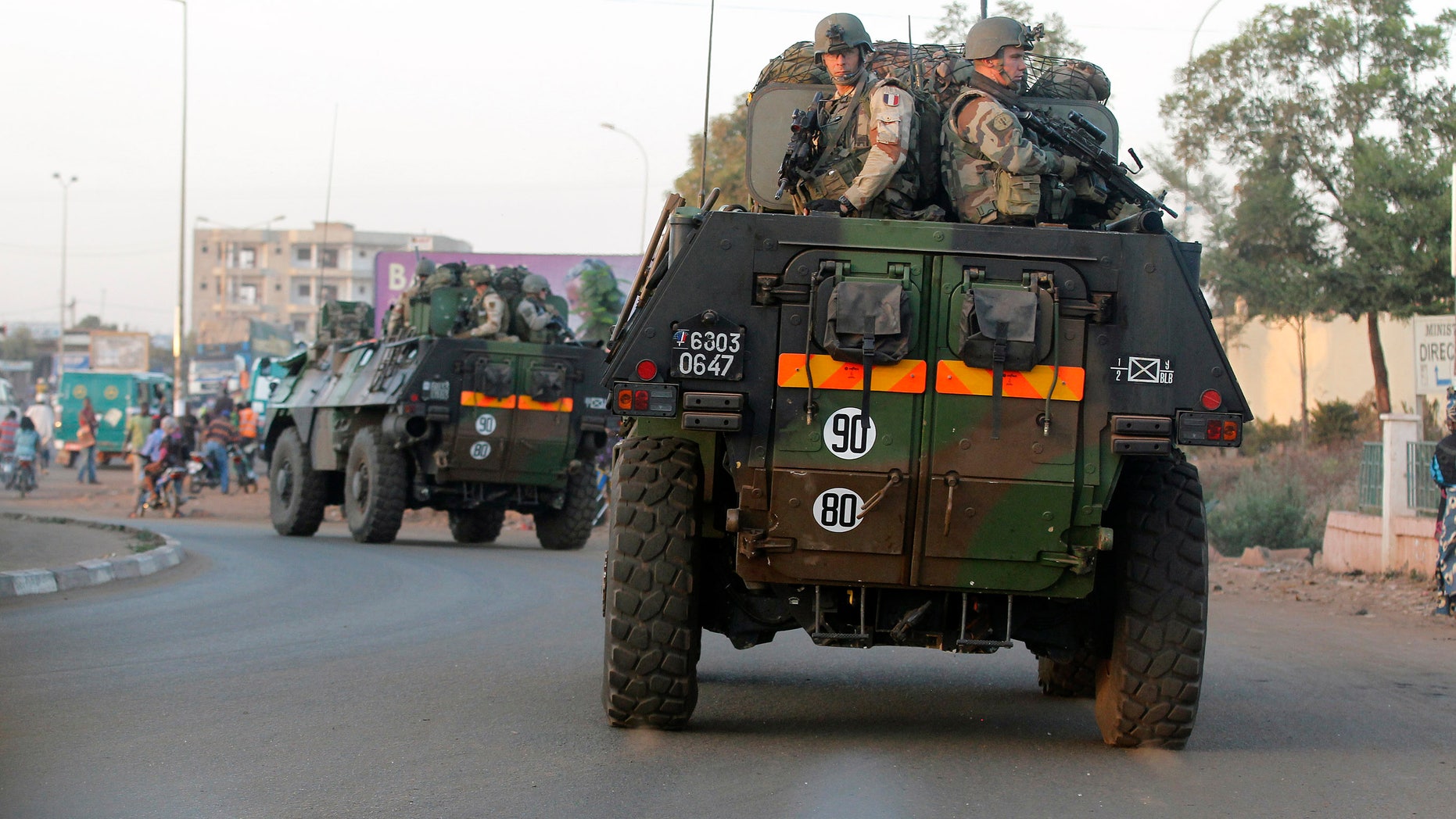 WASHINGTON – The Obama administration has declared it cannot accept new terrorist sanctuaries in Mali or anywhere else and has promised to support French and African efforts to restore security. Yet after almost a year of disorder in the West African nation, Washington is still keeping the conflict at arm's length.
France has been engaged in a weeklong fight to eradicate Islamist extremists in northern Mali. But the U.S. ambivalence reflects several factors, foremost the U.S. government's desire to avoid being dragged into yet another war in a desolate, impoverished Islamic country. It also doesn't want to shoulder the financial burden of a potentially lengthy fight against extremists, and distrusts a Malian government dominated by military officials who've chased out a president and a prime minister over the last 10 months.
That leaves the United States hoping France can get the job done. American officials say they are providing intelligence to its European ally and are considering deploying American aircraft to land in Mali for airlift or logistical support. The U.S. is offering possible surveillance drones, too, but won't entertain notions of sending American troops to keep terrorists from carving out a safe haven like they did in Afghanistan before the Sept. 11, 2001, attacks.
"We have a responsibility to make sure that al-Qaida does not establish a base of operations," Defense Secretary Leon Panetta said this week. The U.S. must pursue the terrorist network "wherever they are," he said, including Pakistan, Yemen, Somalia and North Africa.
But Washington is taking different approaches in different parts of the world. It has maintained a frustrating but durable alliance with Pakistan against terrorists and insurgents hiding along the Pakistani-Afghan border. In Yemen, it has successfully taken out a series of high-ranking al-Qaida in the Arabian Peninsula leaders and pushed through a political transition. In Somalia, the U.S. has footed the bill for Ethiopian efforts to root out al-Shabab, another al-Qaida-linked group.
In all three places, the United States has used unmanned drones to fire on adversaries.
In Mali, however, the U.S. has held back on drone strikes against members of al-Qaida in the Islamic Maghreb, or AQIM, the regional offshoot of the terrorist organization created by Osama bin Laden. And it has cut most ties with Mali's government — a caretaker body still being influenced by the military's Capt. Amadou Sanogo, who ousted the country's democratically elected president in March and helped kick out its interim prime minister last month.
The coup creates complex legal questions for the administration.
By law, the U.S. cannot provide any military assistance to Mali's regime until democracy is re-established. That means it must work indirectly through its French and African partners to help fight extremists in the country, making it difficult to sort out what the U.S. can provide, for whose benefit and under what conditions.
The U.S. decision to provide assistance to France comes several days after receiving a direct request for aid from Mali's government, a senior administration official revealed Wednesday, speaking on condition of anonymity because he wasn't authorized to speak publicly on the matter. Previously, the State Department had said no such request was received.
The administration doesn't see any legal problems with transporting African troops into Mali, and legal issues related to U.S. assistance are still being worked out.
"One thing I've learned is, every time I turn around I face a group of lawyers," Panetta told reporters in Rome on Wednesday. "It's no different now. Lawyers basically have to review these issues to make sure that they feel comfortable that we have the legal basis for what we're being requested to do."
Still, he said the U.S. would have sufficient legal authority to help out because the enemy in Mali is al-Qaida.
"They are a threat to our country, they are a threat to the world," Panetta said.
Questions related to limited American involvement are important because Washington doesn't want to play a more direct role.
AQIM isn't seen as an imminent threat to U.S. national security, given its engagement in Mali's civil war and its primary focuses on kidnapping, drug smuggling and extortion in the region, said Jennifer Cooke, Africa director at the Center for Strategic and International Studies in Washington.
But by jumping into the fight, she said, the U.S. risks making Mali a magnet for would-be jihadis from across the region. That could lead to the emergence of the same assortment of international fighters who have challenged American and allied forces in places like Iraq and Afghanistan.
That leaves the French, whose troops pressed northward in Mali on Wednesday. Insurgents were gaining ground and pushing closer to Mali's capital, Bamako, in the last week and nearby African countries were still unable to work out a deal for a local intervention. France has 800 troops in Mali but plans to increase its force to 2,500. The offensive was to have been led by thousands of African troops pledged by Mali's neighbors, but they have yet to arrive, leaving France alone to lead the operation.
President Francois Hollande says France won't leave until Mali is safe.
The U.S. doesn't want to be pulled into a mission with such a difficult long-term goal. And, as State Department spokeswoman Victoria Nuland said, stabilizing Mali will require a government and a military that is strong enough to hold the territory and keep the peace after extremists are defeated. For that reason, the administration had long demanded progress toward the restoration of democracy before an intervention — a position it only recently tempered as Touareg rebels in the north and their Islamist extremist allies rapidly gained ground.
"We have tried to play a useful diplomatic role and we continue to do so," Johnnie Carson, the top diplomat for Africa, said Wednesday. But, given the immediate crisis, he added: "We support the French efforts in Mali. We believe that it is important that AQIM be defeated, that we give support to the region."
The U.S. also has spoken of helping the "immediate deployment" of an African-led mission that would work with the French, but that force has been repeatedly delayed by disputes over how many troops each country contributes and for how long, and who pays.
It is unclear, anyhow, how much can be expected of some 3,000 soldiers from Nigeria and other Western African nations against extremists who since April have seized an area of desert the size of France.
The early evidence suggests it will be tough going. French officials have indicated that the rebels are better armed than expected, aided by caches of weapons stolen from the abandoned arsenal of the Moammar Gadhafi, the Libyan leader killed by rebels in 2011, and Mali's army after it abandoned the north. And despite far superior air power to anything West African nations might muster, France's initial effort hasn't been conclusive.
"Anytime you confront an enemy that is dispersed and that is not located necessarily in one area makes it challenging," Panetta said Tuesday. Stopping the extremists "represents a difficult task," he said, "but it is a necessary task."
___
Associated Press writer Lolita C. Baldor in Rome contributed to this report.