UC-Berkeley braces for riots over conservative Ben Shapiro's speech on campus
NEWYou can now listen to Fox News articles!
The campus of the University of California, Berkeley, and the area around it, looks like it's bracing for a military siege.
Six buildings have been shut down and put off limits, large concrete blocks have been placed in roadways, police are enforcing a huge perimeter around one of the buildings and the school's administrative staff will leave two hours early.
It's all for Thursday evening's speech by conservative Ben Shapiro – or rather for the possibility left-wing activists may use violence and vandalism to stop the speech, something that they have done before.
Local police are working with the university's administration and have issued a long list of items protesters may not bring to the protest, including torches, bricks, knives and dynamite. The Berkeley City Council also authorized police to use pepper spray for the first time in nearly 20 years, a move denounced by Antifa group Refuse Fascism.
And for UC-Berkeley students who find Shapiro's mainstream conservative ideas upsetting, the school is offering "mental health counseling."
Authorities had good reason to brace for a virtual military siege. In February, black-clad Antifa protesters vandalized university buildings and started fires to prevent conservative provocateur Milo Yiannopoulos from giving a speech on campus. The violence managed to force the cancellation of his speech.
Then in August, anarchists stormed what had been a largely peaceful Berkeley protest against hate and attacked at least five people, including the leader of a politically conservative group who canceled an event a day earlier in San Francisco amid fears of violence.
The group of more than 100 hooded protesters, with shields emblazoned with the words "no hate" and waving a flag identifying themselves as anarchists, busted through police lines, avoiding security checks by officers to take away possible weapons. Then the anarchists assaulted Joey Gibson, the leader of the Patriot Prayer group, with pepper spray and forced the cancellation of a news conference when authorities closed off the public square Gibson planned to use.
Separately, groups of hooded, black-clad protesters attacked at least four other men in or near the park, kicking and punching them until the assaults were stopped by police.
Jonathan Chow, a senior from Florida and member of Berkeley College Republicans, said he will be listening to the speech online because of concerns about safety.
Chow was at the Yiannopoulos event that turned violent, and said he does not want to relive it.
"It's very risky, I don't want to go through that again, or go through the disappointment of him not being able to speak," said the history major. "I also don't want to be trapped in a building again."
The earlier left-wing protests, which appeared to be organized by Refuse Fascism, have been widely denounced by progressive leaders.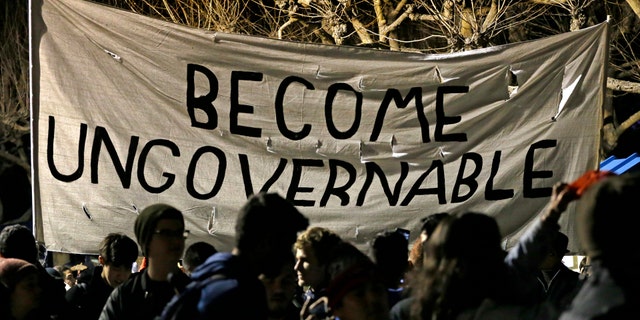 "We've never seen a situation like this," said UC-Berkeley's new chancellor, Carol Christ, according to the Los Angeles Times. "It's very unique. It's a very different political dynamic where free speech … at Berkeley has become the occasion for the right and left to confront each other."
"I believe very strongly in Ben Shapiro's right to speak on campus," Christ said. "I don't agree with Ben Shapiro, in fact I profoundly disagree with him. But I believe he was legitimately invited by a student group and that he has the right to speak. It's a really troubling situation."
A Los Angeles Times editorial criticized the school's decision to offer "mental health counseling" to students upset by having to hear conservative views. "Why did that bother us? It's certainly justifiable — even laudable — for UC Berkeley to offer counseling to students in distress whatever the cause."
"Still, there seemed to be a troubling implication that listening to views that offend you is hazardous to your mental health."
The school is also bracing for more left-wing violence and vandalism.
As part of the campus's "Free Speech Week" – a four-day event starting Sept. 24 and coordinated by the conservative organization The Berkeley Patriot -- other controversial conservatives are scheduled to speak at Berkeley, including Yiannopoulos, former White House strategist Stephen Bannon and commentator Ann Coulter.
The Associated Press contributed to this report.