Tsunami warning canceled for Alaska after massive earthquake strikes off coast
A large 7.9 magnitude earthquake struck off Alaska's Kodiak Island early Tuesday, prompting a tsunami warning for a large swath of coastal Alaska and Canada's British Columbia that was later downgraded to an advisory as possible destructive waves failed to materialize.
The U.S. Geological Survey said the quake was recorded about at 12:31 a.m. local time about 155 miles off of Chiniak, Alaska. The Pacific Tsunami Warning Center initially said "widespread hazardous tsunami waves were possible," but later said waves failed to show up in coastal communitites.
Buoy 46410,  located northeast of the quake's epicenter, recorded a "water displacement" of 32 feet, the National Weather Service said. The reported 32 foot wave, however, failed to materialize in coastal areas, which only saw between a one and three-foot rise.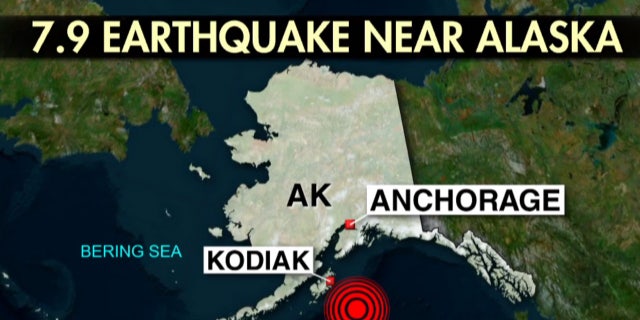 Caltech Professor Thomas Heaton said at an afternoon briefing that "mainly fish felt this earthquake."
"Since it was a strike slip earthquake it was primarily horizontal motion of the ocean-floor and very little chance of tsunami from this type of earthquake," Heaton said. "Of course when the earthquake first happened semiologists had to take some time to analyze the seismograms to analyze it was a strike-slip earthquake."
The initial concern from the size of the quake caused officials in coastal areas to order residents to evacuate and then wait for an "all clear" before returning to low-lying areas. The town of Kodiak has several shelters above the 100-foot mark, and police encouraged people below that level to evacuate.
The Alaska Earthquake Information Center said the quake was felt widely in several communities on the Kenai Peninsula and throughout southern Alaska, but categorized the shaking intensity as light with no reports of damage.
"This is a very large earthquake, and Alaska is no stranger to earthquakes or tsunamis," Fox News' Senior Meteorologist Janice Dean said on "FOX & friends." "They've had four of them in the past."
The Kodiak Police Department also posted a video to Facebook imploring residents to leave their homes and to head for higher ground.
"This is not a drill," Kodiak Police Sergeant Derek Beaver said in the video. "This is  an actual tsunami warning. Everyone please get at least 100 feet above sea level."
The PTWC originally included Hawaii and the U.S. West Coast in the tsunami watch, but later canceled it, saying "a tsunami was generated but does not pose a threat to these areas."
In San Francisco, emergency officials had warned residents who lived within three blocks of the Pacific Coast and five blocks of the San Francisco Bay should be prepared to evacuation if needed before giving the all clear.
In Kodiak, one resident told the Anchorage Daily News that hundreds of cars had driven up Pillar Mountain, the site of the town's utility-scale wind turbines, to escape the tsunami threat.
"Pretty much everyone in town went up Pillar Mountain," he said.
Keith Perkins got the phone alert and later heard sirens going off in his southeast Alaska hometown of Sitka. He said people on Facebook were talking about whether the threat was real and what they should do.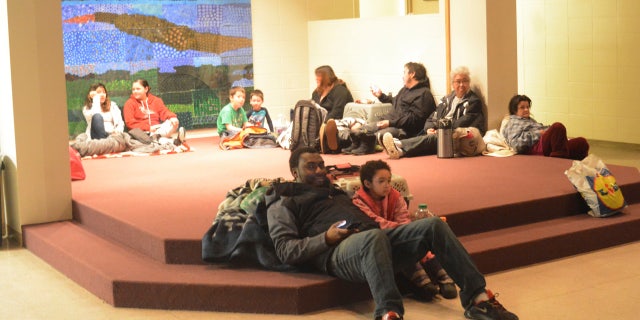 Given the magnitude of the earthquake, Perkins told the Associated Press he thought it best to head to the high school, a tsunami evacuation point, even though in the past he felt his home was at a "high-enough spot."
"I figured I'd probably just better play it safe," he said.
Larry LeDoux, superintendent of the Kodiak Island Borough School District, said schools were open as shelters and estimated there were about 500 people at the high school. He described the atmosphere inside as calm, with people waiting for updates.
Warnings from the National Weather Service sent to cellphones in Alaska warned: "Emergency Alert. Tsunami danger on the coast. Go to high ground or move inland."
Alaska Gov. Bill Walker said on his Twitter feed that he has been in contact with local officials and the state's adjutant general, and he urged residents to heed any warnings to move inland or to higher ground
Another person posted on Twitter how it was to evacuate his 80-year-old father off his boat in Kodiak.
In the popular cruise ship town of Seward, about 110 miles south of Anchorage, Fire Chief Eddie Athey said the quake felt like a gentle rattle that lasted for up to 90 seconds.
"It went on long enough that you start thinking to yourself, 'Boy, I hope this stops soon because it's just getting worse,'" Athey said.
The Associated Press contributed to this report.