The Latest: Arizona wildfire more than 40 percent contained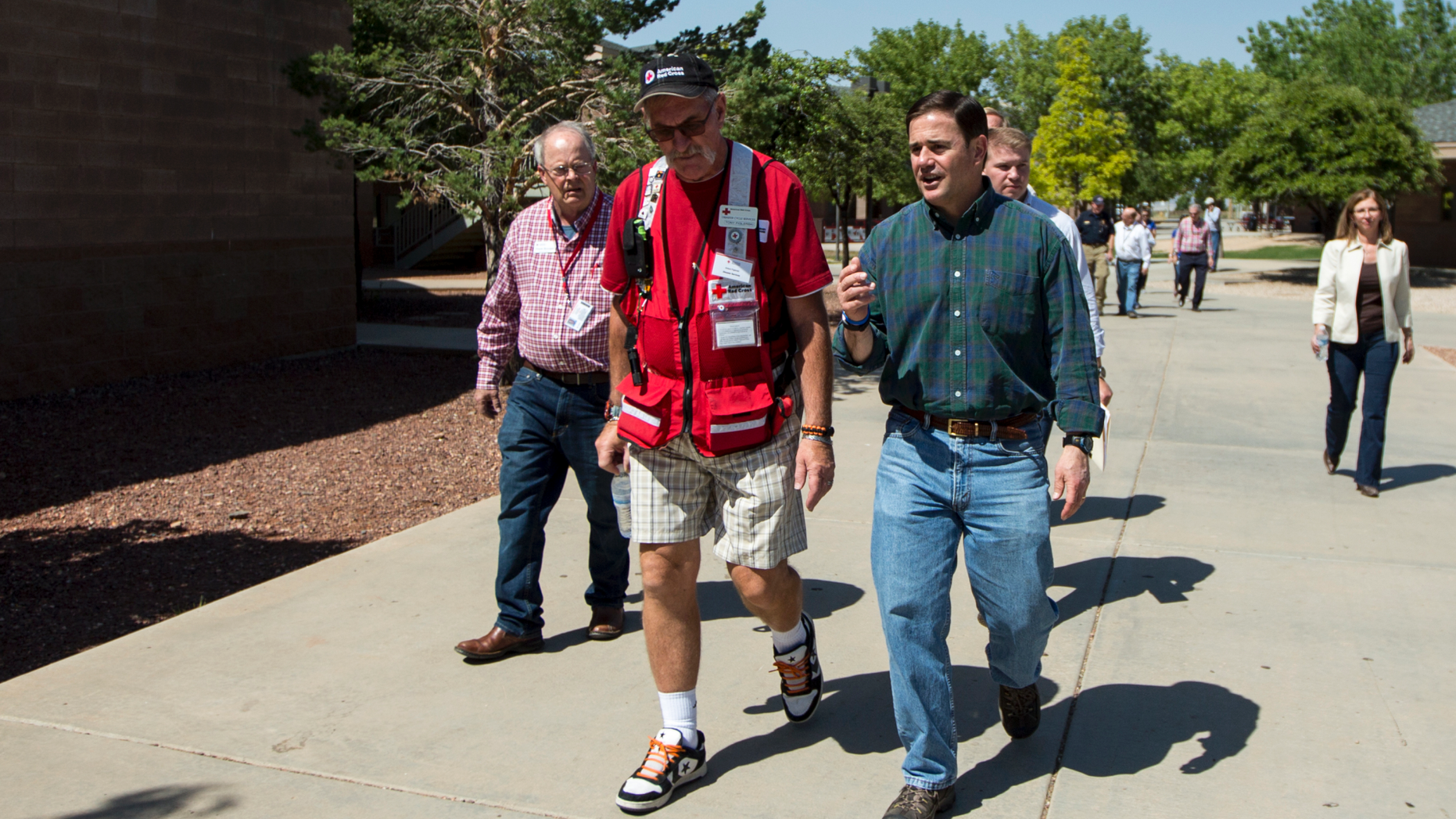 DURANGO, Colo. – The Latest on wildfires in the U.S. Southwest (all times local):
6:40 p.m.
The fire manager overseeing a large wildfire in central Arizona says crews now have lines around more than 40 percent of the fire.
John Pierson of the Southwest Incident Management Team got a big cheer at a packed community meeting in Prescott Valley on Thursday evening.
About 1,400 evacuated residents of Mayer were allowed to go home Thursday.
Yavapai County Sheriff Scott Mascher estimated that about 2,000 residents of other small communities remain under evacuation orders.
Campgrounds were also emptied and 1,400 children attending summer camps were bused out as the fire approached.
The blaze has now burned about 45 square miles (116 sq. kilometers).
____
6:35 p.m.
A wildfire in southwestern Colorado has grown to about 360 acres (145 hectares), and residents of a half-dozen subdivisions have been told to be ready to evacuate.
The Durango Herald reports some residents who had already left their homes were escorted back in Thursday to retrieve belongings, livestock and pets.
One house has been destroyed and about 170 have been evacuated near the fire outside Durango. A campground was also evacuated.
The fire was reported Wednesday. Firefighter spokesman Scot Davis said investigators had not determined the source because the ground was too hot for them to safely examine the area.
Colorado Gov. John Hickenlooper declared a disaster emergency earlier Thursday, allowing the National Guard to help if needed. The state also sent aircraft to help ground crews.
___
4:30 p.m.
Authorities believe a handful of homes have been destroyed in an Arizona forest fire that has displaced thousands of people.
Officials do not have an exact number of homes that have been lost in the fire. Arizona State Forestry Division director Jeff Whitney estimated it could be five homes.
The fire also caused major disruptions for children who were attending summer camps in the area. County officials had to close several campgrounds, sending 1,400 kids home early from summer camp.
Fire crews got a better handle on the blaze Thursday, and it's about 25 percent contained.
___
2:35 p.m.
Arizona Gov. Doug Ducey says the 19 elite firefighters who perished in an Arizona fire almost exactly four years ago are on his mind as he tours a new wildfire has that forced hundreds from their homes.
Ducey cut short an out-of-state trip to visit Prescott Valley, about 100 miles (160.9 kilometers) north of Phoenix. He thanked firefighters for their efforts and said that Friday marks the four-year anniversary of the deaths of the Granite Mountain Hotshots.
Ducey says firefighters in the Prescott Valley area have contained about 25 percent of the wildfire, an improvement over Wednesday's 1 percent containment.
Ducey also said that some thieves robbed evacuated homes but did not provide more details. Yavapai County Sheriff Scott Mascher said he was unaware of criminal activity related to the fire and knew of no arrests.
Residents of the small community of Mayer were allowed to go back to their homes Thursday morning. Several other communities remain evacuated.
___
11:50 a.m.
Recordings of 911 calls in Utah reflect panic that the callers experienced just after flames that turned into a major wildfire were sparked by someone using a weed-burning torch near the southern ski town of Brian Head.
One man in the June 17 calls asks emergency dispatchers for help, saying the fire keeps on growing and there's nothing he can do to stop it.
Another caller tells dispatchers he was driving when he saw a fire started by a cabin owner who was burning shrubs around the home.
He tells dispatchers to send authorities "before he burns down Brian Head."
Officials made the 911 calls public on Wednesday.
___
9:40 a.m.
Evacuated residents of one Arizona town threatened by a massive wildfire have been allowed to return home as firefighters say improved weather conditions are helping them contain a blaze that has burned 39 square miles (101 square kilometers).
The Yavapai County Sheriff's Office says it is lifting evacuations for residents of Mayer, population about 1,400. Thousands of residents from six nearby towns and subdivisions are still under evacuation orders.
Officials say higher humidity Wednesday night in the fire zone about 75 miles (120 kilometers) north of Phoenix helped firefighters' efforts despite a temporary halt to aircraft operations because of an unauthorized drone in the area.
Several helicopters and fire crews had to stop working for up to an hour because the drone posed a safety hazard. Authorities did not find the drone's operator.
Authorities said lighter winds should help firefighters' efforts Thursday and that it's likely a larger percent of the fire has been contained.
The blaze that began Saturday is in the area where 19 elite firefighters died four years ago battling another wildfire.
___
8:42 a.m.
Weather is aiding California firefighters battling a 700-acre (283-hectare) wildfire burning on the Camp Pendleton Marine Corps base and in neighboring San Clemente.
Orange County Fire Authority Capt. Larry Kurtz says the blaze is just 10 percent contained Thursday morning, but damp ocean air moved in and raised humidity levels, slowing the fire's pace to a crawl.
Some of the 200 firefighters on the scene are providing protection for nearby neighborhoods, but there are no evacuations.
California's largest fire, covering nearly 10 square miles (26 sq. kilometers) in Riverside County, is 86 percent contained.
A 400-acre (162-hectare) fire in Mariposa County on the western Sierra foothills is 10 percent surrounded.
In Los Angeles County, fires that flared dangerously close to Hollywood Hills and Burbank homes have been knocked down.
___
9:10 a.m.
Hundreds of people forced from their homes by a southern Utah wildfire are expected to be allowed back to a ski town even as the northeast side of the stubborn blaze continues to grow.
Fire managers said Thursday that 25-mph wind gusts have pushed the wildfire near Brian Head to more than 91 square miles (236 square kilometers), though firefighters have increased containment to 15 percent.
With the blaze slackening near Brian Head, though, managers say about 750 residents will be allowed back to their homes on Friday. About 750 more people remain under evacuation orders.
Meanwhile, authorities have released 911 calls made right after the blaze was ignited by a weed-burning torch. In a June 17 recording, a man tells dispatchers he needs help with a fire getting out of control.
__
7:54 a.m.
A drone that was spotted flying over a massive wildfire in northern Arizona temporarily grounded all firefighting aircraft Wednesday night.
Officials say the drone endangered the lives of firefighters and limited their ability. Drones are banned around wildfires.
Local authorities are investigating the incident.
The fire is burning about 15 miles south of Prescott, Arizona, and has caused thousands to flee their homes. Evacuations remain in Mayer and other towns as firefighters battle a blaze that's about burned 32 square miles (83 square kilometers) of dense shrubbery.
Over 150 firefighters worked the fire Wednesday night and made a line to keep the fire from crossing into the small town of Mayer. Authorities said higher humidity was helping reduce the intensity of the blaze.
______
12:05 a.m.
More than 600 Arizona firefighters are bracing for persistent windy conditions as they battle a northern Arizona fire that has charred 32 square miles (83 square kilometers) of dense shrubbery.
The fire is burning in communities around Prescott, a mountain city about 100 miles (160.9 kilometers) north of Phoenix.
Yavapai County spokesman David McAtee says about 3,400 people in the area have been affected by the fire and roughly 3,000 structures in the evacuated areas were at risk. Officials are not immediately sure how many are homes.
Arizona Gov. Doug Ducey plans to visit the area Thursday.
Elsewhere in the West, a blaze burned in suburban Los Angeles, a complex of three major fires burned in Washington and more than 20 small lightning-sparked blazes were stopped in Idaho.