The Latest: 28 tornadoes confirmed in storm system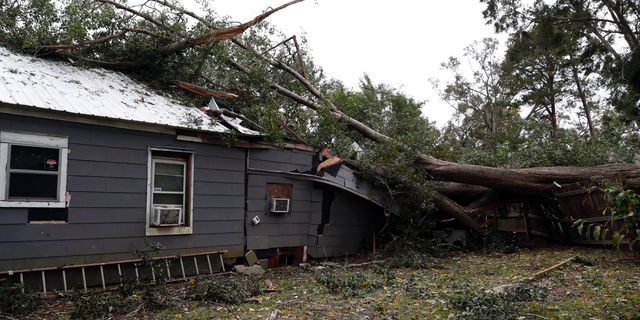 BIRMINGHAM, Ala. – The Latest on severe weather (all times local):
5:20 p.m.
At least 28 tornadoes have been confirmed by National Weather Service surveyors in Texas, Louisiana, Mississippi and Alabama as part of a storm system that moved across the region Wednesday night and Thursday.
Damage surveys are continuing in some areas.
Louisiana has recorded nine tornadoes, including one with top winds estimated at 134 mph (215 kph) that ripped a 20-mile (32-kilometer) path across central Louisiana. It damaged more than 100 structures and injured two people who were inside a mobile home that flipped.
Mississippi also saw at least 10 twisters, including one in Natchez with estimated top winds of 115 mph (185 kph) that damaged trees and structures.
Seven tornadoes have been recorded in east Texas including one with top winds of 107 mph (172 kph) that damaged 16 structures in Cushing.
Alabama saw two tornadoes including one that damaged a factory in Cusseta.
___
7 a.m.
Forecasters said most of the East Coast was at risk for severe weather Friday, with winds as strong as 60 mph, isolated tornadoes and heavy rain possible as the Gulf Coast recovered from storms blamed for two deaths.
Waves of weather moving in from the Gulf of Mexico at daybreak brought rain and lightning to parts of the Florida Panhandle struck last month Hurricane Michael, and the threat was supposed to spread to the north and east through the day.
The Storm Prediction Center said there was a marginal risk for severe thunderstorms along a line running from Florida's west coast to southern New Hampshire in New England.
At least two deaths along the Gulf Coast were blamed on storms that hit Wednesday night and Thursday.
___
Midnight
Powerful storms are expected to continue Friday through a region still trying to recover from Hurricane Michael.
Storms covered a wide area of the country reaching from beaches to the Great Lakes, but howling wind and driving rain threw a particular scare into the Florida Panhandle, which was ripped apart by Hurricane Michael less than a month ago.
At least two people's deaths have been attributed to the storms and at least 12 tornadoes had been confirmed by Thursday night in Louisiana, Mississippi and Alabama, with the damage surveys expected to continue Friday.
Officials are concerned about heavy rain and any structures that have already been damaged, as well as loose tree limbs being toppled by strong wind or rain, Lawrence said. Hundreds of homes protected only by flimsy tarps were particularly vulnerable.
The Storm Prediction Center reported downed trees and utility lines from eastern Texas to northwest Alabama. The Southeastern storms left nearly 110,000 homes and businesses without electricity at the height, and both weather-related deaths occurred in wrecks.