Some teachers viewed Trump's win as 'threat to students' safety, livelihood,' study says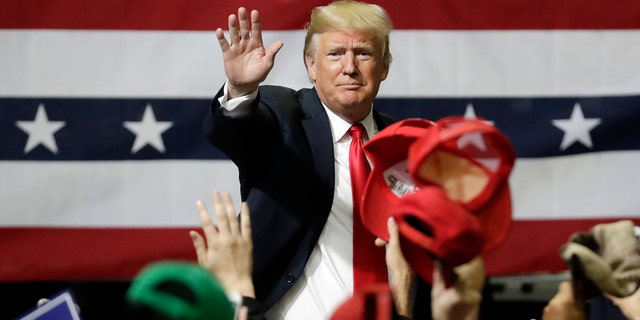 Many classroom teachers across the country found themselves making national headlines after President Trump was elected because educators "did not feel prepared to address or respond to students" following his win, according to a new study from Michigan State University.
More than 700 teachers that heavily favored Hillary Clinton (78 percent) over Trump (10 percent) were surveyed from 43 different states. The teachers ended up finding themselves embroiled in controversy because they injected their political views into the classroom, according to the study that appeared in the American Educational Research Journal.
A California high school history teacher, who taught for 40 years, was put on administrative leave and pressured to retire after comparing Trump to Adolf Hitler in a class discussion.
TEXAS BIOLOGY TEACHER ON LEAVE FOR ALLEGEDLY BULLYING PRO-TRUMP STUDENT
A Michigan elementary school teacher decided not to show President Trump's inauguration ceremony in class, receiving both praise and condemnation from both sides of the political aisle.
A Georgia educator was reprimanded for violating students' First Amendment rights after she told them to remove their "Make America Great Again" T-shirts, and a New Jersey high school suspended its yearbook advisor after several pro-Trump students were censored in the yearbook.
Dubbed the "Trump effect," over 90 percent of teachers surveyed nationwide claimed Trump's campaign and election had a negative effect on their schools' climate.
PRINCIPAL WHO ASKED STUDENT TO REMOVE TRUMP JERSEY REPLACED
But conservatives and liberals have different views on how students should be taught.
Conservatives are more likely to value teaching children qualities like "faith" and "obedience," whereas liberals are likely to prioritize "tolerance," according to the study.
The majority of teachers tried to remain "neutral" in the classroom, but some teachers reported viewing the election outcome "as a threat to their students' (or their own) safety and livelihood" and "wanted to avoid neutrality and looked to colleagues with similar beliefs to help enact their pedagogical decisions."
TEACHER REPORTEDLY COMPARES PRO-TRUMP MAGA HAT TEEN TO NAZI IN VULGAR TWEET: 'F--- EM'
Teachers reported approaching politics in the classroom different based on their community.
A California social studies teacher openly opposed Trump.
"I'm in Berkeley," he wrote. "I can go as far as I want in terms of politics. The students, community, and school see Trump as a threat. So do I."
Another teacher said she made implicit curricular changes by using certain books and focusing on different values of fairness, equality, kindness, and inclusion in other areas.
On the morning after the election, a young elementary math and science teacher in Washington, D.C. told her students she wished Trump wasn't elected.
LIBERALS LABEL 'PRESIDENT DONALD TRUMP' CHILDREN'S BOOK 'DANGEROUS'
"Students' knowledge of Electoral College, term limits (hell yeah Obama), and president-elect increased," she wrote. "I watched students become careful with their language, church, policies, sexism, and race."
A teacher who voted for Trump said she "just kept silent" because she didn't want to explain herself after hearing her colleagues repeatedly bash Trump supporters.
The authors of the study concluded schools should be "sites of resistance," and argued that the midterms are a chance for the teachers to bring their politics into the classroom.
"Teachers and schools have the opportunity—and, we would argue, the responsibility—to challenge white supremacy and racism, misogyny and the patriarchal system, and homophobia and heteronormativity," the study said.
The three researchers suggested teachers practice "through a lens of social justice" in the current political climate by "reflecting on one's own identity and how it intersects with oppression, privilege, and equity issues."