Sick dog left at California animal shelter to be reunited with his elderly owners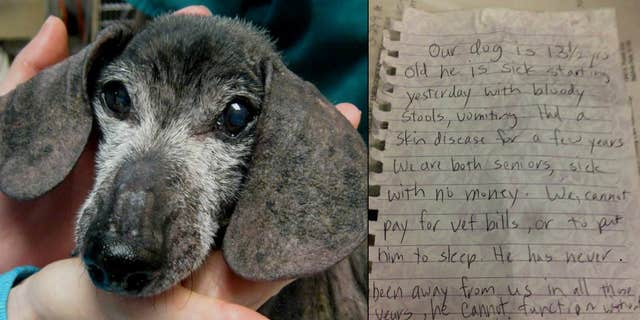 A 13-year-old Dachshund will be reunited with his owners after the elderly couple left him tied up outside a California animal shelter, with a heartbreaking note attached saying they were too sick and poor to cover the dog's medical expenses.
The dog, named Otto, was found outside of the Baldwin Park Animal Shelter near Los Angeles with a hand-written note asking that he be put to sleep because his owners could not afford to care for him, Yahoo News reported.
The note reads, "Our dog is 13 1/2 years old he is sick starting yesterday with bloody stools, vomiting," according to the website. "Had a skin disease for a few years. We are both seniors, sick with no money. We cannot pay for vet bills, or to put him to sleep. He has never been away from us in all those years, he cannot function without us, please put him to sleep."
Workers at the shelter reportedly notified Leave No Paws Behind, Inc., a foster-based rescue operation that specializes in seniors. Yahoo News reported that when Otto was later examined by a veterinarian, it was determined that his condition could be treated and that he likely had more years in which to live.
The rescue group reached out to the dog's owners -- after it was clear the Dachshund had been well taken care of -- to reunite the pooch with the couple.