Several concert-goers injured after crowd rushes stage at Arizona festival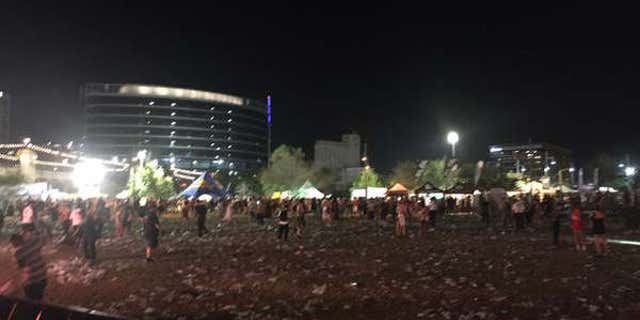 Ten to 12 people were injured after a crowd rushed a stage during an Arizona music festival, authorities said on Saturday.
Tempe fire officials said that at least nine people were taken to a nearby hospital at 7 p.m. after the incident at Tempe Beach Park. Fox 10 Phoenix reports that two juveniles were taken from the Summer Ends Music Festival with life-threatening injuries.
The city's fire department, aided by fire departments in Scottsdale and Phoenix, came to the scene after getting reports that as many as 40 people were hurt at the end event after concert-goers began rushing the stage.
Fire officials told KNXV-TV that people who were at the front of the stage had trouble breathing. Witnesses said two women collapsed at the front of one of the states after apparently suffering seizures.
Paul Folk, 55, told the Arizona Republic that crowds of people rushed to the stage when the reggae band Rebelution came on. After three songs, people were getting crushed near the stage, the newspaper reported. Rebelution was scheduled to take the stage at 7 p.m.
"There's been lots of scuffles and dehydrated people because everyone's been drinking," Grand Canyon University student Hailey Ferris, 18, told the newspaper. She reported being afraid of being trampled.
Concert promoter Tom Lapenna said the plug was pulled on the band's set due to "a medical emergency," according to the Arizona Republic. Lapenna helped move the fans back and allow emergency personnel to access the stage.
Kanye West is scheduled to take the stage at the festival on Sunday night.
Click for more from Fox 10 Phoenix.
Click for more from the Arizona Republic.
The Associated Press contributed to this report.