Senate panel postpones vote on Hagel nomination amid Republican calls for more information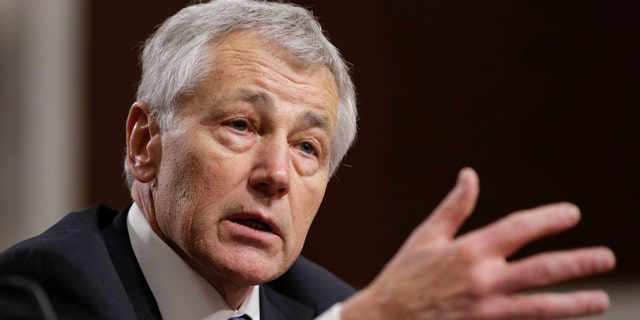 WASHINGTON – A Senate panel on Wednesday abruptly postponed a vote on Chuck Hagel's nomination to be defense secretary amid Republican demands for more information from President Barack Obama's nominee about his finances.
Sen. Carl Levin, D-Mich., the chairman of the Armed Services Committee, had hoped to vote on the nomination on Thursday during a separate hearing on Libya, but Levin issued a statement late Wednesday saying no vote would occur this week.
"The committee's review of the nomination is not yet complete. I intend to schedule a vote on the nomination as soon as possible," Levin said.
Hours earlier, committee Republicans said they were dissatisfied with information Hagel had provided the panel after his confirmation hearing last week and no vote should occur.
Hagel, a former two-term Republican senator from Nebraska, has faced strong opposition from his former GOP colleagues who have questioned his past statements and votes on Israel, Iran and nuclear weapons. It was unclear whether the delay in the vote would derail the nomination or merely postpone action on Obama's choice to replace Defense Secretary Leon Panetta.
In a letter to Hagel, Republicans complained that he failed to answer several questions, including details on all compensation of more than $5,000 that he had received over the past five years. They also had pressed him on his recent speeches, the groups he has addressed and their donors.
"The committee, and the American people, have a right to know if a nominee for secretary of defense has received compensation, directly or indirectly, from foreign sources," Senate Republicans wrote. "Until the committee receives full and complete answers, it cannot in good faith determine whether you should be confirmed as secretary of defense."
The Associated Press obtained a copy of the letter, which was signed by more than two dozen Republicans, including Minority Leader Mitch McConnell, R-Ky.
Freshman Sen. Ted Cruz, R-Texas, who opposes Hagel's nomination, had complained to his colleagues about the information the nominee provided during a closed meeting on Tuesday. Other Republicans raised objections to a vote.
"I'm not going to make any decision on Sen. Hagel until we get all the information we've requested," Sen. Lindsey Graham, R-S.C., told a small group of reporters on Wednesday. "I don't think we should be voting."
Hagel, in a separate letter to committee Republicans, had tried to explain that some of the information they were seeking was not available.
"My role with respect to the entities you identify is as a current and former board or advisory board member. I was not involved in the day-to-day management of any of these firms, and have not been involved with some for the firms for years now," Hagel wrote. "Thus, as a matter of fact, I do not believe I have any of the information requested. More importantly, the information you seek is legally controlled by the individual entities and not mine to disclose."
Senate Democrats, who hold the majority, continue to stand behind the nomination, and no Democrat has said he or she would vote against the president's pick for his second-term national security team. Hagel, 66, is a decorated Vietnam combat veteran.
About a dozen Republican have said they will oppose their former colleague and several others have indicated they are likely to vote no.
Democrats hold a 55-45 advantage in the Senate and two Republicans have announced their support for Hagel — Sens. Thad Cochran of Mississippi and Mike Johanns of Hagel's home state of Nebraska.