Second US aircraft carrier enters western Pacific amid North Korea tensions
A second U.S. Navy aircraft carrier strike group entered the western Pacific, the Navy's 7th fleet announced Tuesday, amid an increasing war of words between the United States and North Korea.
USS Theodore Roosevelt – the "Big Stick" – left its San Diego home port earlier this month on a scheduled deployment to the West Pacific and Persian Gulf. It will now join the USS Ronald Reagan strike group off the Korean Peninsula.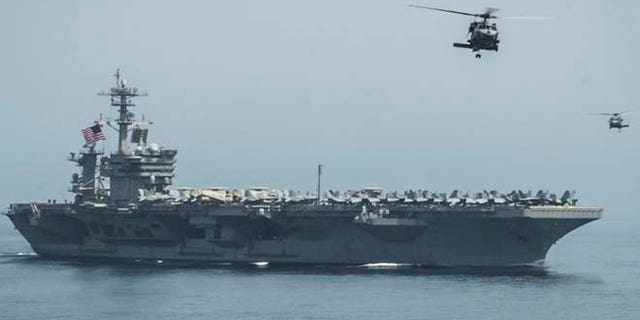 The carrier is expected to make its way to the Persian Gulf to relieve the aircraft carrier USS Nimitz.
"Entering 7th Fleet is an exciting opportunity to integrate with other U.S. Navy units in the [area of operations], as well as operate with our partners and allies in the region," said Rear Adm. Steve Koehler in a statement. "We look forward to continued partnerships that lead to mutual security and common views about operating at sea."
It is rare to have two U.S. Navy aircraft carriers stationed in the region.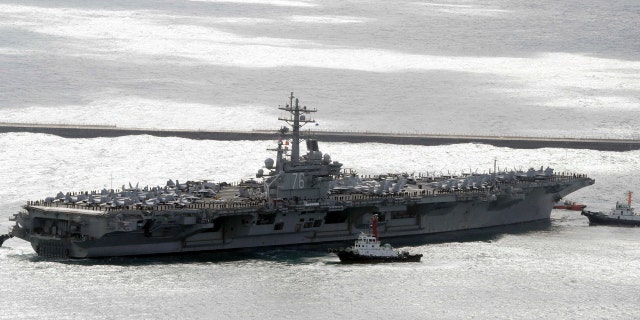 The last time it happened was back in June when the Carl Vinson and Reagan strike groups were together for a few days in the Peninsula for training purposes – but it marked the first time since the 1990s that two U.S. carriers were near the Korean Peninsula.
"USS Theodore Roosevelt is prepared to carry out the full spectrum of possible missions, from humanitarian relief to combat operations," Capt. Carlos Sardiello, Theodore Roosevelt's commanding officer, said in a statement. "When a carrier leaves on deployment, we have to be ready for anything."
The deployment comes as the U.S., Japan and South Korean maritime forces are conducting a trilateral exercise aimed at improving ballistic missile defenses.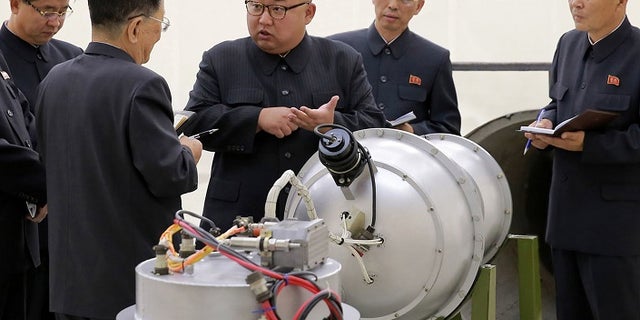 "The exercise will employ tactical data link systems to exchange track data among all the participating ships," the Navy said.
On Monday, Japan's defense minister asserted North Korea's nuclear and ballistic missile capabilities have grown to an "unprecedented, critical and imminent" level, requiring "different responses" to the threat.
The minister, Itsunori Onodera, said the rising threat compels his country to endorse the U.S. view that "all options" must be considered, which President Trump says includes possible military action. Japan was alarmed by North Korea twice launching ballistic missiles over Japanese territory, in August and in September.
Onodera's comments, made through an interpreter, came at the outset of a so-called trilateral meeting in the Philippines with U.S. Defense Secretary Jim Mattis and South Korea's defense minister, Song Young-moo.
"The country has steadfastly improved it nuclear and missiles capability," Onodera said. He added: "The threat posed by North Korea has grown to the unprecedented, critical and imminent level."
"Therefore, we have to take calibrated and different responses to meet that level of threat," he said, without elaborating on what "different" responses Japan favors.
Mattis was somewhat more reserved in his remarks than Onodera, although he did slam Pyongyang for defying U.N. Security Council resolutions against its nuclear and ballistic missile programs.
"North Korea's provocations threaten regional and global security," he said.
Fox News' Lucas Tomlinson and the Associated Press contributed to this report.