Second autopsy shows Mexican man was shot in back, lawyer says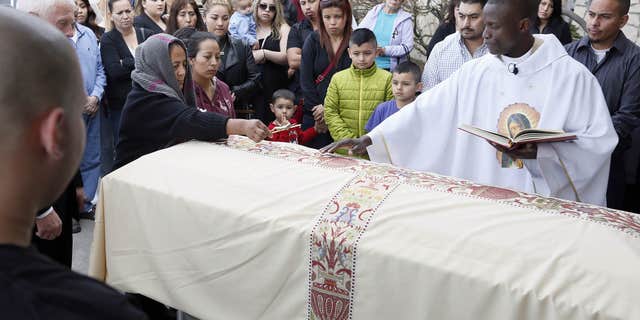 An independent autopsy into the shooting death of an unarmed Mexican man reveals that he was shot in the back by Washington state police seven times, including twice from behind, a lawyer for the family says.
The lawyer for the family of Antonio Zambrano-Montes, Charles Herrmann, announced the second autopsy's findings Thursday, a day after a spokesman for the special task force investigating said Zambrano-Montes was shot five or six times, none from behind.
"Our report differs sharply with statements made by local law enforcement authorities," Herrmann said in a statement.
Zambrano-Montes, 35, was a Mexican immigrant. He was shot by police after throwing rocks at officers. His death has prompted calls for a federal probe accompanied by protests in the city of Pasco.
Dr. Carl Wigren, a Seattle pathologist, performed the independent autopsy Feb. 20, 10 days after the shooting occurred. Herrmann released a portion of the results Thursday.
"The report reflects a total of as many as seven rounds striking Zambrano," the attorney said. It also found entry wounds on the back of the victim's right arm and one buttock, he said.
The results showed the former Orchard worker was also shot in the face, stomach, chest, arm and scrotum.
The final medical examiner's report is not finished, but could be done within a month.
Kennewick police Sgt. Ken Lattin said in a press conference Wednesday that preliminary results of the official autopsy revealed that Zambrano-Montes was not shot in the back. He said that three Pasco officers fired a total of 17 shots.
Video taken by a witness shows the man running from officers. As the officers draw closer, he stops and faces them. Multiple pops are heard, and he falls, twisting, to the ground as the pops continue.
Lattin said officers fired stun guns at least twice but failed to stop Zambrano-Montes before using their weapons. The officers felt threatened, police said.
Zambrano-Montes' death at a busy intersection has sparked two weeks of protests in Pasco, where more than half the residents are Hispanic but few are members of the power structure or police force.
The Associated Press contributed to this report