Penn State frat members cleared of felony charges in hazing death
Eight Penn State frat brothers won't face manslaughter and assault charges for a sophomore pledge's death during a booze-filled hazing ritual, a judge ruled Friday.
Tim Piazza, 19, fell down a set of stairs and suffered fatal injuries after prosecutors said pledges were forced to down nearly a half-gallon of vodka and were then made to run a "gauntlet" of booze-drinking stations.
District Justice Allen Sinclair threw out the felony charges against the eight Beta Thea Pi fraternity members but let stand lesser charges against them and six others. He dismissed charges altogether against four of the members of the now-shuttered fraternity.
Piazza's parents, Jim and Evelyn, of Lebanon, N.J., who sat in the front row for the proceedings,  declined to comment on the ruling as they left the courthouse, Philly.com reported.
Centre County District Attorney Stacy Parks Miller said the Piazzas were "shocked" by the ruling, the website reported.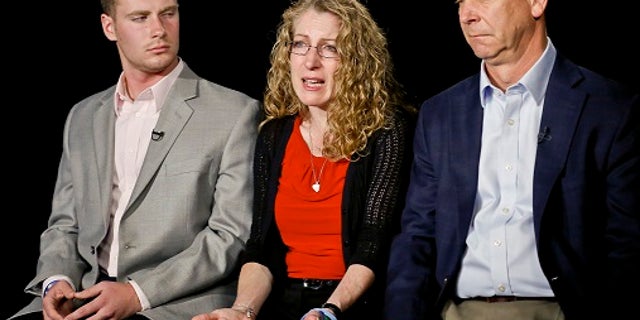 The fraternity members and parents were relieved, according to Philly.com.
Security video of the incident recorded Piazza appearing intoxicated and being led to a couch after 11 p.m. A few minutes later, he fell head-first down a set of basement stairs and had to be carried back up in an unconscious state.
For several hours, members of the fraternity appeared to take half-hearted and even counterproductive measures to tend to their injured friend, pouring liquid on him and strapping on a loaded backpack to prevent him from rolling over and choking on vomit.
Prosecutors said said some of the frat brothers typed "What do to for a head injury" on Google while Piazza was unconscious.
Charges that remain range from reckless endangerment to alcohol violations and hazing.
"Obviously now the teeth have really been taken out of the commonwealth's case," defense attorney Michael Engle said.
Sinclair's ruling came after a 7-day preliminary hearing.
Miller said she will seek to have involuntary manslaughter charges reinstated. She said may also seek to refile felony charges of aggravated assault. Defense attorneys say they will oppose such efforts.
Defense attorneys argued that their clients' roles were minimal or their actions did not amount to criminal behavior. They argued the students had little reason to anticipate tragic results from a night that also included an alcohol-fueled social mixer with a sorority group.
"Yes, there's excessive drinking on college campuses," defense attorney Theodore Simon said Thursday. "That does not transform it into criminal behavior."
The Associated Press contributed to this report.