O.J. Simpson getting July parole hearing date in Nevada
NEWYou can now listen to Fox News articles!
Imprisoned former football star O.J. Simpson has a parole hearing date in Nevada next month, prison officials said Tuesday.
State Board of Parole Commissioners official David Smith said Simpson, now 70, is due to appear July 20 before a panel of four parole commissioners who could approve his release for October 1.
Simpson will be at the Lovelock Correctional Center, where he has been serving his nine-to-33 year sentence for armed robbery and kidnapping from a confrontation with two sports memorabilia dealers at a Las Vegas casino hotel in September 2007.
Commissioners will be in a hearing room in Carson City, and they will question Simpson by closed-circuit TV, according to Smith..
Simpson's attorney in Las Vegas, Malcolm LaVergne, told the Associated Press Monday he will be with his client at the medium-security prison in a small town 90 miles northeast of Reno.
"If he's able to get parole, my prediction is he's going to want to live a quiet life," LaVergne said in a recent interview. LaVergne declined additional comment until after the proceeding.
Simpson has always maintained he was trying to retrieve personal mementoes stolen from him following his 1995 acquittal in the killings of his ex-wife, Nicole Brown Simpson, and her friend, Ronald Goldman in Los Angeles.
He said family photos and other items disappeared before a judge in February 1997 found him liable for the deaths of Goldman and Nicole Brown Simpson and ordered him to pay $33.5 million to their estates.
Ten years later, the hall-of-fame football star, actor and advertising pitchman was living in Miami when he and several friends hatched a plan with a middleman to meet the collectibles sellers in a room at the Palace Station hotel-casino.
Simpson and five others were later arrested. Four co-defendants pleaded guilty before trial to felony charges and testified for the prosecution. Two told jurors they brought and displayed guns, although Simpson insisted he never knew anyone was armed.
Simpson and Clarence "C.J." Stewart stood trial. Both were found guilty in October 2008 of charges also including assault with a deadly weapon, burglary and conspiracy.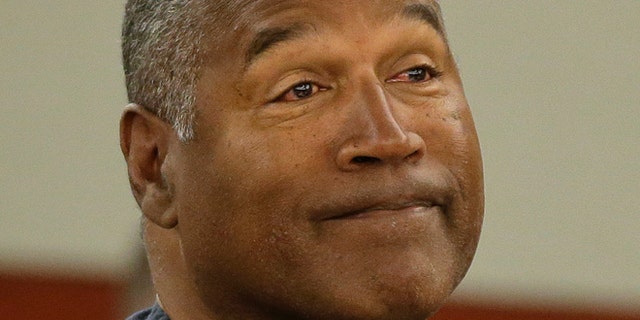 Stewart was sentenced to 7 1/2 to 27 years in state prison. He served 27 months before the Nevada Supreme Court ruled that Simpson's fame tainted the jury and that Stewart should have been tried separately. "There was something that did happen with those nine people in that small room," Stewart, now 63, said Tuesday from his home in Louisiana. "But I didn't think the charges or the crime really fit the sentence. He didn't need to be in that long."
The Associated Press contributed to this report.