Not Guilty Plea Entered in Nevada Hells Angel Death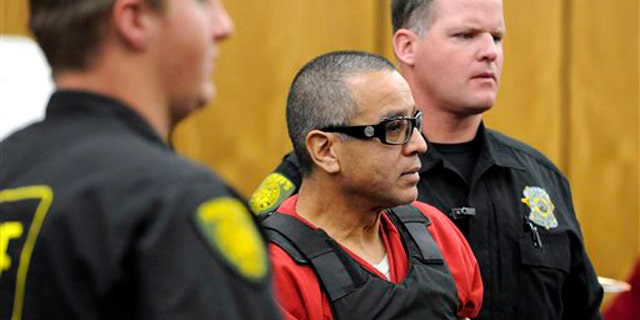 A judge in a tightly guarded courtroom entered a not guilty plea Thursday on behalf of the 53-year-old California man accused of killing the president of the San Jose chapter of the Hells Angels during a Nevada casino shootout in September.
Washoe District Judge Connie Steinheimer entered the plea for Ernesto Manuel Gonzalez after Gonzalez's public defender advised him to stand silent during his formal arraignment on several charges, including murder.
Police say Gonzalez is a member of the rival Vagos motorcycle gang. He is accused of shooting Jeffrey "Jethro" Pettigrew four times in the back during the Sept. 23 brawl at a Sparks casino.
Gonzalez, in handcuffs and shackles, wore a black bullet-proof vest over his red jail jump suit in court Thursday. A half-dozen sheriff's deputies and police SWAT team members were spread around the courtroom, with another half-dozen in the outside hall.
The judge set a Jan. 17 trial date. But she said that might change after public defenders complained they still don't have access to a transcript from the grand jury that indicted Gonzalez and two others Nov. 9.
"Usually we get the information, then try to defend people," chief defender Maize Pusich told The Associated Press afterward. She said the delay likely was based on security concerns and was not an effort to blunt Gonzalez's defense.
Deputy District Attorney Karl Hall also said the holdup was not a prosecutorial tactic.
"It takes awhile to prepare," he told the AP about the transcript of the grand jury proceedings leading to the indictment that until late Wednesday was sealed. Hall declined to comment further.
The transcript was unsealed after the arrest in California earlier Wednesday of the third of three men facing murder charges in the case -- Gary Stuart Rudnick of Los Angeles. Police identified him as another Vagos member who was involved in the casino fight.
Both Rudnick and Cesar Villagrana, a Hells Angel member accused of shooting two rival Vagos that night, remained jailed in California Thursday. Hall said he expected them to be returned to Reno in the coming weeks to face charges in Pettigrew's death.
Although members of rival gangs, both were charged as co-conspirators in the killing because they were involved in the fight that led to the fatal shooting as part of an effort to promote their gangs' criminal activities, prosecutors said.
A third Vagos member was shot in the stomach the next morning by someone in a passing car a few blocks from the casino. The victim survived, and no suspects have been named.
Another killing followed Oct. 15 at Pettigrew's funeral in San Jose, which was attended by an estimated 4,000 people, but police believe that fatal shooting involved only Hells Angels.
The victim, Steve Tausan, 52, was a former member of the Hells Angels San Jose chapter and was the current sergeant at arms of the Santa Cruz chapter at the time of his death. Police have identified the suspect in his killing as Steve Ruiz, 38, another Hells Angels member they have been unable to locate.
Gonzalez was arrested Sept. 30 in San Francisco and was returned to Reno under tight security early Monday to face the criminal charges.
He faces one felony count of open murder, which in Nevada later can be amended to a specific count, such as first- or second-degree murder. The charge against Rudnick and Villagrana -- second-degree murder -- does not require proof of premeditation.
Asked by the judge Thursday if he understood what was going on, Gonzalez of San Francisco said, "Yeah, I guess." He said he was comfortable with his defense team so far and had no questions.
When the judge asked Pusich if she was comfortable proceeding with the arraignment she said, "Not particularly, your honor." She said she wanted Gonzalez to stand silent rather than enter a plea so as not to waive any of his constitutional rights while she awaits access to the grand jury transcript.
Court records allege Gonzalez, Rudnick, Villagrana and Pettigrew all conspired "with their respective gang members and/or each other to engage in an affray," and that both Gonzalez and Villagrana shot rival gang members inside the casino.
Prosecutors said in court documents it was important to keep the indictment sealed to prevent the destruction of evidence and ensure the safety of witnesses until all arrests were made.
"Not only may the investigation be compromised but other people may be endangered if the identities of the suspects and informants were to be obtained by either motorcycle gang," Hall wrote on Oct. 21.