Newest K-9 to join California police force helps sniff out roughly 60 pounds of meth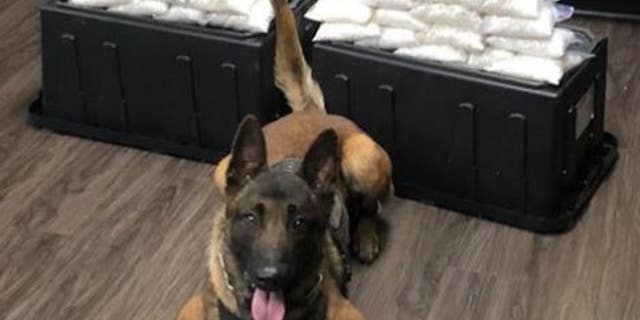 NEWYou can now listen to Fox News articles!
The newest k-9 to join the West Covina Police Department in California helped officers find roughly 60 pounds of methamphetamine during a routine traffic stop over the weekend.
Police pulled over a 2010 Nissan Rogue on Saturday for a vehicle code violation, when officers discovered drugs located under the driver's seat, the department said in a Facebook post.
That's when the Rye – who was field certified in narcotic detection in April – was brought in to help officers sniff out any additional drugs.
After Rye alerted police, the vehicle was impounded where authorities later discovered two hidden compartments containing methamphetamine.
Pedro Lopez, 28, was arrested for the possession of methamphetamine for sale and transporting narcotics in a hidden compartment, police said. His bail has been set at one million dollars.
This was Rye's first drug bust since becoming certified.