New reports of looting in Baltimore as National Guard join police patrolling streets
More looting was reported Tuesday morning in Baltimore, after a night of chaos and rioting that prompted the National Guard to swarm in to restore order.
The looting appeared to be isolated compared to Monday night, which damaged parts of the city. State officials worked to cut off any new rioting by employing National Guard troops along with city police officers. These police officers were stationed at various key points throughout the city.
The increased police presence came after Gov. Larry Hogan, a Republican, and Baltimore Mayor Stephanie Rawlings-Blake, a Democrat, were criticized for what was perceived by some as a slow response. Hogan, at a morning press conference, vowed to keep the protest agitators at bay by talking with community leaders and deploying more police.
At a late afternoon press conference, he said there would be 2,000 National Guardsmen on dutyTuesday night, along with 1,000 law enforcement officers, and "this combined force will not tolerate violence or looting."
Looted storefronts were being boarded up, burned cars hauled away and as many as 20 police officers were recovering from injuries suffered during the rioting that broke out when high school kids used social media to launch a coordinated "Purge," the slang term taken from a movie and meaning a night where laws are not observed.
Amid the rioting Monday night that led to 200 arrests, Rawlings-Blake strongly condemned the "thugs" behind the mayhem and announced a 10 p.m. to 5 a.m. curfew beginning Tuesday and lasting at least a week. There have been over 200 arrests.
"Too many people have spent generations building up this city for it to be destroyed by thugs who, in a very senseless way, are trying to tear down what so many have fought for," the mayor said. "It's idiotic to think that by destroying your city, you're going to make life better for anybody."
Rawlings-Blake and Baltimore City Police Commissioner Anthony Batts held a Tuesday afternoon news conference, during which Batts said his officers would continue to act to bring calm to the streets. He also noted the department would continue to build a positive rapport with the community.
"We have more to do, but we can't do it this way by destroying this city," Batts said.
He told reporters that a number of arrests occurred in eastern Baltimore on Tuesday and that two additional people had been detained in the area northwest of downtown near the CVS drug store that had been burned and looted Monday evening.
Batts defended the police department's response to a "purge" of vandalism at a nearby mall, saying that the people involved in the incident were youth, between 14 and 16 years old.
Referencing the curfew ordered by the mayor, Batts said officers will be stopping people outside after 10 p.m. Exceptions will be made for medical-related reasons, he said.
Police departments from surrounding Maryland counties, as well as Pennsylvania, New Jersey and the District of Columbia have sent officers to aid the Baltimore police department in the coming days.
The Rev. Jesse Jackson has visited a burned-out drug store in Baltimore as crowds gather in the streets a night after riots.
Jackson said the violence, while inexcusable, reflected the alienation of unemployed people in neighborhoods full of empty homes and vacant lots.
"It was painful because it destroyed a lot of neighborhood businesses and hurt a lot of people, but the violence is driven by that alienation," Jackson said.
Batts admitted that his officers were not prepared for the outbreak of violence Monday that forced Gov. Hogan to declare a state of emergency.
"Yes, we planned for it. That wasn't the issue," Batts told reporters late Monday. "We just had too many people out there [for us] to overcome the numbers we had." The commissioner added that the rioters had pulled his officers to "opposite ends of the city" and had "outnumbered us and outflanked us."
"These acts of violence and destruction of property cannot and will not be tolerated," Hogan said at a late-night press conference. The governor also said he was deploying 500 state troopers and had asked for 5,000 officers from neighboring states to deal with the violence.
Batts said the National Guard would be used to take control of what he called "structures and fixed posts" to support police efforts to regain control of the city's streets.
As the violence grew Monday, officers wearing helmets and wielding shields occasionally used pepper spray to keep the rioters back. For the most part, though, they relied on line formations to keep rioters at bay. After midnight Monday, authorities were still struggling to quell pockets of unrest.
The violence began hours after Monday's funeral for Freddie Gray, a 25-year-old man who died last week from a severe spinal cord injury he suffered while in police custody. Gray's fatal encounter with officers came amid the national debate over police use of force, especially when black suspects, like Gray, are involved. Gray was African-American. Police have declined to specify the races of the six officers involved in his arrest, all of whom have been suspended with pay while they are under investigation.
Gray's family denounced the violence late Monday, saying it was not the way to honor him
"I think the violence is wrong," Gray's twin sister, Fredericka Gray, said. "I don't like it at all."
The attorney for Gray's family, Billy Murphy, said the family had hoped to organize a peace march later in the week.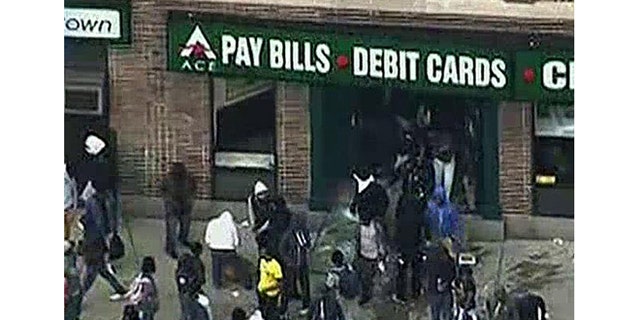 During Gray's funeral Monday, police released a statement saying that the department had received a "credible threat" that three notoriously violent gangs are now working together to "take out" law enforcement officers. A police source told Fox News several gangs, including Black Gorilla Family, Bloods and Crips all had "entered into a partnership to take out law enforcement officers."
The confrontation that sparked the violence stemmed from an online call for a "purge" that would begin at the Mondawmin Mall in west Baltimore and end downtown. The phrase is a reference to the 2013 movie "The Purge",  which takes place in a world in which crime is made legal for one night only.
Alerted to the warning, authorities mobilized police officers to the Mondawmin Mall in west Baltimore, within a mile of where Gray was filmed being arrested and pushed into a police van April 12. The shopping center is a transportation hub for students at nearby schools.
At 3 p.m., the time of the reported "purge," between 75 to 100 students on their way to the mall were greeted by police in riot gear. The students began throwing water bottles and rocks at the officers, who responded with tear gas and Mace. As the crowds at Mondawmin Mall began to thin, the riot shifted about a mile away to the heart of an older shopping district near where Gray first encountered police.
One worker inside the mall told FoxNews.com that stores in the shopping center were badly damaged. The shelves in a hat store named Lids were emptied and jewelry stores were emptied, according to the worker.
Emergency officials were constantly thwarted as they tried to restore calm in the affected parts of the city of more than 620,000 people. Firefighters trying to put out a blaze at a CVS store were hindered by someone who sliced holes in a hose connected to a fire hydrant, spraying water all over the street and nearby buildings.
The smell of burned rubber wafted in the air in one neighborhood where youths were looting a liquor store. Police stood still nearby as people drank looted alcohol. Glass and trash littered the streets, and other small fires were scattered about. One person from a church tried to shout something from a megaphone as two cars burned.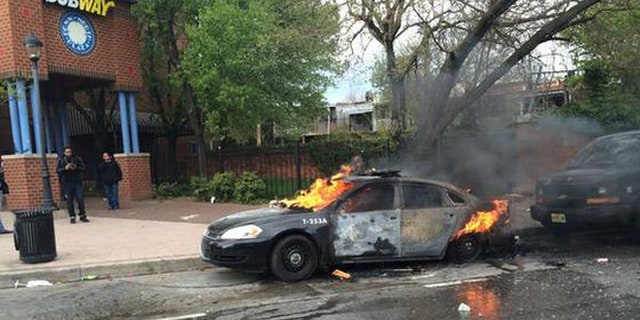 Later Monday night, a massive fire erupted in East Baltimore that a mayoral spokesman initially said was connected to the riots. He later texted an AP reporter saying officials are still investigating whether there is a connection.
The Mary Harvin Transformation Center was under construction and no one was believed to be in the building at the time, said the spokesman, Kevin Harris. The center is described online as a community-based organization that supports youth and families.
Kevin Johnson, a 53-year-old resident of the area, said the building was to have been earmarked for the elderly. Donte Hickman, pastor of a Baptist church that has been helping to develop the center, shed tears as he led a group prayer near the firefighters who fought the blaze.
"My heart is broken because somebody obviously didn't understand that we were for the community, somebody didn't understand that we were working on behalf of the community to invest when nobody else would," he said.
The focus of the rioting later shifted back to Mondawmin Mall, as people began looting clothing and other items from stores which had become unprotected as police moved away from the area. About three dozen officers returned, trying to arrest looters, but driving many away by firing pellet guns and rubber bullets.
Downtown Baltimore, the Inner Harbor tourist attractions and the city's baseball and football stadiums are nearly 4 miles away from the worst of the violence. While the violence had not yet reached City Hall and the Camden Yards area, the Orioles canceled Tuesday's home game against the Chicago White Sox for safety precautions. The teams will play Wednesday's game at 2:05 p.m. in a game closed to the public.
On Monday night, Maryland Congressman Elijah Cummings and about 200 others, including ministers and mostly men, marched arm-in-arm through a neighborhood littered with broken glass, flattened aluminum cans and other debris, in an attempt to help calm the violent outbursts. As they got close to a line of police officers, the marchers went down on their knees. After the ministers got back on their feet, they walked until they were face-to-face with the police officers in a tight formation and wearing riot gear.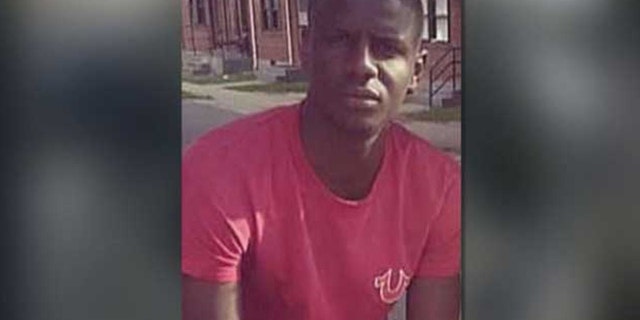 In a statement issued Monday, Attorney General Lynch said she would send Justice Department officials to the city in coming days, including Vanita Gupta, the agency's top civil rights lawyer. The FBI and Justice Department are investigating Gray's death for potential criminal civil rights violations.
The Associated Press contributed to this report.