Navy Changes New LCS Name to Frigate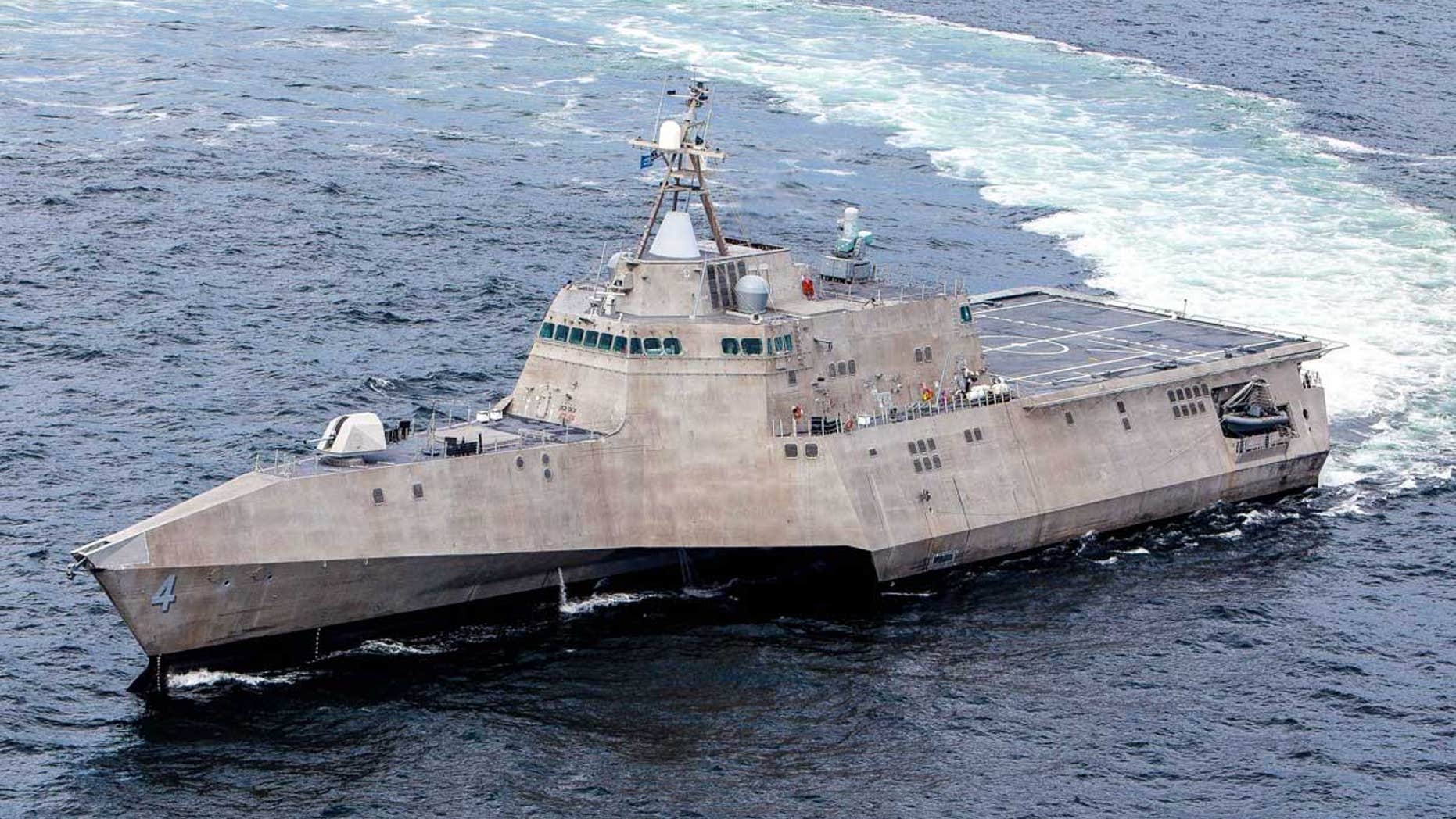 The Navy's new up-gunned Littoral Combat Ship called the Small Surface Combatant has been officially re-designated as a Frigate, Navy Secretary Ray Mabus said Jan. 15 at the Surface Navy Association annual symposium in Arlington, Va.
"One of the requirements that the Small Surface Combatant has is to have a ship with Frigate-like capabilities. It is a Frigate and we're going to call it that. We are going to change the designation from LCS to FF," Mabus said.
Some reports are referring to the FF designation as "Fast Frigate," noting the Small Surface Combatant's fast 40-knot water speed. However, Navy officials said the FF designation is only designed to refer to "Frigate" as the ship's official name.
Navy officials explained that FFG is the formal nomenclature for guided missile Frigates which have Vertical Launch Tubes, or VLS. The SSC does not have VLS, therefore its designation is just FF without the "G" for guided missiles.
The Small Surface Combatant, now being engineered and designed, is slated to replace the last 20 of 52 planned Navy LCS ships. Plans for the ship include increased armor, defenses, improved radar and weaponry such as surface-to-surface missiles as a way to address concerns from lawmakers, analysts and members of the Navy that the original LCS design was not survivable enough for its intended mission focus.
Mabus said he reached the decision to rename the ship as a Frigate following collaborative discussions with Chief of Naval Operations Adm. Jonathan Greenert, and Navy acquisition executive Sean Stackley.
The Small Surface Combatant, or SSC, includes improved air-defense radar, air defense decoys, new electronic warfare technologies, an over-the-horizon anti-ship missile, multi-function towed array sonar, torpedo defenses and additional armor, senior Navy officials have said.
The new ship will feature specially configured space armor designed to better protect the ship and its crew. In addition, the ship will have improved decoy systems to divert incoming enemy missions and an upgrade to a missile-interceptor ship defense system called SeaRAM.
The new ship will also be configured with what's called improved signature management, meaning technologies which make the vessel less detectable to enemy radar and less susceptible to enemy mines.
Alongside the new modifications, the newly re-designated ship will also incorporate many of the weapons systems and technologies currently on the LCS such as 30mm guns, a ship-launched Hellfire missile, 11m rigid inflatable boats and a 57mm gun.
In January of last year, Hagel instructed the Navy that there would be no new contracts awarded for LCS production beyond 32 ships, instructing the Navy to consider a host of alternative proposals for the remaining 20 ships slated to complete the 52-ship program.
A special Navy task force came up with the ideas for the SSC after exploring more than 192 different design concepts and consulted with fleet commanders, industry, surface warfare officers, engineers and program managers, among others.
Mabus explained that the FF designation including additional armor, technology, weapons and protection will definitely go on the last 20-planned LCS ships and may be retrofitted onto earlier models.
As for the Frigate fleet, the Navy plans to decommission the last 10 this year, officially removing them from service.
The last Navy Frigate to deploy recently left from Norfolk, Virginia, on what will be a historic final deployment for the class of ships.
The Navy has been phasing out the Frigates for years, which have been in service for nearly 40 years -- in favor of emerging higher-tech platforms such as the Littoral Combat Ship, Joint High Speed Vessel, Mobile Landing Platforms and Afloat Forward Staging Bases, said Navy spokesman Lt. Robert Myers.
Overall, the Navy built 51 Oliver Hazard Perry-class Frigates and has already decommissioned most of them.
-- Kris Osborn can be reached at kris.osborn@military.com