Naked man caught after dancing in Times Square identified as runway model
The naked man seen dancing and flailing his arms around New York's Times Square Thursday was identified as a runway model and Columbia University student, local media reported.
Warning: Photo below contains nudity.
The man, identified by The New York Post as 21-year-old Krit McClean, had run to the top of the plaza's red staircase as hundreds of tourists and New Yorkers took photos and video.
After about an hour, witnesses said he either jumped or fell from the awning of the TKTS booth 16 feet above the ground, missed a cushion and landed on the pavement before officers nabbed him. He sustained a cut on his elbow and was in stable condition at Bellevue Hospital, police said.
McClean's website showed he was born in Bangkok before moving to New York City and pursuing his bachelor's degree at Columbia.
At one point, he was screaming, "Donald Trump, where are you!" witnesses claimed. He also said, "I love fashion, it's taught me so much!" and name-dropped two photographers, the Post added.
Witnesses told the newspaper he was seen screaming and tossing his wristwatch at a woman outside the nearby Disney Store before taking his clothes off, then briefly putting them back on and disrobing again.
Officers closed off part of Times Square at 47th Street while they tried talking to him.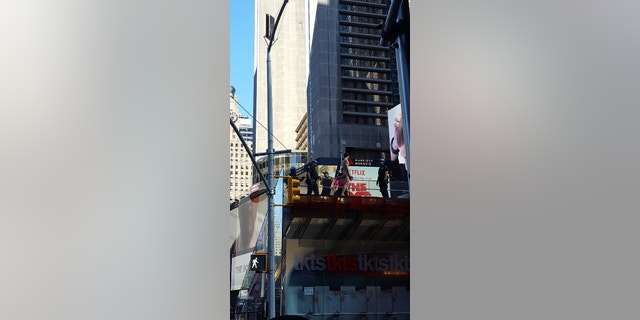 The TKTS booth sells discounted Broadway tickets.