Mom: Ex-Texas officer convicted of murder is a devoted dad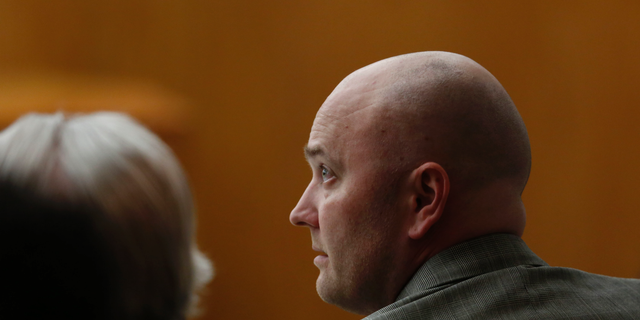 DALLAS – A white former police officer convicted of murder for shooting an unarmed black teenager in Texas is a good man and a devoted father, his mother testified Wednesday as she urged jurors to impose a lenient prison sentence.
Linda Oliver was among several people who spoke during the sentencing phase of Roy Oliver's trial. Oliver who was convicted Tuesday in the 2017 death of 15-year-old Jordan Edwards, who was shot when Oliver fired his gun into a car full of black teenagers leaving a large house party in suburban Dallas.
Oliver faces between five and 99 years in prison. Prosecutors are asking for at least a 60-year sentence.
His mother asked jurors for a five-year sentence, saying her young grandson needs his father's support.
"He needs his father's love. He needs his father's income. He needs his father's guidance," she said.
Oliver's wife also testified, saying in Spanish that she was concerned about their 3-year-old son, who is autistic, and the boy's future without his father at home. But the ex-officer's half sister testified against him, saying she felt compelled after listening to testimony and that she hoped he "gets what he deserves."
Edwards' father, Odell Edwards, told jurors Tuesday after the sentencing phase began that his son always had a smile on his face and dreamed of playing football at Alabama.
Edwards' stepmother, Charmaine Edwards, testified Tuesday that Jordan's death left a void in the family. She said nothing will make her family whole again.
"And I'm forever grateful that y'all (saw) it in your hearts, to see that it was wrong. And I'm thankful," she told jurors after they delivered the murder conviction.
Jurors were still deliberating on the sentence Wednesday evening.
Earlier Wednesday, Dallas County district attorney Faith Johnson said Oliver was a "killer in blue" and told jurors they could send a message that bad officers will not be tolerated.
The guilty verdict was rare for a police shooting case. The Dallas County jurors were not swayed by Oliver's claims that he was protecting his partner when he fired into the vehicle. His partner told jurors he didn't fear for his life.
The shooting occurred after Oliver and his partner responded to a report of underage drinking at the party in Balch Springs in April 2017. Police initially said the vehicle carrying Edwards and his friends backed up toward officers "in an aggressive manner," but police later admitted that bodycam video showed the vehicle was moving forward as officers approached.
Investigators said no guns were found in the vehicle. Oliver was fired days after the shooting.
Gasps echoed around the courtroom as the verdict was read Tuesday. Edwards' relatives sobbed and hugged prosecutors, waved their hands in the air and proclaimed "Thank you, Jesus!"
The jury, which features two black members out of 12 jurors and two alternates, also acquitted Oliver on two lesser charges of aggravated assault stemming from the shooting.
It's extremely rare for police officers to be tried and convicted of murder for shootings that occurred while they are on duty. Only six non-federal police officers have been convicted of murder in such cases — and four of those convictions were overturned — since 2005, according to data compiled by criminologist and Bowling Green State University professor Phil Stinson.
The case is not just about Jordan Edwards, but all other black men and women who have been killed and not received justice, said Daryl Washington, an attorney for the teenager's father.
___
This story has been corrected to show that Edwards' father testified Tuesday, not Wednesday.
___
Sign up for the AP's weekly newsletter showcasing our best reporting from the Midwest and Texas: http://apne.ws/2u1RMfv