Man hurls liquor bottles, beats employees during New York City store robberies caught on video
NEWYou can now listen to Fox News articles!
Authorities are hunting for a man captured on video hurling liquor bottles and beating employees during two separate -- and very violent -- robberies at New York City stores.
The unidentified robber launched his first attack inside Seward Park Liquors on Manhattan's Lower East Side around 12:45 p.m. Sunday. He demanded a 41-year-old employee hand over the money in the cash register, police said.
When the employee refused, the attacker tried to beat him with a liquor bottle before hurling glass containers at him.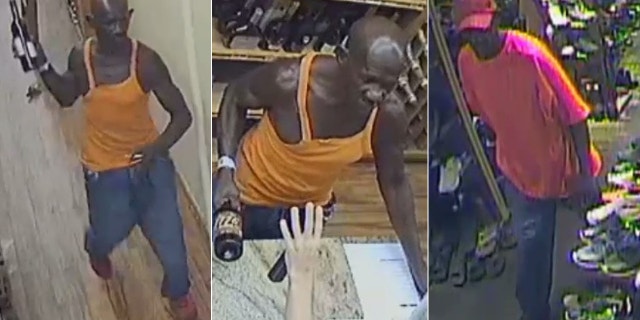 When the employee dashed out of the store, the thief was captured on video taking about $200 worth of cash out of the register, police said.
Less than two hours later, police said the robber struck again at Reno Fashion. He's seen on surveillance video punching and beating a man, 66, and a woman, 88, working at the store. He struck the man in the head with several glass jars and a large ceramic pot, according to police.
Both employees were taken to the hospital with lacerations to their head. They were said to be in serious but stable condition.
Police described the robber as a bald man believed to be between 45 and 60 years old.