Man accused of shooting, killing wife, two kids on Christmas was famed vegan chef, motivational speaker, report says
An Arizona man accused of shooting and killing his estranged wife and two children on Christmas Day was a vegan chef and motivational speaker who posted a video on Facebook with his 11-year-old son smiling and singing hours before he fired a gun at them, reports said.
Anthony Milan Ross, 45, was arrested just after 10 p.m. Monday in the murder of his estranged wife Iris Ross, 38, and his two children — Nigel Ross, 11, and 10-month-old daughter Anora Ross — at their Phoenix apartment. He was held without bail Tuesday.
Before the deadly shooting, Ross, who often goes by his middle name, was a motivational speaker, bestselling author and vegan chef who touted his plant-based diet for his weight loss, AZCentral reported. On his website, Full Flavor Vegan, Milan says his "mission in life is to help others escape the deadly hold of obesity."
"From his upcoming book entitled 'The Change,' to the launch of Full Flavor Vegan, Milan is doing everything he can to help educate others about all the amazing benefits of living a compassionate whole food, plant-based lifestyle," the website stated.
Ross' journey to losing more than 200 pounds began in 2012, when he was a Whole Foods employee and weighed more than 500 pounds. His outspoken success also led to being featured in a full-length documentary that included celebrities such as James Cameron and Samuel L. Jackson, according to AZCentral. Ross graced magazine covers and traveled the country to speak at events.
Ross also talked about his weight loss journey last month with local Phoenix station 12News.
"My body feels much better. I'm in better shape at 45 than I ever was when I was skinny in my 20s," Ross told the news station.
Ross was charged on Tuesday with three counts of first-degree murder and multiple counts of aggravated assault and assault against a police officer. He was taken into custody after he barricaded himself in the family's Phoenix home that led to a nighttime standoff with police officers.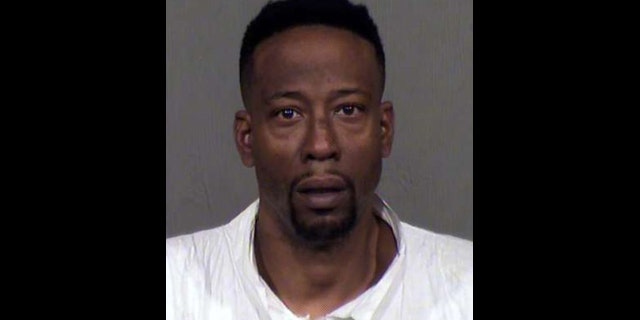 Ross seemed happy to spend time with his children hours before the Christmas Day killings. Ross posted on his Facebook page a video Christmas Eve of him and his 11-year-old son.
"Hey guys, I'm smiling and I'm hanging out with Nigel on Christmas Eve. We're going to embarrass ourselves! We're going to sing," Ross said smiling with his son.
They continued to sing "Santa Claus is Coming to Town."
Ross and his wife got divorced earlier this year, according to AZCentral.
Police tried to talk to Ross when he was inside the unit, Sgt. Jonathan Howard said. Several hours later, Ross indicated he had killed the two children and began shooting at officers, said authorities. There is no known motive for the deadly shooting.
A status conference was set to be held at Maricopa County Superior Court on the morning of Jan. 3, and a preliminary hearing was scheduled for the morning of Jan. 5.
The Associated Press contributed to this report.