Los Angeles-area woman fatally stabbed in front of her children, boyfriend arrested
Family and friends said Milagros Medina was stabbed in East Los Angeles in front of her five children by her live-in boyfriend
The boyfriend of a woman he allegedly stabbed to death in front of her five children outside Los Angeles has been arrested, authorities said Monday.
Sergio Viilalobos-Jimenez, 54 was taken into police custody in South El Monte, the Los Angeles County Sheriff's Department said. He was identified as a suspect in the Friday killing of 45-year-old Milagros Medina in East Los Angeles.
Authorities received a tip that he had been walking in the area when he was arrested. He surrendered and is slated to appear in court Tuesday.
LOS ANGELES WOMAN INJURED BY TEEN HIT-AND-RUN DRIVER BLASTS DA GEORGE GASCON AT EARLY RELEASE HEARING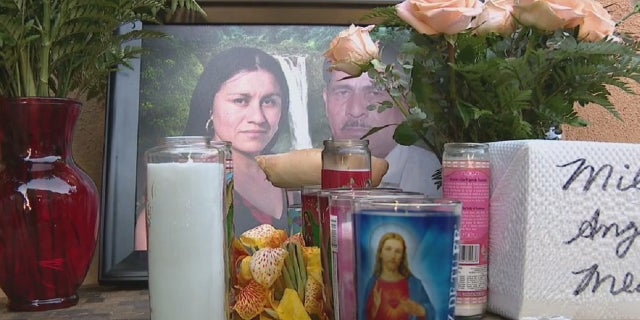 Medina's family said she was stabbed by her live-in boyfriend and was killed in front of her children – ages 3, 11, 13, 15 and 18, along with the 18-year-old's close friend – Fox Los Angeles reported.
"It was really gruesome," a family friend told the news outlet. "Her five children saw it, [along with] her three-year-old son. There was a lot of blood splattered everywhere. The blood went onto him [the 3-year-old], and that's what really broke me."
CLICK HERE TO GET THE FOX NEWS APP
The family said Medina was stabbed after she tried breaking up with Viilalobos-Jimenez.
A GoFundMe page set up in support of Medina's family said the children's father died four years ago.