Linda Brown, center of Brown v. Board case, dead at 76
Linda Brown, the woman who was at the center of the Supreme Court's Brown v. Board of Education decision that ended school segregation, has died at age 76.
Brown's sister, Cheryl Brown Henderson, confirmed her death to The Topeka Capital-Journal.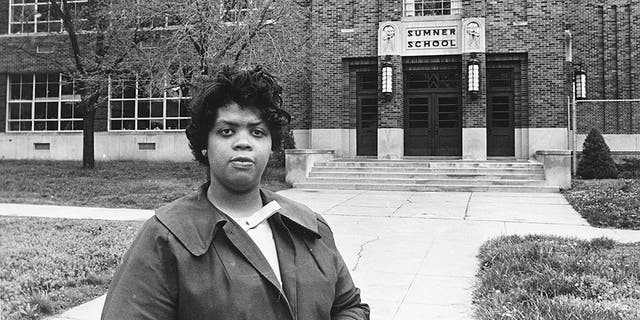 The Supreme Court in 1954 ruled segregation in public schools was unconstitutional. The landmark ruling came after Brown's father tried to enroll her in Topeka's all-white Sumner School.
The Topeka Board of Education denied Brown admission, which led to her father, Oliver, challenging the decision in the nation's highest court.
"Her legacy is not only here but nationwide," Kansas Deputy Education Commissioner Dale Dennis said. "The effect she had on our society would be unbelievable and insurmountable."
The NAACP, which took up the case alongside former Associate Supreme Court Justice Thurgood Marshall, tweeted that Brown was a "hero for our nation!"
Kansas Gov. Jeff Colyer said that "Brown's life reminds us that sometimes the most unlikely people can have an incredible impact and that by serving our community we can truly change the world."
"As a young girl, her courage in the face of one of the darkest forces in American history fundamentally changed our nation," the Legal Defense Fund for the NAACP tweeted. "For that, we owe her our eternal gratitude."
Brown v. Board of Education began after several black families in Topeka were turned down when they tried to enroll their children in white schools near their homes. The lawsuit was joined with cases from Delaware, South Carolina, Virginia and the District of Columbia.
On May 17, 1954, the Supreme Court ruled unanimously that separating black and white children was unconstitutional because it denied black children the 14th Amendment's guarantee of equal protection under the law.
"In the field of public education, the doctrine of 'separate but equal' has no place," Chief Justice Earl Warren wrote. "Separate educational facilities are inherently unequal."
The Associated Press contributed to this report.