Kentucky judge lets defendant meet newborn son before leaving court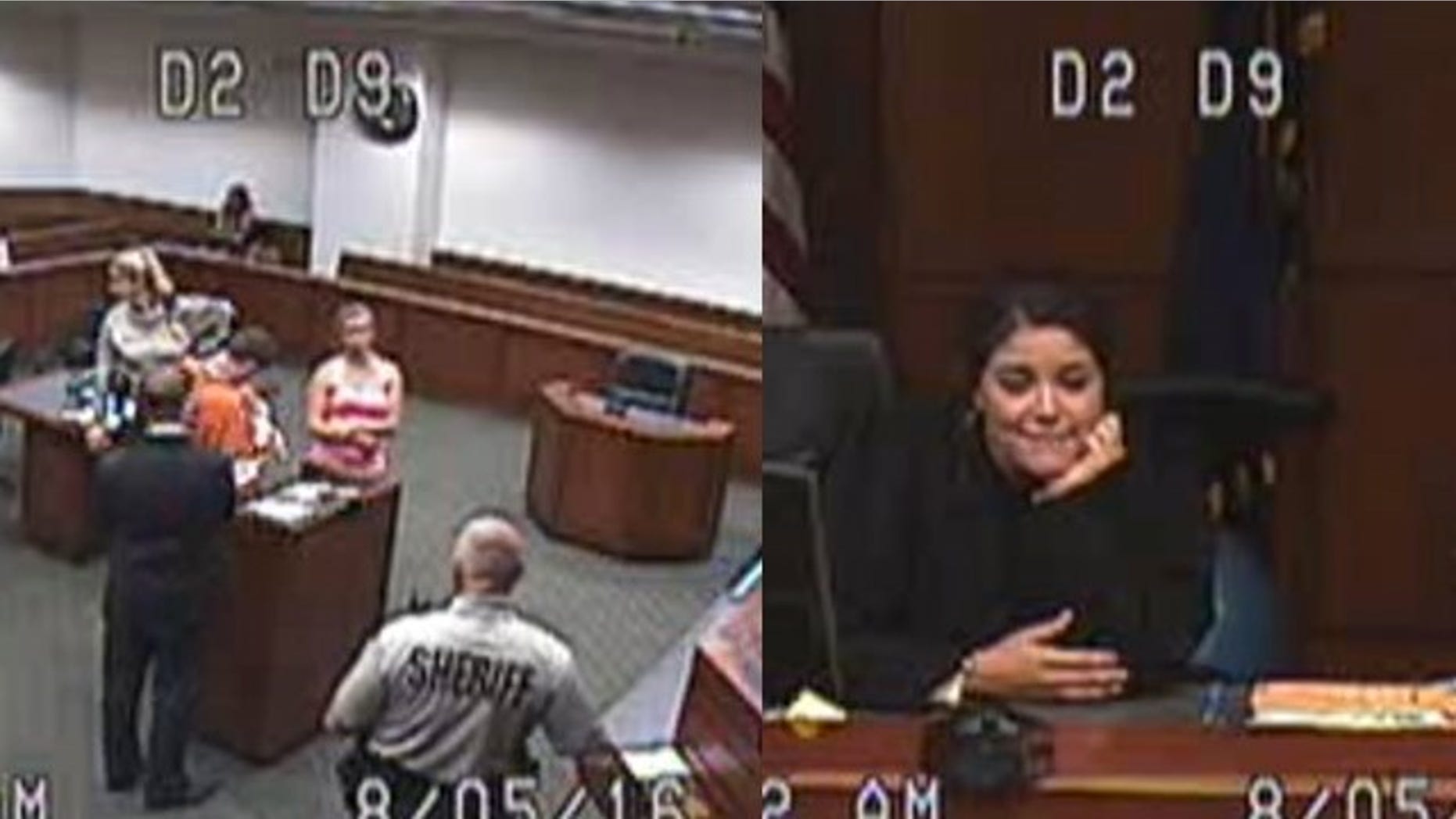 A judge in Kentucky who recently made headlines for her reaction to a bare-legged inmate returned to the spotlight—this time, allowing a defendant to meet his newborn son.
Judge Amber Wolf on Friday called the defendant, James Roeder, back into her Jefferson County district courtroom after his hearing ended to let him hold his 1-month-old for the first time, WDRB reported. Once again, it was all caught on video.
Roeder, who was behind bars on a burglary charge, had never seen his son. He has a no-contact order with wife Ashley Roeder, a co-defendant in the same crime.
The video shows Wolf handing out tissues to observers who witnessed the emotional introduction, which lasted a few moments and ended with a kiss on the baby's head. She then proclaimed, "If you all aren't teared up, then you're just heartless."
Wolf told WDRB in a Monday interview that she saw Ashley Roeder try to hold the baby up when James entered the courtroom for his case, prompting her to ask the mother if she would like for her husband to meet his son.
"It was touching," she told WDRB, adding Roeder would not have otherwise had the opportunity to meet his baby in the near future. "I think it was -- not as a judge, but just as person -- it was probably one of the best things I've ever done."
The couple reportedly was taken into custody on May 20 on accusations that they broke into a warehouse and stole six flat-screen TVs.
Wolf received national attention last month when she stopped a hearing and pointed out that an inmate had entered the courtroom without a prison jumpsuit – and apparently without pants. The judge called jail officials, demanding an explanation.
Those officials claimed the woman was wearing shorts hidden by a long shirt. Steve Durham, a jail spokesman, said she wasn't in custody long enough to be given a jumpsuit.
Wolf apologized and released the woman, who had failed to complete a diversion program for shoplifting, with time served and a $100 fine.