Kaine downplays presidential readiness amid Clinton illness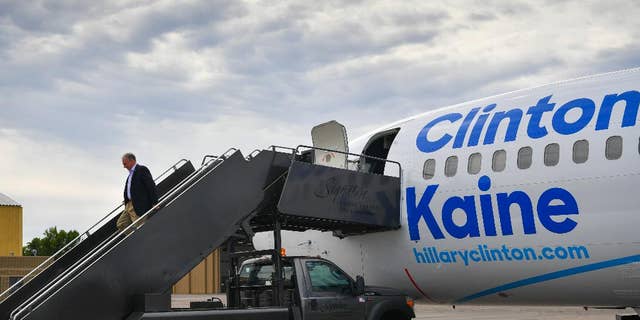 NEWYou can now listen to Fox News articles!
ANN ARBOR, Michigan – Tim Kaine's role as Hillary Clinton's vice presidential running mate means he'd be one heartbeat away from the presidency. Clinton's health scare, complete with a widely-viewed video of her stumbling and being supported by aides after abruptly leaving a 9/11 memorial service in New York City, makes that fact more relevant to some — and a bit awkward.
Former Ohio Gov. Ted Strickland found that out by offering what's usually benign praise of any presidential running mate, telling an audience on Monday that Kaine was, "wonderfully prepared" to "be the president if that ever became necessary."
Asked the same day if there's more pressure to prove he's up for the presidency given Clinton's pneumonia, the usually folksy and expansive Kaine was curt: No, he said, he absolutely does not think that. He did not elaborate.
As Clinton recovers from pneumonia and prepares to resume campaigning Thursday, Kaine is emphasizing instead that her "energy staggers me. I have a hard time keeping up with her."
"She is working so hard, even pushing through. She got told, 'Hey, you're a little bit sick,'" Kaine told hundreds of supporters from the steps of the graduate library on the University of Michigan campus during a Tuesday rally. He characterized Clinton's response as: "'Well, I'm going to still go at it.'"
Clinton's illness could put more pressure on Kaine to look more presidential — instead of just relishing his usual role as political attack dog or top Clinton cheerleader. But Kaine can't embrace that too much without calling unwanted attention to Clinton's health.
Clinton's illness was on the minds of some voters as Kaine briefly visited Michigan, a swing state that he promised was "going to be close" between Clinton and Republican presidential nominee Donald Trump in November.
Kim Clarke chatted with Kaine when the candidate popped into a coffee shop just off the university's campus shortly before his Tuesday rally. Clarke told Kaine of Clinton, "it's OK to be sick," to which Kaine immediately responded that the illness wasn't a big deal and Clinton would recover soon.
Clarke, a 56-year-old who works for the University of Michigan, said afterward that when she heard about Clinton's health problems "my first thought wasn't, 'Oh, Tim Kaine, what's going to happen." But she also said the stakes have risen for the Virginia senator.
"You obviously want your vice presidential candidate to be of the same timber as the presidential candidate because things happen," Clarke said. "If that person were to have to step in, you'd want to know that they have similar leadership characteristics."
During a campaign stop later Tuesday at the University of Minnesota Twin Cities in Minneapolis, 21-year-old Will Dammann gave Kaine a student government T-shirt. Dammann said he normally voted Republican but that he would support Clinton and Kaine in November because he doesn't think Trump is good for the GOP.
"He's a very trustworthy person. He comes across as caring and assertive," Dammann said of Kaine's qualities as a potential president. But also said he didn't think it would come to that: "I think Secretary Clinton is going to be fine."
Same goes for Alex Juntti, a 21-year-old English major at the University of Michigan who attended Tuesday's rally after his Ancient Law class. He said he still sees Kaine as more of a Clinton campaigner-in-chief than someone who needs to prove he's up for the presidency.
"To me, this isn't his audition for a potential presidency," Juntti said.