International Baccalaureate programs catch on in US schools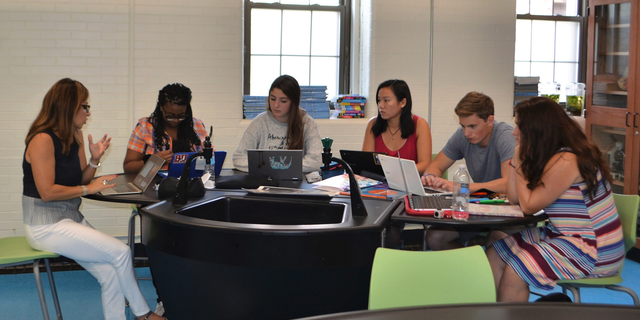 For decades, many U.S. high schools have offered a range of college-level Advanced Placement courses to allow high achievers to shine above and beyond a standard diploma. But there's another standard that many schools have adopted: the International Baccalaureate.
"There has definitely been an uptick of IB diploma programs across the United States, and it is considered the gold standard among college admissions officials," says Shellee Hendricks, director of college counseling at the French-American School of New York, in Mamaroneck, which recently began offering the IB diploma.
Colleen Duffy, marketing manager for the International Baccalaureate Organization in the Americas, says IB diploma programs here have the greatest presence in California, Florida and Texas schools, but there are also many in the Midwest and other parts of the country.
"The biggest misperception people have about the program is that it's a study abroad program. It's not. It was started in Switzerland for parents who frequently transferred from one country to another and wanted a curriculum that would be more internationally accepted. But we're in public schools in almost every U.S. state now," says Duffy.
Unlike the College Board's AP program, which offers single subject courses and is still the most common nationally, the lesser-known International Baccalaureate program is more all-encompassing in subject matter.
Duffy says it's a more rigorous preparation for college-level work, encourages in-depth independent research, and teaches students to embrace a diverse world.
"It's much more holistic than a few AP classes here and there," she says.
The two-year IB curriculum, developed in 1968 at an international school in Geneva, is now offered in 931 American high schools — 87 percent of them public schools — and dozens more have begun the long certification process. The number of IB schools around the world exceeds 4,700, spanning 150 countries, and is expected to surpass 7,000 in the next five years.
To earn an IB diploma, students must devote their junior and senior years to the program, which requires English plus another language, math, science, social science, art, a course on theory of knowledge, a 4,000-word essay, oral presentations and 150 recommended hours of community service.
"The essay is an intensive and extensive research piece on a topic of the student's choice," Hendricks says.
While some schools begin with the IB curriculum in elementary school, others don't start it until middle school or high school.
Critics say the IB program is not for every student, or every community.
"I was one of a number of middle school teachers in our district who believed in the IB program, but fought against it tooth and nail because it was too much to abide by the state mandates at the same time as having to implement this program," says Kelly Osterhout, who taught middle school in the York County School District in Virginia for four years.
"We felt that there weren't enough resources available to teachers to do it the way it should be done, and we had to deal with parents who got upset about elements of the program like teaching global tolerance and respecting the opinions of others. Just mentioning the LGBTQ movement, for example, caused a stir."
Teachers at her school voted to get rid of the IB program at the middle school level, she said, but it remains in place at the high school level.
Some people feel uncomfortable with the program's ties to the United Nations. The program received funding from UNESCO from 1968 until 1976, and continues to be associated with the United Nations Economic and Social Council.
Others object to its cost — the organization charges $11,650 a year per school, $172 per student and $119 per exam — and say it is neither as effective as the AP program nor likely to reach as many students, since it's too rigorous for most.