Indiana police officers support daughter of fallen trooper at graduation more than 10 years after his death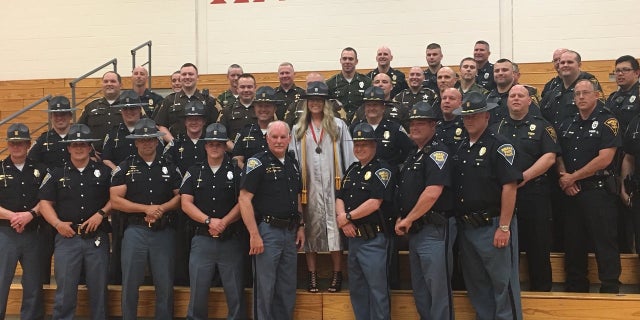 NEWYou can now listen to Fox News articles!
Police officers from several Indiana police departments attended a high school graduation Saturday for the daughter of a fallen trooper more than a decade after he was killed in the line of duty.
Lauren Rich had 39 police officers from six police departments in Indiana at her Southwood Junior-Senior High School graduation on Saturday. Sgt. Tony Slocum, public information officer for Indiana State police, said Lauren's father, Master Trooper Detective Dave Rich, was shot and killed in 2007.
"Congrats Lauren, we promise we will never forget your families sacrifice," Slocum tweeted along with a photo of Lauren and the 39 police officers.
Rich was investigating a reported stranded vehicle when a man opened fire through the driver's window, according to the Officer Down Memorial Page. Rich, who was not wearing a bullet-proof vest, was killed after being struck in the chest.
OFFICERS KILLED IN THE LINE OF DUTY IN 2018
Lauren was 7 years old when her father died. Her father had been in the force for more than 17 years.
Slocum called Lauren's father an "awesome guy" and said Rich would have been proud of the "great young lady" his daughter has become.