In US-run drill, Iraqi SWAT team taught to respond to bombs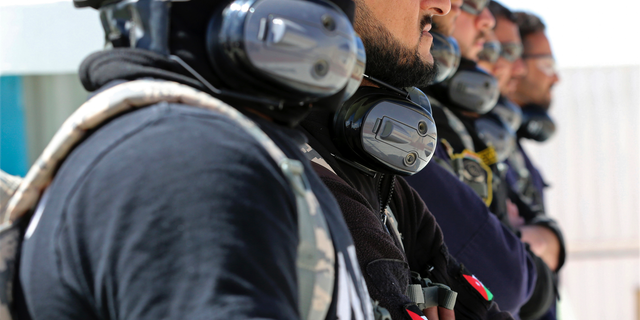 AL-MUWAQQAR, Jordan – A SWAT team from Iraq's Anbar province observed U.S. instructors responding to a bomb threat in a drill at a U.S.-backed counter-terrorism training center in Jordan.
In Sunday's exercise, U.S instructors prepared explosive charges, including an improvised one using water bottles, to detonate the suspected bomb.
In another section of the Jordan International Police Training Center, Palestinian security forces practiced seizing an armed suspect who had taken over a police station.
More than 7,150 Jordanians and about 1,900 officers from 21 other nations have participated in courses by the State Department's Anti-Terrorism Assistance program at the site. Thousands of Palestinians have been trained in a different program.
Training includes shooting skills and field medicine, but is adjusted to local needs, said John C. Myers, the ATA program manager in Jordan.