ICE Proposes New Policy That Would Let Illegal Immigrants Go Free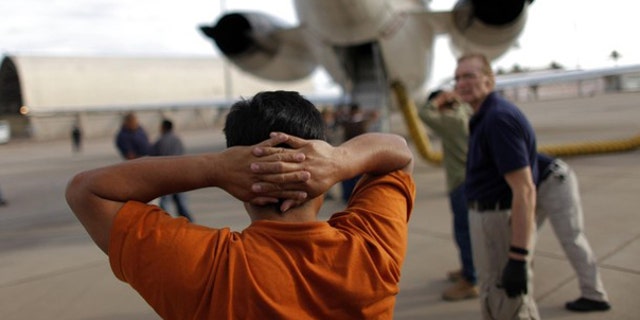 Illegal immigrants who get pulled over by police for traffic-related offenses will be set free if a proposed change in Immigration and Customs Enforcement policy is approved.
The proposal has come under fire by county sheriffs near the Arizona-Mexico border — including some who spoke out against SB 1070, the controversial Arizona law that directs law enforcement officials to question people they suspect are in the country illegally. A federal judge has effectively put that law on hold, pending resolution in federal court of the Department of Justice's claim that it is unconstitutional.
The proposed changes in ICE policy state:
"Immigration officers should not issue detainers against an alien charged only with a traffic-related misdemeanor unless or until the alien is convicted."
The ICE proposal would prevent law enforcement officers from reporting illegal immigrants identified during the course of a traffic-related stop or arrest to federal authorities unless:
-- they are a convicted felon;
-- they are wanted for a felony;
-- they are part of an existing investigation;
-- they were involved in an accident involving drugs or alcohol, or they fled the scene.
The draft proposal was posted on ICE's website last month with a request for public comment. They will consider comments on the proposal from anyone who submits them and agency officials will reconvene at a future time to discuss the suggestions.
Click here to read the policy proposal.
Santa Cruz County Sheriff Tony Estrada, who opposed Arizona's new immigration law, told KGUN9-TV, "It is surprising they would make that decision. I would suspect once an individual is identified as being here illegally, some process would kick in ... that would deport that person."
Pinal County Sheriff Paul Babeu, a staunch supporter of the Arizona law, also spoke out against ICE's proposal, telling KGUN, "Now it appears what they have in some draft policies and their proposal is to water down any strength in the federal law whatsoever, and this is clearly in direct opposition of what the people really want."
Estrada told FoxNews.com in a phone interview that he didn't think much would change for his department if the proposal became law.
"Now, we don't detain anyone. We call Border Patrol if we suspect someone is illegal, and we'll continue to do what we're doing," he said. "We'll continue to call Border Patrol and if we call Border Patrol and they don't respond, well...then they don't respond."
"I think this could be more of an issue everywhere else in the country with all the Border Patrol agents here at the border not that much will change," he said.
Senators John Cornyn, R-Texas, and Jon Kyl, R-Ariz., have written to Homeland Security Secretary Janet Napolitano expressing concern over the proposed change.
In a statement to FoxNews.com, Cornyn said:
"This situation is just another side effect of President Obama's failure to deliver on his campaign promise to make immigration reform a priority in his first year. Until he does, state and local authorities are left with no choice but to pick up the slack for prosecuting and detaining criminal aliens."
ICE spokesman Brian Hale provided this statement:
"Some recent news reporting grossly mischaracterizes ICE's draft detainer policy for which that the agency presently seeks public comment. ICE has removed record numbers of criminal and non-criminal aliens under this administration. The draft policy is designed to solicit public input on how to best set priorities for the use of our limited detention resources to protect public safety."