Hurricane Lane weakens to tropical storm near Hawaii, but more damage expected
Hurricane Lane weakened to Tropical Storm Lane on Friday evening, as "strong gusty winds" that brought torrential rains to the Hawaiian islands began to lose strength, officials said.
According to a 5 a.m. ET update from the National Weather Service's Central Pacific Hurricane Center (CPHC), the center of the storm was about 140 miles south-southwest of Honolulu, with maximum sustained winds of 65 mph. The storm was moving north-northwest at 3 mph.
But Honolulu Mayor Kirk Caldwell warned that residents needed to remain vigilant and not let their guard down. Still, he was happy to hear the storm had been downgraded.
"The good news is Lane got weak and fell apart. We dodged a bullet," he said at a news conference Friday.
"The good news is Lane got weak and fell apart. We dodged a bullet."
Rain bands were still expected to bring more flooding and other damage to the islands.
As it approached Hawaii, the storm forced residents to flee flooded homes, while others jumped off seawalls with boogie boards into the turbulent ocean.
HURRICANE LANE THREATENS HAWAII: WHAT TO KNOW ABOUT THE RARE STORM'S PATH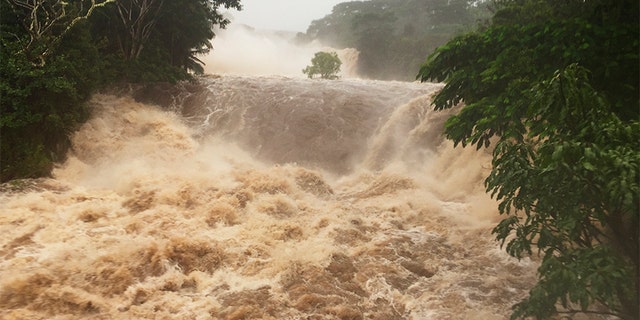 The storm has churned up sizable swells, which were expected to create "high and possibly damaging surf along exposed south shorelines today through Saturday," the CPHC said.
The outer bands of the hurricane dumped as much as 3 feet of rain in 48 hours on the mostly rural Big Island.
The city of Hilo, with a population of 43,000 and located on the Big Island, was flooded with waist-high water.
A statewide brown water advisory was also issued amid the storm, according to the Hawaii State Department of Health.
"Not all coastal areas may be impacted by runoff, but if the water is brown stay out," the department warned in a tweet.
As flooding hit the Big Island, brush fires broke out in areas of Maui and Oahu susceptible to flames.
Some residents in a shelter on Maui had to flee when a fire got too close and another forced people from their homes. A woman got burns on her hands and legs and was flown to Honolulu, Maui County spokesman Rod Antone said. Her condition wasn't clear.
The Honolulu Fire Department (HFD) also responded to a wildland fire near the Kahe Power Plant Friday morning when 14 HFD units staffed with 40 personnel were assigned to the incident, Fire Capt. Scot Seguirant said in a statement obtained by Fox News.
Due to the weather conditions, the fire was "proving difficult to contain" and no air resources were available for water drops on the fire, Seguirant said.
HURRICANE LANE: AIRLINES CANCEL FLIGHTS, WAIVE CHANGE FEES
President Trump on Friday tweeted that he'd spoken to Hawaii Gov. David Ige "to express our full support for the people of Hawaii as the State is impacted by #HurricaneLane."
"The Federal Government isi fully committed to helping the people of Hawaii," he continued.
On the island of Oahu, gusts rattled windows and roofs in Honolulu's hillside neighborhood of Nuuanu and scattered tree branches, palm fronds and at least one downed electrical line across roadways.
Almost 16,000 homes and businesses on the islands lost electrical power as the outer edges of the hurricane battered the islands, but service was restored to a portion of them, Hawaiian Electric spokesman Peter Rosegg said.
Officials from Hawaiian Electric also cautioned residents against being closer than 30 feet to any fallen power lines and said power outages will "likely" happen due to the hurricane.
"Please plan for it," the company said. "We will do our best to restore power when it is safe to do so."
West Maui residents and businesses were strongly urged to conserve water into Saturday.
The Department of Water Supply was unable to operate its pumps due to the power outage, as the surface water treatment facilities could not process the muddy water inflow, Fox News has learned.
Even after power is restored, it will take some time to restore tank levels, so people should use water for health and safety purposes only until Sunday.
As the storm neared the Hawaiian islands, several major airlines – including Hawaiian Airlines, United and Delta – canceled trips and waived flight change fees.
Fox News' Amy Lieu, Ray Bogan, Dan Gallo, Janine Puhak and the Associated Press contributed to this report.