GoFundMe couple allegedly spent homeless man's money on shoe collection, pricey vacations: report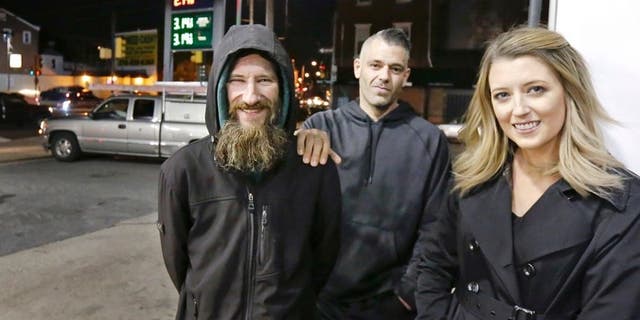 The lawyer for a homeless man in Philadelphia whose selflessness led to donations of over $400,000 through an online fundraising page reportedly said the couple who set up the fund spent the money on amassing a shoe collection and pricey vacations.
Johnny Bobbitt's attorney, Jacqueline Promislo, told The New York Post that the couple started to spend the money right after depositing it into their bank account.
"They went on shopping sprees," she told the paper. "[Bobbitt] tells me they had a Louis Vuitton bag and Chanel sunglasses, a new iPhone 10."
She said that a forensic accountant will sift through the account and verify the allegations. "But now that they say there is no money, where did it go?"
Kate McClure and Mark D'Amico are the couple accused in a lawsuit brought by Bobbitt of mismanaging donations raised for him through GoFundMe. The couple deny the claims in the suit, saying they're wary of giving Bobbitt large sums because they fear he will buy drugs.
GoFundMe spokesman Bobby Whithorne said the company is working with law enforcement to ensure that Johnny Bobbitt gets all the money raised for him after he used his last $20 to help a woman get gas.
McClure and D'Amico's attorney did not respond to the paper for comment.
McClure set the page up to give back to Bobbitt, a Marine veteran who helped her when she ran out of gas on an Interstate 95 exit ramp late one night. It raised more than $400,000 from more than 14,000 people.
Bobbitt walked a few blocks to buy McClure gas. She didn't have money to repay him at the time, but sought him out days later to give him the money, and visited him a few more times to bring food and water. They later appeared on shows like "Good Morning America" and were interviewed by the BBC.
The relationship has since deteriorated.
D'Amico has told the Philadelphia Inquirer he spent $500 of the GoFundMe money to gamble because he didn't have his casino card one night, but said he repaid it with his winnings.
D'Amico has said Bobbitt spent $25,000 in less than two weeks in December on drugs, in addition to paying overdue legal bills and sending money to his family.
The couple also bought Bobbitt a camper with some of the funds and parked it on land McClure's family owns in Florence, New Jersey. But Bobbitt became homeless again after D'Amico told him in June that he had to leave the property.
Fallon said Bobbitt had received about $75,000, including the camper as well as a 1999 Ford Ranger.
Promislo called Bobbitt "sweet" and said he spoke highly of Kate.
"I said, 'You were also given very little money when you were living in a trailer in her driveway,'" she said. "But he likes her! He wasn't actually going to pursue this — it's just not in his nature."
The Associated Press contributed to this report