FOX NEWS FIRST: Trump returns to challenges on Roy Moore, tax reform; Sessions grilled on the Hill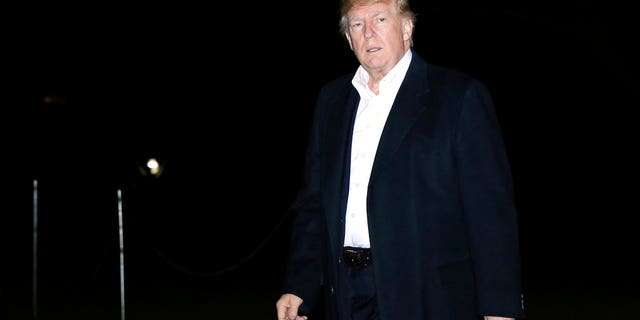 Welcome to Fox News First. Not signed up yet? Click here.
Developing now, Wednesday, Nov. 15, 2017:
Trump back from Asia: President comes home to challenges on tax reform, Roy Moore, government shutdown
Roy Moore finds religion: Alabama Senate candidate urges U.S. to "come back to God," downplays sex scandal
Sessions grilled on the Hill: Attorney general faces questions on Russia, possible Clinton probe
Fox News Exclusive: In Town Hall, House Speaker Paul Ryan insists GOP tax reform will benefit average Americans
Mother of California gunman says son was feuding with neighbors
THE LEAD STORY: President Trump returns from his 13-day Asia trip, declaring it a success. But he faces a long list of domestic challenges ... Trump must grapple with getting the GOP tax reform plan passed through Congress, avoiding a government shutdown and deciding how to deal with Ala. Republican Senate candidate Roy Moore, who faces mounting calls to withdraw from the Dec. 12 election because of sexual misconduct allegations. Republicans want President Trump to intervene. But Trump hasn't weighed in much since White House press secretary Sarah Sanders said the president "believes that if these allegations are true, Judge Moore will do the right thing and step aside."
MOORE SEEKING DIVINE INTERVENTION?: Addressing a church audience Tuesday night, Roy Moore seemed to downplay the sexual misconduct allegations that have rocked both his campaign and the GOP and urged America to "come back to God"... "After 40-something years of fighting this battle, I'm now facing allegations. And that's all the press wants to talk about," Moore said. "But I want to talk about the issues. I want to talk about where this country is going and if we don't come back to God, we're not going anywhere." Moore has denied all the allegations and has not indicated he will drop out of the race. But the Republican National Committee has pulled its field staffers out of the Alabama Senate race.
SESSIONS ON THE HOT SEAT: Republican lawmakers seeking a federal investigation into Hillary Clinton's actions were disappointed Tuesday when Attorney General Jeff Sessions told the House Judiciary Committee that no such probe was imminent -- despite Clinton's ties to the Obama-era Russia-Uranium One deal, the Clinton Foundation's finances and the FBI's probe of her emails ... Sessions vowed that his Justice Department "would not be infected by politics or bias," and told officials he still needed to study the facts. "I would say 'looks like' is not enough basis to appoint a special counsel," Sessions told Rep. Jim Jordan while under questioning. Sessions has directed senior federal prosecutors to evaluate "certain issues" requested by congressional Republicans, involving the sale of Uranium One and alleged unlawful dealings related to the Clinton Foundation, still leaving the door open for an appointment of a special counsel.
SPEAKER RYAN TOUTS TAX CUTS: House Speaker Paul Ryan promised a Fox News town hall audience that the House tax reform bill would benefit average Americans, despite critics' claims to the contrary ... Ryan said Republicans did not include a provision to repeal ObamaCare's individual mandate in the House tax reform bill because "we didn't want to needlessly complicate" a vote on the measure. The House speaker spoke hours after Republicans on the Senate Finance Committee said they would attempt to finance the cuts by inserting into their bill a provision to repeal the health care requirement. The House is expected to vote on its tax bill later this week.
SHOOTER'S STATE OF MIND: The mother of a Northern California gunman who killed at least four people and wounded at least 10 others before he was killed by police on Tuesday said he was frustrated by an ongoing feud with his neighbors before the rampage ... In a phone interview with the Associated Press, the mother, who identified herself only as Anne, revealed that her son had been troubled in the days before shooting. "I'm on a cliff and there's nowhere to go," she recalled her son saying in a phone call. "It's all over now."
AS SEEN ON FOX NEWS
A GRATEFUL KRAUTHAMMER: "Thanks to all of you for your cards, letters and good wishes. I am still recovering from major surgery 12 weeks ago. I have graduated from the [Intensive Care Unit] to an advanced rehab facility to regain my strength and stamina. It's a longer road than anticipated but the support of family friends and kindly viewers continue to sustain me. In the immortal words of Arnold Schwarzenegger, 'I'll be back.'" – Bret Baier, reading a note from Charles Krauthammer to his fans and well-wishers, on "Special Report." Krauthammer has been recovering from major surgery. WATCH
GROUNDS FOR A SPECIAL COUNSEL: "If that doesn't warrant investigation... I don't know what does." – Rep. Jim Jordan, on "Hannity," arguing that revelation that the DNC and Clinton campaign funded the Trump dossier warrants the appointment of a special prosecutor. WATCH
ACROSS THE NATION
Lawmakers call out colleagues, accuse them of sexual harassment.
Six terror-linked foreigners entered US via 'diversity lottery,' says Trump administration.
Three UCLA basketball players return to US after being detained in China for allegedly shoplifting.
MINDING YOUR BUSINESS
Americans say job openings are increasing but wages aren't: Study.
Airbus wins jet order worth $49.5 billion from Indigo Partners.
Amazon effect: Malls mourning their last Christmas?
NEW IN FOX NEWS OPINION
Trump represents the US far better in Asia trip than Obama ever did.
Why people are better than robots -- The irreplaceable art of undercover agents.
Is Saudi Arabia's Mohammed bin Salman getting ready to lead a revolution from above?
HOLLYWOOD SQUARED
Jon Stewart addresses Louis C.K.'s controversy, hints at misconduct at NBC.
Harvey Weinstein sued by actress over alleged hotel rape incident.
People magazine names Blake Shelton 2017's 'Sexiest Man Alive'.
DID YOU HEAR ABOUT THIS?
15,000 scientists just sent a dire 'warning to humanity.'
Zombie ants are scarier than you ever imagined.
Thanksgiving-inspired cocktails that your guests will love.
STAY TUNED
On Fox News:
Fox & Friends, 6 a.m. ET: Rep. Jim Jordan breaks down Attorney General Jeff Sessions' testimony before lawmakers on Tuesday; columnist Star Parker looks back on how Democratic Rep. Steve Cohen hijacked her pro-life testimony.
The Ingraham Angle, 10 p.m. ET: "Clinton Cash" author Peter Schweizer gives his take on whether Hillary Clinton will face a special prosecutor.
On Fox Business:
Mornings with Maria, 6 a.m. ET: Republican Conference Chair Cathy McMorris Rodgers on the chances the House will pass its tax bill this week; Richard Pops, Alkermes Chairman & CEO, describes his company's efforts to tackle the nation's opioid crisis; Jenny McCarthy details her allegations of sexual misconduct against Steven Seagal; KISS frontman Gene Simmons gives advice on gaining power and money in new book.
Varney & Co., 9 a.m. ET: Reps. Erik Paulsen and Tom Reed of the House Ways and Means Committee make their tax reform bill pitch; actor-turned-congressional candidate Antonio Sabato Jr. gives his take on Trump's Asia trip.
Cavuto: Coast to Coast, Noon ET: Former Reagan Budget Director David Stockman looks at the challenges facing Trump's tax cut plan and breaks down Indigo Partners awarding $49 billion contract to Airbus.
On Fox News Radio:
The Fox News Rundown Podcast: Fox News' Jon Decker and Brooke Singman break down the revelations and legality of Donald Trump Jr.'s communication with WikiLeaks during the 2016 presidential campaign; Some Democrats are concerned that President Trump may display carelessness when it comes to our nuclear weapons arsenal. Fox News National Security Correspondent Jennifer Griffin explains that the process of launching nuclear strikes is nothing like the movies. War Stories" host Col. Oliver North and David Kreiger, president of the Nuclear Age Peace Foundation provide additional prospective. Plus, commentary from Fox News contributor Jessica Tarlov.
Want the Fox News Rundown sent straight to your mobile device? Subscribe through Apple Podcasts, Google Play, and Stitcher.
#OnThisDay
1957: Soviet leader Nikita Khrushchev challenges United States to a missile "shooting match."
1867: The first stock ticker is unveiled in New York City.
1777: After 16 months of debate, the Continental Congress, agrees to adopt the Articles of Confederation and Perpetual Union
Thank you for joining us on Fox News First! Enjoy your day and we'll see you in your inbox first thing Thursday morning.