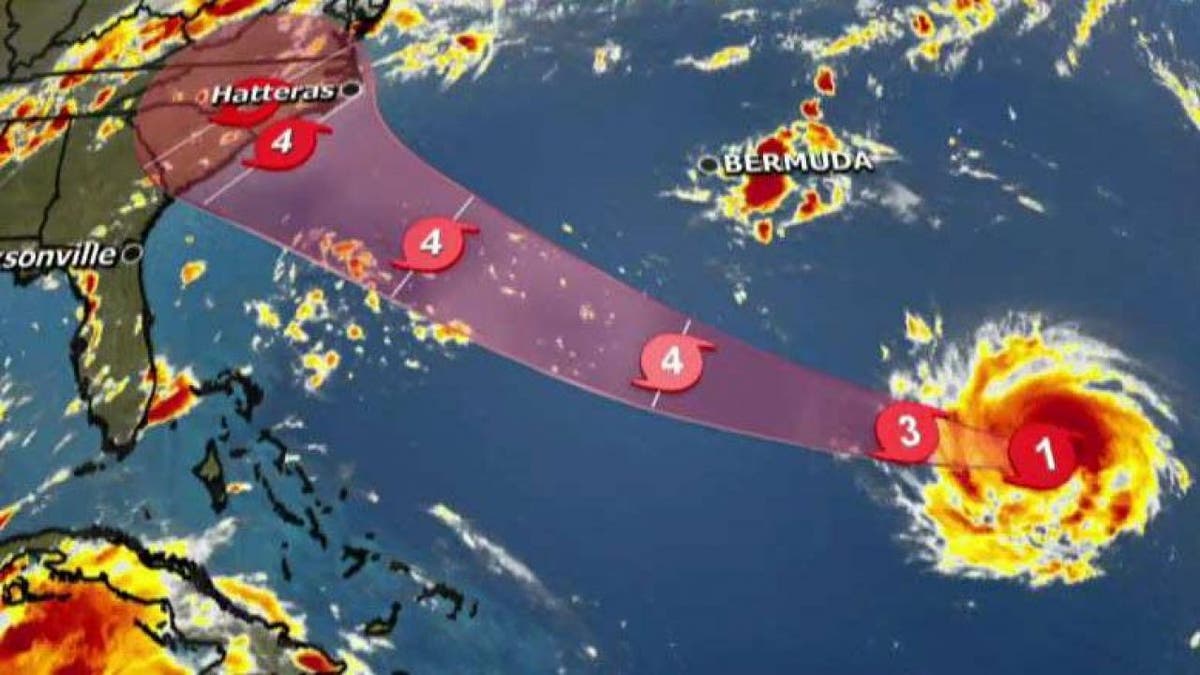 Welcome to FOX News First. Not signed up yet? Click here.
Developing now, Monday, September 10, 2018
Virginia and North and South Carolina are under states of emergency after Hurricane Florence strengthened Sunday, and weather forecasters predicted it could become a major storm that batters the southeast U.S. later in the week
Trump administration officials urged the anonymous purported senior White House official behind last week's anti-Trump New York Times op-ed to resign and indicated an investigation may be needed
Syrian President Bashar al-Assad reportedly has approved a gas attack in the Idlib province, the country's last rebel stronghold, despite a warning by President Trump last week
CBS Chief Executive Les Moonves stepped down Sunday amid new allegations of sexual conduct
A Dallas police officer who shot and killed a black man in his apartment after she mistook him for an intruder in her own home has been charged with manslaughter 
THE LEAD STORY - BRACING FOR FLORENCE: Hurricane Florence regained its strength Sunday as weather officials predicted it will turn into a "major" storm as it aims for a possible hit on the southeastern U.S. later this week ... According to the National Hurricane Center, Florence is "forecast to become a major hurricane on Monday," and is expected to grow larger and move faster over the next few days. On Sunday, The storm crossed the 74 miles-per-hour threshold from tropical storm to hurricane, and by evening its winds were up to 85 mph. Forecasters warned that it could be a fearsome Category 4 with winds of 130 mph or more by Tuesday. The hurricane center said it's too early to know what path the storm will take, but that it could hit the Carolinas by Thursday. Forecasters urged residents from South Carolina to the mid-Atlantic to get ready. The governors of North and South Carolina, along with Virginia, have declared states of emergency in preparation for the storm.
INVESTIGATING 'ANONYMOUS': President Trump's top officials on Sunday said the anonymous senior White House aide who allegedly wrote the infamous New York Times op-ed last week should leave the administration and that an investigation could be needed ... "If they are that senior administration official -- they're violating an oath, not to the president, but to the Constitution," Vice President Mike Pence told "FOX News Sunday" anchor Chris Wallace. "Look, it's un-American. And I think that's why you've seen Republicans and Democrats condemn this."
President Trump, Pence said, was concerned about the national security implications of the op-ed. "To have someone who literally celebrates coming in every day to frustrate the agenda that the president and I were elected to advance -- it really is an assault on our democracy," he said. Pence added that he would be willing to take a lie-detector test to prove he was not behind the op-ed.
Counselor to the President Kellyanne Conway told CNN "there can be an investigation if there is criminal activity." President Trump, Conway indicated, is concerned the anonymous op-ed writer could leak information if he or she is trying to undermine his agenda. "We also don't know what this person has said to try to get that op-ed in The New York Times or what he or she has said to other people. So, to the president's point that there could be a national security risk at hand, he doesn't want this person in a meeting where he's discussing China, Russia, North Korea."
DEFIANCE FROM ASSAD: President Bashar al-Assad has approved a gas attack in the Idlib province, which is the country's last rebel stronghold, a report on Sunday said ... Reports of Assad's approval comes about a week after President Trump warned the strongman and his allies not to "recklessly attack" the province. Trump called any gas attack a potential "grave humanitarian mistake." U.N. officials believe an offensive on Idlib would trigger a wave of displacement that could uproot an estimated 800,000 people and discourage refugees from returning home. The U.S. and France have warned an Idlib offensive would trigger a humanitarian crisis and warned that a chemical attack in Idlib would prompt a western retaliation. The Wall Street Journal reported that the international pressure did little to sway Assad, who benefits from support from Russia and Iran.
CBS CHIEF MOONVES OUT, NEW SEX ALLEGATIONS SURFACE: CBS Chief Executive Les Moonves has resigned after at least 12 women came forward to accuse him of sexual misconduct in a pair of New Yorker articles authored by Pulitzer Prize winner Ronan Farrow ... In a statement released Sunday evening, CBS said that Moonves would depart his position as chairman, president and CEO "effective immediately." COO Joseph Ianniello was announced as president and acting CEO "while the Board conducts a search for a permanent successor."
The network also announced that it and Moonves would donate $20 million to organizations that support "that support the #MeToo movement and equality for women in the workplace." The $20 million would come out of any compensation Moonves is due to receive following the conclusion of an ongoing investigation into the allegations against him. Moonves is expected to depart with a generous exit package, valued perhaps as much as $100 million, according to reports.
Moonves' future at CBS came into question in July, when Farrow published an expose in the New Yorker detailing allegations from six women. Then on Sunday, the New Yorker published claims against Moonves by six more women.
ALLEGATIONS OF BLUE FAVORITISM IN RACIALLY-CHARGED SHOOTING: A white Dallas police officer who shot and killed a black man in his apartment after she mistook it for her own has been arrested and charged with manslaughter, authorities said Sunday ... Officer Amber Guyger, 30, was booked into the Kaufman County Jail Sunday evening after Texas Rangers arrested her in connection with the shooting of 26-year-old Botham Jean. She was later released after posting a $300,000 bond. Investigators say that Guyger, a four-year veteran of the Dallas Police Department, shot Jean at around 10 p.m. Thursday, when she returned to her apartment building in the South Side Flats following her shift. She reported the shooting to dispatchers and she told officers who responded that she had mistaken Jean's apartment for her own.
Members of Jean's family questioned Guyger's explanation for the shooting and claimed that the fact she had remained free days after the shooting showed she was receiving favorable treatment.
AS SEEN ON FOX NEWS WEEKEND
OBAMA CREATED TRUMP: "The only reason that we have an outsider business man president is because of you. Your lies, your policies, and your divisiveness. ... You, Barack. You elected Donald Trump." – Judge Jeanine Pirro, in her "Opening Statement" on "Justice with Judge Jeanine," blasted former President Barack Obama for his criticism President Trump and the Republican Party in a speech on Friday. WATCH
REAL SACRIFICE: "There are so many great men and women in this country that have sacrificed everything. Colin Kaepernick, he's not one of them." – Brittany Jacobs, widow of a fallen Marine Sgt. Chris Jacobs, "FOX & Friends," saying Nike's ad campaign featuring Colin Kaepernick was upsetting to see, given all of the military members that have given their lives for their country. WATCH
TRENDING
GoFundMe couple allegedly spent homeless man's money on shoe collection, pricey vacations: report
'The View' host Joy Behar slams first lady Melania Trump in new CNN interview.
Kaepernick fallout: Louisiana mayor prohibits Nike purchases for recreational programs.
THE SWAMP
The 'forgotten' Supreme Court decision and its impact on our politics.
Ahead of Kavanaugh confirmation vote, Sen. Collins receives 3,000 hangers from anti-abortion activists.
New York Democrats slammed for mailer implying Cynthia Nixon is anti-Semitic.
ACROSS THE NATION
Border Patrol agent shot at near U.S.-Mexico port of entry: reports.
Parkland high school wins first home football game since deadly shooting.
Novak Djokovic sweeps aside del Potro in U.S. Open final
MINDING YOUR BUSINESS
Trade, inflation and 9/11 attacks remembered in the week ahead.
Oil climbs as U.S. drilling stalls, sanctions against Iran loom.
Stronger U.S. economy may warrant 'restrictive' rates: Fed's Rosengren.
Trump: Apple should make its products in U.S. to avoid tariff hit.
Frozen dinners make a comeback.
FOX NEWS OPINION
Liz Peek: Angry Obama still doesn't get it as he hits the campaign trail.
Michael Goodwin: Trump better take advantage of Obama's underwhelming return.
Justin Haskins: Democrats' embrace of socialism may win primary elections -- but look out in November.
HOLLYWOOD SQUARED
Miss New York crowned Miss America – and glad she didn't have to wear a swimsuit.
Jim Carrey says 'stop apologizing' and 'say yes to socialism.'
'The Nun' horror movie helps Warner Bros. maintain box office domination as summer season ends.
DID YOU HEAR ABOUT THIS?
Fast food restaurant revises button policy after employees wear 'Abolish ICE' and 'No one is illegal' pins at work.
Massive boom hopes to corral Pacific Ocean's plastic trash.
Why you shouldn't mow the lawn every week.
STAY TUNED
FOX Nation is coming! - Sign up now and find out about its exciting launch!
On Facebook:
Check out 'FOX News Update,' our new Facebook-exclusive news program!
On FOX News:
FOX & Friends, 6 a.m. ET: Special guests include: Counselor to President Trump Kellyanne Conway and Dan Bongino. Chris Stirewalt discusses his new book "Every Man a King." Will Graham on playing his grandfather, the Rev. Billy Graham, in a new film.
The Story with Martha MacCallum, 7 p.m. ET: The family of the Fortney sisters, who say they were all sexually abused by the same priest, speak out in must-see interview.
On FOX Business:
Mornings with Maria, 6 a.m. ET: Special guests include: NHL legend Wayne Gretzky; former Rep. Allen West; White House deputy press secretary Hogan Gidley; SocialFlow CEO Jim Anderson; Adrienne Elrod, former Hillary for America senior adviser; Bryan Lanza, former communications director for the Trump presidential campaign.
Varney & Co., 9 a.m. ET: Burgess Owens, former NFL great; Jim Brulte, chairman of the California Republican Party; Trent Lott, former Mississippi senator.
The Intelligence Report, 2 p.m. ET: Steve Forbes, Forbes Media chairman; Andy Puzder, former CEO of CKE Restaurants.
On FOX News Radio:
The FOX News Rundown podcast: After a week of facing tough questions from senators, Judge Brett Kavanaugh's confirmation hearing is over. FOX News' Gillian Turner explains what the judge can expect in the coming weeks. Former Contra Costa County investigator, Paul Holes, was part of solving California's most infamous cold cases. He joins the podcast to discuss how he used DNA technology to catch the accused "Golden State Killer" and more. Plus, commentary by FOX News contributor Katie Pavlich.
Want the FOX News Rundown sent straight to your mobile device? Subscribe through Apple Podcasts, Google Play, and Stitcher.
The Brian Kilmeade Show, 9 a.m. ET: New York Post columnist Michael Goodwin on how President Trump better take advantage of Barack Obama's return. "Special Report" anchor Bret Baier and Axios reporter Jonathan Swan on Bob Woodward's new book and the search for the identity of the anonymous Trump White House senior official behind the infamous New York Times op-ed. Chris Stirewalt on his new book and the November midterms.
The Tom Shillue Show, 3 p.m. ET: Radio personality Mike Gunzelman and FOX News contributor Jessica Tarlov join Tom Shillue's nightly panel to discuss Serena Williams' rant and fine at the U.S. Open and the latest news of the day!
TUESDAY - Benson & Harf, 6 p.m. ET: Don't miss Marie Harf's special live interview with former Secretary of State John Kerry.
#OnThisDay
1993: "The X-Files" premieres on FOX Television.
1991: The Senate Judiciary Committee opens hearings on the nomination of Clarence Thomas to the U.S. Supreme Court.
1963: 20 black students enter Alabama public schools following a standoff between federal authorities and Gov. George C. Wallace.
FOX News First is compiled by FOX News' Bryan Robinson. Thank you for joining us! Enjoy your Monday! We'll see you in your inbox first thing Tuesday morning.