FOX NEWS FIRST: Midterm election chaos in three states; Michelle Obama blasts Trump; Adviser: Hillary 2020 is a go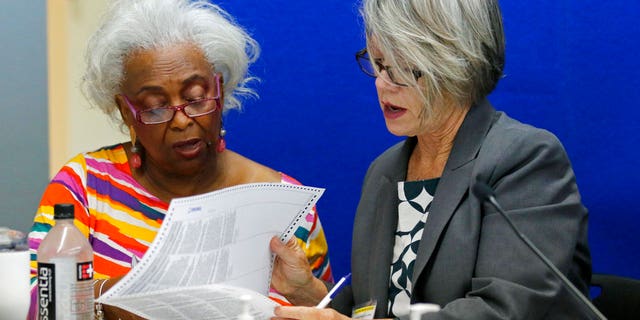 NEWYou can now listen to Fox News articles!
Welcome to FOX News First. Today is Veterans Day, as observed across the United States. To our military veterans, we thank you for your service, and we shall never forget.
Not signed up yet for FOX News First? Click here.

Developing now, Monday, Nov. 12, 2018
Election chaos continues in Florida, Georgia and Arizona almost a week after the midterm elections
The total death toll in the wildfires raging across California has risen to at least 31, with more than 200 unaccounted for, as authorities work to contain the blazes
Former first lady Michelle Obama blasted President Trump as a 'misogynist' and wondered why female voters chose him instead of 'exceptionally qualified' Hillary Clinton in an interview aired Sunday
In response to criticism over President Trump not visiting a World War I cemetery in France on Saturday, the White House said the president did not want his motorcade to hold up traffic in Paris and nearby suburbs for hours
In a new op-ed, a former adviser to the Clintons explains why he believes Hillary Clinton will run for president again and 'easily' win the Democratic nomination for 2020
THE LEAD STORY - MIDTERM ELECTION CHAOS IN THREE STATES: The supervisor of elections in Florida's heavily Democratic Palm Beach County said Sunday that she did not believe her department would meet a Thursday deadline to complete recounts in the Sunshine State's historically tight gubernatorial and Senate races, threatening to further confuse an increasingly chaotic and politically fraught process ... The supervisor, Susan Bucher, told reporters that she did not expect to meet the deadline due to aging equipment. Florida Department of State spokeswoman Sarah Revell told FOX News that under state law, if a county does not submit their results by the deadline, then the results on file at the time take their place. Revell added that Florida's Secretary of State has no authority to grant extensions. The recount in most other major population centers, including Miami-Dade and Pinellas and Hillsborough counties in the Tampa Bay area, were taking place without incident on Sunday. Smaller counties are expected to begin their reviews Monday, Tuesday or Wednesday.
In Georgia, Democrat Stacey Abrams' campaign on Sunday filed a federal lawsuit asking a judge to delay vote certifications in Georgia's unsettled governor's race by one day and block counties from tossing some provisional and absentee ballots that may have minor mistakes on them. Brian Kemp, her Republican challenger, issued a statement a day earlier calling for Abrams to concede. Kemp has declared victory and said it is "mathematically impossible" for her campaign to force a runoff. FOX 5 Atlanta reported that Kemp is up by 59,000 votes. Kemp had 50.2 percent of the vote by early Monday.
Meanwhile, in Arizona, Democratic candidate Kyrsten Sinema increased her advantage over Republican challenger Martha McSally in the U.S. Senate race to more than 32,000 votes. As of 8:30 p.m. ET Sunday, Sinema had received 1,071,280 votes statewide, giving her 49.58 percent, according to the Arizona Secretary of State office. Meanwhile, McSally received 1,038,988 votes, giving her 48.07 percent. - Reported by Gregg Re (@gregg_re on Twitter), Samuel Chamberlain (@SChamberlainFOX on Twitter), Edmund DeMarche and Elizabeth Zwirz
DEADLY INFERNO IN CALIFORNIA: Six more people were confirmed dead in connection to the wildfire tearing through Northern California on Sunday, raising the death toll in the region to 29. Statewide, at least 31 people total have died in wildfires that have burned nearly 400 square miles in Northern and Southern California... An additional 228 were unaccounted for, Butte County Sheriff Cory Honea said. The northern blaze, known as "The Camp Fire," matches the deadliest blaze on record in California history. The Camp Fire, which tore through the town of Paradise, had burned 109,000 acres since it first began on Thursday, according to the California Department of Forestry and Fire Protection. More than 6,400 residences were destroyed in the fire that stands at 25 percent containment, the agency said. - Reported by Elizabeth Zwirz
NO SMILES FROM MICHELLE OBAMA ON TRUMP: Former first lady Michele Obama said in an interview that aired Sunday that she "stopped even trying to smile" during President Trump's inauguration and wondered in her new book why so many women rejected "an exceptionally qualified female candidate and instead choose a misogynist as their president" ... Obama spoke with ABC News in a wide-ranging interview to promote her new memoir, "Becoming," which is set for release on Tuesday. In the book, Obama reportedly derides the so-called "birther" conspiracy as thinly-veiled racism and accuses Trump of jeopardizing her family's safety.
"What if someone with an unstable mind loaded a gun and drove to Washington? What if that person went looking for our girls? " she writes. "Donald Trump, with his loud and reckless innuendos, was putting my family's safety at risk. And for this I'd never forgive him." - Reported by Edmund De Marche (@EDeMarche on Twitter)
TRUMP CEMETERY CONTROVERSY 'FAKE NEWS'? - President Trump did not visit a World War I cemetery in northern France this weekend because his motorcade would have disrupted traffic in Paris and nearby suburbs for hours, an administration official told Fox News Sunday ... Trump was scheduled to lay a wreath and observe a moment of silence Saturday at the Aisne-Marne American Cemetery and Memorial, located approximately 60 miles northeast of Paris. However, bad weather grounded the president's helicopter and the official told FOX News there was no backup plan to travel by car. "President Trump did not want to cause that kind of unexpected disruption to the city and its people," White House Press Secretary Sarah Sanders said in a statement. She also noted that the trip to Aisne-Marne was 2.5 hours by car.
Trump was criticized for not going to the cemetery by former White House officials David Frum and Ben Rhodes as well as Nicholas Soames, a grandson of former British Prime Minister Winston Churchill. - Reported by Samuel Chamberlain
'HILLARY 4.0': The buzz about Hillary Clinton considering another bid to become president appears to be growing louder ... Former adviser Mark Penn is making the latest noise in an op-ed in Monday's Wall Street Journal. He writes the following: "Get ready for Hillary Clinton 4.0. More than 30 years in the making, this new version of Mrs. Clinton, when she runs for president in 2020, will come full circle—back to the universal-health-care-promoting progressive firebrand of 1994. True to her name, Mrs. Clinton will fight this out until the last dog dies. She won't let a little thing like two stunning defeats stand in the way of her claim to the White House ..."

-------------------------------------------------------------------------------------------------------------------
Consider yourself an Influencer? Become a trusted adviser in our FOX News community and help guide our brand's future. Click here to find out how.

Members of FOX News Influencers:
Have the opportunity to be heard
Be part of a special network of peers
Get to influence new ideas and initiatives 
Receive updates on what we've learned and how your input has made impact 
Fill out our qualification survey and join us. Thank you for your continued support in our company's growth
------------------------------------------------------------------------------------------------------------------
AS SEEN ON FOX NEWS WEEKEND
'BRAINWASHED' BY THE LEFT - "This is lunacy. Voter fraud is insidious. It causes people to think their vote doesn't matter." – Judge Jeanine Pirro, in her "Opening Statement" on "Justice with Judge Jeanine," arguing that the midterm election controversy in Florida is proof that the left has "brainwashed" society. WATCH

VETERANS DAY
Job help is U.S. military veterans' top request after serving.
75 years later, WWII Marine Corps war dog handler still remembers his dogs.
Steve Cooper: By the time I saw my VA doctor, he said it was too late.
Gen. Anthony J. Tata: Veterans fought for our right to vote – Don't let Florida election officials take it away.
TRENDING
Marine dad visits kids at school for 'special surprise' homecoming.
ICYMI: Dan Crenshaw, 'SNL,' Pete Davidson put bad 'joke' behind them.
NYPD officer belts out Backstreet Boys classic over intercom.
THE SWAMP
Sen. Cindy Hyde-Smith's Democratic opponent Mike Espy slams 'public hanging' remark as 'reprehensible.'
Trump, Turkey leader Erdogan reportedly discussed how to respond to Khashoggi killing.
Schumer threatens adding Mueller protections to spending bill if Whitaker doesn't recuse himself.
ACROSS THE NATION
Second former coach says California bar gunman was a 'ticking time bomb.'
U.S. F/A 18 fighter crashes in Philippine Sea, crew rescued.
Texas burglar bleeds to death in home he targeted: police.
MINDING YOUR BUSINESS
Third quarter earnings season winds down in the week ahead.
OPEC gets closer to a production cut.
Alibaba record $30B Single's Day haul, but growth rate drops.
UPS freight driver strike averted.
Here's how most Americans raise the value of their homes.
Paul Krugman's unwitting case for the electoral college.
FOX NEWS OPINION
Liz Peek: Nancy Pelosi knows impeachment fervor could backfire -- and doom Democrats' 2020 hopes.
Peggy Noonan: Midterm election results offer Americans the chance for what they want -- the art of the deal.
Tammy Bruce: The Democrats' 'believe all women' fraud.
HOLLYWOOD SQUARED
Neil Young, Robin Thicke praise firefighters who tried to save homes.
'The Grinch' steals No. 1 spot, kicks off holiday season at the box office.
The greatest rock and roll bands of all-time are…?
DID YOU HEAR ABOUT THIS?
Hackers have found a new way to break into ATMs and steal your cash.
School says Marilyn Monroe's shoulders depicted on teen's sweatshirt violated dress code, mom claims.
Taco Bell lover celebrates 106th birthday at fast food restaurant.

STAY TUNED
FOX Nation is coming! - Sign up now and find out more about its exciting launch on Nov. 27!
DETAILS: How to sign up now to become a FOX Nation Founding Member!

On Facebook:
Check out 'FOX News Update,' our Facebook-exclusive news program!
On FOX News:

FOX & Friends, 6 a.m. ET: Special guests will include: Fla. Gov. Rick Scott; Newt Gingrich; Gen. Anthony Tata reacts to French President Macron's attack on President Trump's America. Country singer Jerrod Niemann performs "Old Glory."
The Story with Martha MacCallum, 7 p.m. ET: An exclusive interview with U.S. Rep.-elect Dan Crenshaw on his appearance on "Saturday Night Live" - and getting the last laugh on Pete Davidson.
Hannity, 9 p.m. ET: Special guests include U.S. Rep. Matt Gaetz, R-Fla.; Andrew McCarthy

On FOX Business:
Mornings with Maria, 6 a.m. ET: Special guests include: Steve Forbes, Forbes Media chairman; RNC spokeswoman Kayleigh McEnany; Fred Fleitz, former National Security Council chief of staff; U.S. Rep. Michael Burgess, R-Texas.
Varney & Co., 9 a.m. ET: Jerry Howard, president of the National Association of Home Builders.
Cavuto: Coast to Coast, Noon ET: Bob Herbold, former Microsoft COO.
Countdown to the Closing Bell with Liz Claman, 3 p.m. ET: David O'Sullivan, European Union ambassador to the U.S.
After the Bell with Melissa Francis and Connell McShane, 4 p.m. ET: Brian Silber, election law attorney; Lt. Col. Daniel Davis.
On FOX News Radio:
The FOX News Rundown podcast: Shortly after the midterm elections, Attorney General Jeff Sessions was out of a job. He handed in his resignation letter at the request of President Trump. FOX News Justice Department producer Jake Gibson discusses controversy surrounding Sessions' resignation and his replacement, his former chief of staff, now Acting Attorney General Matt Whitaker. Many Americans have become dependent on cell phones, social media and technology in general. Jedediah Bila, author of "#DoNotDisturb: How I Ghosted My Cell Phone to Take Back My Life", describes how she came to terms with her love-hate relationship with technology. Plus, commentary by Van Hipp, chairman of American Defense International and former Deputy Assistant Secretary of the U.S. Army.
Want the FOX News Rundown sent straight to your mobile device? Subscribe through Apple Podcasts, Google Play, and Stitcher.
The Brian Kilmeade Show, 9 a.m. ET: Dave Glover fills in for Brian Kilmeade. New York Post columnist Michael Goodwin on whether New York Gov. Andrew Cuomo is considering running for president in 2020 after his reelection last week. Michael Mahon on fallout from last week's mass shooting at a California bar. Bret Baier on the top news headlines of the day and Ricky Sickman reflects on Veterans Day.

#OnThisDay

2001: American Airlines Flight 587, an Airbus A300 headed to the Dominican Republic, crashes after takeoff from New York's John F. Kennedy International Airport, killing all 260 people on board and five people on the ground.
1998: Chicago Mayor Richard M. Daley files a $433 million-dollar lawsuit against the firearms industry, declaring that it had created a public nuisance by flooding the streets with weapons deliberately marketed to criminals. (A judge would dismiss the lawsuit in 2000; an appeals court ruled in 2002 that the city of Chicago could proceed, but the Illinois Supreme Court ultimately dismissed the lawsuit in 2004.)
1927: Josef Stalin becomes the undisputed ruler of the Soviet Union as Leon Trotsky was expelled from the Communist Party.
FOX News First is compiled by FOX News' Bryan Robinson. Thank you for joining us! Enjoy your Monday! We'll see you in your inbox first thing Tuesday morning.