At least 29 confirmed dead in Northern California wildfire, sheriff says
Six more people have died in connection to the wildfire tearing through Northern California, a sheriff said Sunday evening.
The death toll in the northern blaze -- known as the Camp Fire -- rose to 29 as a result of the discoveries, which included five bodies located at homes and one that was found in a vehicle, Butte County Sheriff Cory Honea said. An additional 228 people were unaccounted for, he added.
The wildfire now matches the deadliest blaze on record in California history.
The Camp Fire, which tore through the town of Paradise, had burned 109,000 acres since it first began on Thursday, according to the California Department of Forestry and Fire Protection.
More than 6,400 residences were destroyed in the fire that stands at 25 percent containment, the agency said.
At least 31 people have died statewide in wildfires that have burned nearly 400 square miles in Northern and Southern California.
Devastating images of Paradise, a town of roughly 27,000 residents, depicted destroyed homes and roads dotted with charred vehicles. Authorities called in a mobile DNA lab and anthropologists to help identify victims. Honea said the county consulted anthropologists from California State University at Chico because, in some cases, investigators have been able to recover only bones and bone fragments.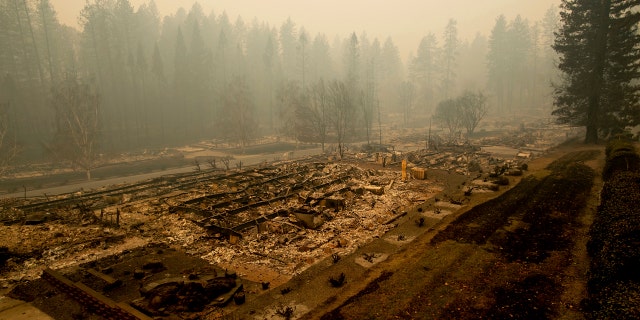 The devastation was so complete in some neighborhoods that "it's very difficult to determine whether or not there may be human remains there," Honea said.
By early Sunday afternoon, one of the two black hearses stationed in Paradise had picked up another set of remains.
People looking for friends or relatives called evacuation centers, hospitals, police and the coroner's office.
Sol Bechtold drove from shelter to shelter looking for his mother, Joanne Caddy, a 75-year-old widow whose house burned down along with the rest of her neighborhood in Magalia, just north of Paradise. She lived alone and did not drive.
Bechtold posted a flyer on social media, pinned it to bulletin boards at shelters and showed her picture around to evacuees, asking if anyone recognized her. He ran across a few of Caddy's neighbors, but they hadn't seen her.
As he drove through the smoke and haze to yet another shelter, he said, "I'm also under a dark emotional cloud. Your mother's somewhere and you don't know where she's at. You don't know if she's safe."
He added: "I've got to stay positive. She's a strong, smart woman."
Officials and relatives held out hope that many of those unaccounted for were safe and simply had no cellphones or other ways to contact loved ones. The sheriff's office in the stricken northern county set up a missing-persons call center to help connect people.
There were some stories of hope, like that of a 93-year-old World War II veteran was shown kindness and hospitality in the midst of devastation.
Businesswoman Tracy Grant was at the Forebay Aquatic Center in Oroville Thursday giving out food to people forced to evacuate their homes when she crossed paths with the veteran, Lee Brundige, who isn't sure whether anything remains of his house in Paradise, The Associated Press reported Sunday.
Brundige initially refused the hamburger she offered, saying she should give it to someone who really needed it. She tried to get him to a shelter, but he said he was fine sleeping in his car.
The next day, she convinced him to come home with her when the sheriff's office told people to clear out of the parking lot due to worsening air.
"He looks at me and kind of grunted, 'No I don't want to take advantage of anyone, you're too kind.' So I said, 'This is my car. You're going to follow that bumper until we stop," she said.
GERARD BUTLER SHARES PHOTO OF HIS MALIBU HOME MOSTLY BURNED TO ASHES BY WOOLSEY FIRE
After they arrived at Grant's home, her boyfriend Josh Fox helped out by supplying Brundige with new clothes.
The elderly veteran has also found a companion in Grant's dog, Axle, who sits with him in a recliner they share.
Brundige lived by himself at his home in Paradise but does not know if his home is still standing. Brundige's son, who lives in Southern California, knows that his father is okay, the outlet reported.
SOUTHERN CALIFORNIA WILDFIRE FANNED BY RETURN OF 'STRONG' GUSTY SANTA ANA WINDS
There were stories of heartbreaking loss as well. One of the Northern California fire's victims was an ailing woman whose body was found in bed in a burned-out house in Concow, near Paradise.
Ellen Walker, who was in her early 70s, was home alone when the fire struck on Thursday, according to Nancy Breeding, a family friend.
Breeding said Walker's husband was at work and called a neighbor to tell his wife to evacuate, but she was on medication and might not have been alert. Authorities confirmed her death late Friday.
"A fireman took him to the house to confirm," Breeding said. "This is a devastating thing, and it's happening to so many people."
Gov. Jerry Brown said California is requesting aid from the Trump administration. President Donald Trump has blamed "poor" forest management for the fires. Brown told a press briefing that federal and state governments must do more forest management but said that's not the source of the problem.
"Managing all the forests in everywhere we can does not stop climate change," Brown said. "And those who deny that are definitely contributing to the tragedies that we're now witnessing, and will continue to witness in the coming years."
Firefighters battling the blaze with shovels and bulldozers, flame retardants and hoses expected wind gusts up to 40 mph overnight Sunday. Officials said they expect the wind to die down by midday Monday, but there was still no rain in sight.
Cal Fire spokesman Bill Murphy warned that gusty winds predicted into Monday morning could spark "explosive fire behavior."
About 300,000 people statewide were under evacuation orders, most of them in Southern California.
The Associated Press contributed to this report.