Neil Young, Robin Thicke praise firefighters who tried to save homes
The Woolsey Fire in Southern California has killed at least two and destroyed 177 homes, including homes belonging to Neil Young, Robin Thicke and Gerard Butler.
SOUTHERN CALIFORNIA WILDFIRE FANNED BY RETURN OF 'STRONG' GUSTY SANTA ANA WINDS
For musician and singer Young, it was the second time he'd lost his home in a wildfire.
"Firefighters have never seen anything like this in their lives. I have heard that said countless times in the past two days, and I have lost my home before to California fire, now another," Young wrote on the Neil Young Archives site.
Young then blasted President Donald Trump as "unfit leader" for blaming California's fires on "gross mismanagement of the forests," and threatening to withdraw federal funds.
Actor Gerard Butler posted on Instagram the charred remains of his Malibu home that showed a burned-out structure and a badly scorched vehicle.
"Returned to my house in Malibu after evacuating," the 48-year-old actor wrote. "Heartbreaking time across California. Inspired as ever by the courage, spirit and sacrifice of firefighters."
Musician Robin Thicke's Malibu home burned entirely, his representative said. The 41-year-old posted on Instagram that he, his girlfriend and his two kids are "safe and surrounded by friends and family."
"As we drove to safety," the firefighters "risked their lives trying to save our home," Thicke wrote in an Instagram post.
Other celebrities' homes were impacted by the fire. Camille Grammer Meyer of "The Real Housewives of Beverly Hills" lost her Malibu home Saturday, her publicist confirmed in an email to The Associated Press.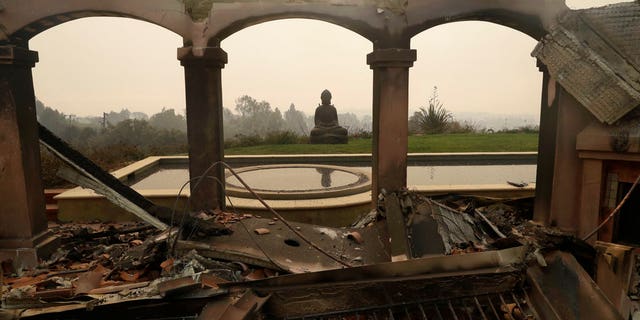 Many others including Orlando Bloom, Alyssa Milano, Lady Gaga, "The Office" actor Rainn Wilson and fashion designer Donna Karan were among evacuees. Some were told their homes were safe and waited for a chance to return. Others were in the dark, posting pictures of plumes of smoke and saying their houses were somewhere in there.
Nearly 30 confirmed dead in Northern California wildfire, sheriff says
The blaze started Thursday night and pushed toward Malibu and the Pacific Ocean, prompting evacuations in Malibu, Calabasas, Agoura Hills and other nearby areas. Statewide, the twin fires in northern and southern California have killed nearly 30 people and forced 300,000 residents from their homes.
The Associated Press contributed to this report.