FOX NEWS FIRST: Investigators zero in on 'region of interest' in explosive material search, sources say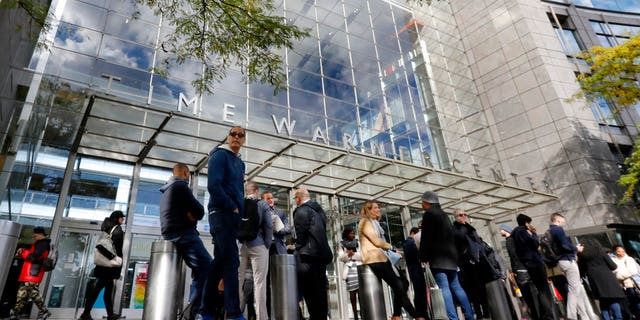 Welcome to Fox News First. Not signed up yet? Click here.
Developing now, Friday, Oct. 26, 2018
Two sources tell Fox News that federal investigators have zeroed in on a few "regions of interest" in their hunt for the suspect or suspects behind the recent mailings that appear to be aimed at prominent Democrats. 
Trump considers executive order that would block migrants at border: report
President Trump says he'll impose new sanctions on Hezbollah in his continued push to financially squeeze the Iran-backed group
Sen. Chuck Grassley, R-Iowa, wants more information on one military base's penchant for coffee cups that cost more than $1,200 each
Andrew Gillum, the Florida Democrat running for governor, reportedly says police go too far whenever they draw their weapons
The Dow Jones Industrial Average in October has seen its highest volatility in 90 years, some estimates say 
THE LEAD STORY – HUNT FOR BOMB-SCARE SUSPECT SEEMS TO BE MAKING PROGRESS ... Federal investigators have zeroed in on Florida as a "region on interest" in their hunt for the suspect or suspects behind the packages with explosive materials that have been sent to prominent Dems. Two sources told Fox News that it is unclear if the suspects are in Florida or if all the packages were shipped from the state. Other states being looked at are New York and Maryland, the sources say.
One element that may help in the investigation is that it appears black tape was used in the mailing to CNN. A government official said there's hope that the tape captured DNA.
White House Press Secretary Sarah Sanders, who appeared on 'Fox & Friends' on Thursday said Trump could not have been more presidential in his handling of the threats, despite some criticism.
TRUMP REPORTEDLY CONSIDERS EXECUTIVE ORDER THAT WOULD BLOCK MIGRANTS AT BORDER ... President Trump is reportedly mulling a sweeping executive order that would block migrants from entering the U.S. through the southern border. Politico reported that the order would be similar to other immigration-blocking executive orders like the controversial travel ban. Trump would likely face legal hurdles.
TRUMP PUTS PRESSURE ON HEZBOLLAH… The president announced the major new sanctions on Thursday – the 35th anniversary of the terror group's 1983 truck bombing of the barracks in Beirut, Lebanon. The attack killed 241 U.S. service members and 58 French peacekeepers. Trump pointed out that it was the deadliest attack on Marines since Iwo Jima. He told a crowd in the East Room of the White House that the U.S. is "doing a big number on Iran today in case you haven't noticed." WATCH
COSTLY COFFEE CUPS WON'T FLY … Senate Judiciary Committee Chairman Chuck Grassley on Thursday sent a letter to the U.S. Air Force inquiring about one air base's apparent penchant for coffee cups that cost more than $1,200 each.
He writes, "I applaud the efforts by the airmen at Travis Air Force Base who noticed wasteful spending and took it upon themselves to come up with a better solution. However, when I see the prices the Air Force is willing to pay for a toilet seat lid and coffee cup, I remain concerned that there are not adequate protocols in place to prevent reckless spending on parts from the start."
DID FLORIDA DEM FO 'TOO FAR'? … Florida gubernatorial candidate Andrew Gillum -- a Democrat still trying to get past the 'Hamilton' ticket controversy – did little to tamp down rumors that he's "anti-police." The Tallahassee mayor reportedly said in an interview that if a police officer "has to go to a weapon" like a gun or baton – they've already gone "too far by their very presence."
ROCKY RIDE ON WALL STREET … Looking at your 401(k) might be a little less fun after recent volatility in the stock market. The Dow Jones Market Data Group reported that this October has had swings not seen since the modern day index rolled out in 1928.
AS SEEN ON FOX NEWS
WE WILL STOP THEM "Everything is on the table. Everything is on the table. I cannot stress that enough. We continue to plan with all our interagency partners; we're continuing to work with the government of Mexico – who has been a great partner; we're continuing to work with other countries to prepare to receive those of their citizens back," Kirstjen Nielson, Homeland Security secretary, on 'The Story with Martha MacCallum.' Nielson was talking about U.S. options when dealing with the migrant caravan. WATCH
THE LAW "Once one of these folks or any of these folks who put so much as the tip of their shoe on the U.S. border, they are entitled to make a claim for asylum," Judge Napolitano on "Judge Napolitano's Chambers." WATCH
ACROSS THE NATION
Murdered University of Utah student was extorted before her killing: cops
Married couple found dead inside Indiana home ID'd by authorities
Oldest weapons ever discovered in North America found in Texas
Dead man's phone leads cops to woman's body in Arizona well
MINDING YOUR BUSINESS
Amazon stock down in after-hours trading after revenue miss
NYU professor slams Facebook's Zuckerberg, Sandberg as 'lipstick on cancer'
Tesla wants to take on Uber, Lyft
October was the most volatile month in 118 years
NEW IN FOX NEWS OPINION
Gutfeld on the myth of toxic masculinity
Ingraham on the media's 'rock star' treatment of Beto, Gillum, others and how it's going to burn out
HOLLYWOOD SQUARED
Megyn Kelly seems to be on her way out at NBC after 'blackface' comment
Rocker accidentally hits head during a bizarre interview after falling off a couch
Caitlyn Jenner slams Trump over 'attack' on the transgender community
DID YOU HEAR ABOUT THIS?
A dog in Oklahoma pretends to be homeless in order to get free hamburgers at a McDonald's, the owner says.
'Unicorn Jumpsuit' Halloween costume featuring 2,400 Swarovski crystals for charity
This Saint Bernard learned what happened when you mess with a porcupine
STAY TUNED
On Fox News:
Fox & Friends, 6:20 a.m. ET: Former Trump campaign aide George Papadopoulos to talk on alleged bias in the Justice Department; Sebastian Gorka, the Fox News national security strategist, to discuss mail bombs; and Michelle Malkin, host of CRTV's 'Michelle Malkin Investigates,' who will talk about the caravan approaching the border.
The Story with Martha MacCallum, 7 p.m. ET: Guests include Leslie Marshall, a syndicated radio host; Karl Rove, the former George W. Bush adviser; and Rochelle Ritchie, a Democrat strategist
HANNITY, 9 p.m. ET: Guests include Fox News' Gregg Jarrett and contributor Tammy Bruce.
On Fox Business:
Mornings with Maria, 6 a.m. ET: Guests include: Larry Ellison, co-founder of Oracle; exclusive interview with Mark Hurd, the Oracle CEO; Rick Perry, the U.S. secretary of energy
Varney & Company, 9 a.m. ET: Chris Wallace, the host of 'Fox News Sunday' and Matt Schlapp, chairman of the American Conservative Union
Countdown to the Closing Bell with Liz Claman, 3 p.m. ET: Guests include Hugh Johnson, Hugh Johnson Advisers CIO; Michael Novogratz, Galaxy Investment Partners CEO; Ara Hovnanian, Hovanian Enterprises CEO
On Fox News Radio:
The Fox News Rundown podcast: As thousands of Central American migrants make their way to the U.S. - Mexico border, the Pentagon plans to send 800 active-duty troops, to assist Border Patrol agents. FOX's chief legal analyst, Judge Andrew Napolitano and FOX's national security correspondent, Jennifer Griffin, weigh in.
It's a very tight Senate race in Indiana as Democrat incumbent Sen. Joe Donnelly tries to hold off Republican challenger and Trump supporter Mike Braun. Indianapolis Star reporter Chris Sikich discusses both Senate candidates on today's podcast.
Plus, commentary by Chris Wallace, the host of 'Fox News Sunday'
Want the Fox News Rundown sent straight to your mobile device? Subscribe through Apple Podcasts, Google Play, and Stitcher
The Brian Kilmeade Show, 9 a.m. ET: Guests include Larry Sabato, the director of the University of Virginia's Center for Politics; Geraldo; Shannon Bream; Impressionist Rich Little and author Ronald Drez. The topics will range from midterm, caravan and mail bombs.
#OnThisDay
2001: The USA Patriot Act is signed by President George W. Bush. The bill gave authorities an unprecedented ability to search, seize or eavesdrop in their pursuit of terrorists.
1984: A newborn in California with a heart defect called hypoplastic left heart syndrome receives the heart of a baboon in an experimental transplant. 'Baby Fae' went on to live for three weeks. The baby showed signs of gaining strength and gained a little weight after surgery. But she deteriorated weeks later and died.
1949: President Harry Truman signs a measure raising minimum wage from 40 to 75 cents an hour.
Fox News First is compiled by Fox News' Bryan Robinson. Thank you for joining us! Enjoy your day, and we'll see you in your inbox first thing Monday morning.