Humvee dropped from Air Force plane by mistake in North Carolina neighborhood, military says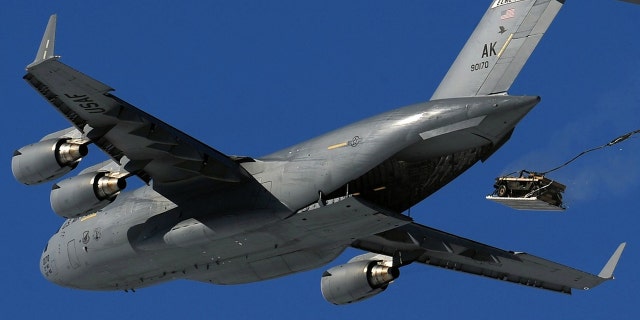 An Air Force C-17 prematurely dropped a Humvee by parachute into rural North Carolina, military officials said Wednesday.
The drop was miles from the intended target, and no injuries were reported on the ground, in the town of Cameron, WTVD reported.
Fort Bragg spokesman Tom McCollum said the parachute opened and the vehicle landed in a wooded area between two homes between the Johnsonville and Spout Springs communities in Harnett County, about 7 miles north of Fort Bragg's drop zones.
WTVD reported that the drop happened at around 1 p.m. during a training exercise.
McCollum said the heavy drop was part of a test conducted by soldiers from the Airborne and Special Operations Test Directorate.
F-35 COMBAT MISSIONS HAVE OPERATIONAL 'THREAT LIBRARY' OF MISSION DATA FILES
The unit tests new equipment and procedures to support the aerial delivery and transportation of military equipment.
"Everything went as planned except for the early release," he McCollum, as WTVD reported.
NEW DETAILS EMERGE ON PRESIDENT TRUMP'S 'SPACE FORCE'
He noted the incident is under investigation.
The aircraft is stationed at Joint Air Force Base Charleston.
The Associated Press contributed to this report.