The Verve frontman Richard Ashcroft climbs over sofa, accidentally hits head during interview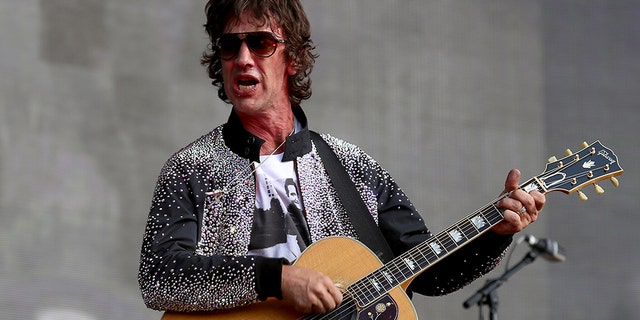 Former The Verve frontman Richard Ashcroft surprised the hosts of "BBC Breakfast" during his recent appearance on the morning show.
On Thursday, Ashcroft, who is promoting his new solo album "Natural Rebel," climbed over a sofa mid-interview.
"Well sometimes life feels like the 'Truman Show,'" the 47-year-old rocker starts off before leaping over the furniture.
"Check this out, life feels like the 'Truman Show,' but I just want to walk, say hello Manchester," Ashcroft continues before accidentally hitting his head on the TV set.
"It is the 'Truman Show,'" he adds.
Later in the interview, the "Bitter Sweet Symphony" singer got comfortable and casually lied down on the sofa as he explained why he was wearing sunglasses indoors.
"Because we've been on the night shift in the music industry for a while as you'd imagine," Ashcroft says.
"So another great thing about the glasses is I can cover up the fact that I'm getting a bit Nancy Reagan under here at the moment at this time of the day," he admitted before stating, "Seriously. I need an eye in on these."
A rep for Ashcroft did not immediately respond to Fox News' request for comment.
Following his interview, fans took to Twitter to share their thoughts, which were mixed, on the star's appearance.
"TV gold by an absolute music legend," wrote on Twitter user.
"He's always half cool and half embarrassing," another individual tweeted.
Commented another Twitter user: "Can someone please come and collect Richard Ashcroft, it's all getting a bit much."
"Cringe," one individual simply wrote.
Ashcroft first created The Verve in 1990 along with members Nick McCabe, Simon Jones and Peter Salisbury — with Simon Tong joining the band later.
The group played together for 29 years before ultimately calling it quits for the third time in 2009.