Florida seen as 'region of interest' in package bomb probe, sources say
Postal markings on packages with explosive material sent to prominent Democrats have helped federal investigators refine the focus of their investigation, with Florida described as a "region of interest," two sources told Fox News on Thursday.
Later, during an appearance on Fox News Channel, Homeland Security Secretary Kirstjen Nielsen confirmed that at least some of the packages originated in Florida. But investigators would not say whether they believe the suspect or suspects were still in the state.
"As you know some of the packages went through the mail, they originated, some of them, from Florida," Nielsen told Fox News "The president appropriately directed everyone within the United States federal government to work on this as quickly and expeditiously as possible to bring these people or person to justice."
New York and Maryland were also in focus, Fox News learned.
A government official noted what appeared to be thick, dark electrician's tape on the pipe bomb sent to former CIA Director John Brennan, care of CNN. The official said investigators are hopeful the black tape captured DNA, fibers or fingerprints.
On the mock ISIS-style logo on one mailing, two government officials said investigators believed it was designed to create confusion, not to indicate a connection to a known terrorist group.
Miami-Dade Police announced it was working with investigators as a "precautionary measure."
"Bomb Squad & K-9 Unit are currently providing assistance to our federal partners at the @USPS Opa-Locka mail facility as part of the ongoing investigation into suspicious packages located in other jurisdictions," the police tweeted.
The Wall Street Journal was first to report the news.
Former Vice President Joe Biden was the latest apparent target, with the FBI confirming two suspicious packages similar to the ones that triggered the original security scare were addressed to him in Delaware, along with one to actor Robert De Niro.
Other prominent Democratic figures including former President Barack Obama, former Secretary of State Hillary Clinton, liberal billionaire George Soros and Rep. Maxine Waters, D-Calif., all received similar packages. Another package apparently was sent to former Attorney General Eric Holder with the wrong address and then sent back to the return address, which was a Florida office for Rep. Debbie Wasserman Schultz, D-Fla.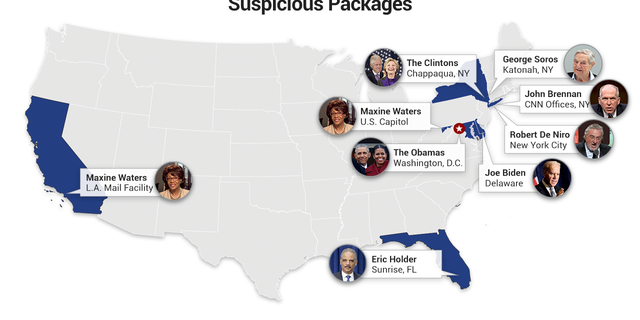 Brennan's package was sent to him via the CNN headquarters in New York City, although he's an analyst for NBC.
Holder called the threats "disturbing" in an interview Thursday.
"It's disturbing that political figures are having to deal with this issue. You know it's personal, obviously, to me since one was addressed to me. But I'm also concerned about two former presidents who had things directed at them," he said. "We need to figure out who did it, and then figure out a way in which we can get beyond these kinds of things."
President Trump responded to news of the devices Wednesday, saying: "The safety of the American people is my highest and absolute priority." He continued, "The full weight of government is being deployed to conduct this investigation and bring those responsible for these despicable acts to justice."
PACKAGE BOMBS TOUCH OFF WAR OF WORDS OVER POLITICAL RHETORIC
But a joint statement from House Minority Leader Nancy Pelosi, D-Calif., and Senate Minority Leader Chuck Schumer, D-N.Y., slammed the president's words as "hollow."
"Time and time again, the President has condoned physical violence and divided Americans with his words and his actions," the statement read.
CNN president Jeff Zucker also released a statement hours after the network's Manhattan building was evacuated. In it he condemned the administration for its "continued attacks on the media."
He continued, "The President, and especially the White House Press Secretary, should understand their words matter. Thus far, they have shown no comprehension of that."
FULL LIST OF RECIPIENTS OF PACKAGE BOMBS
White House Press Secretary Sarah Sanders fired back on "Fox & Friends" Thursday, saying that Trump could not have been "more presidential" in his handling of the apparent bomb threats. She said whoever is behind the attacks is "ultimately the person that is responsible."
Fox News' Judson Berger, Paulina Dedaj and Louis Casiano contributed to this report.