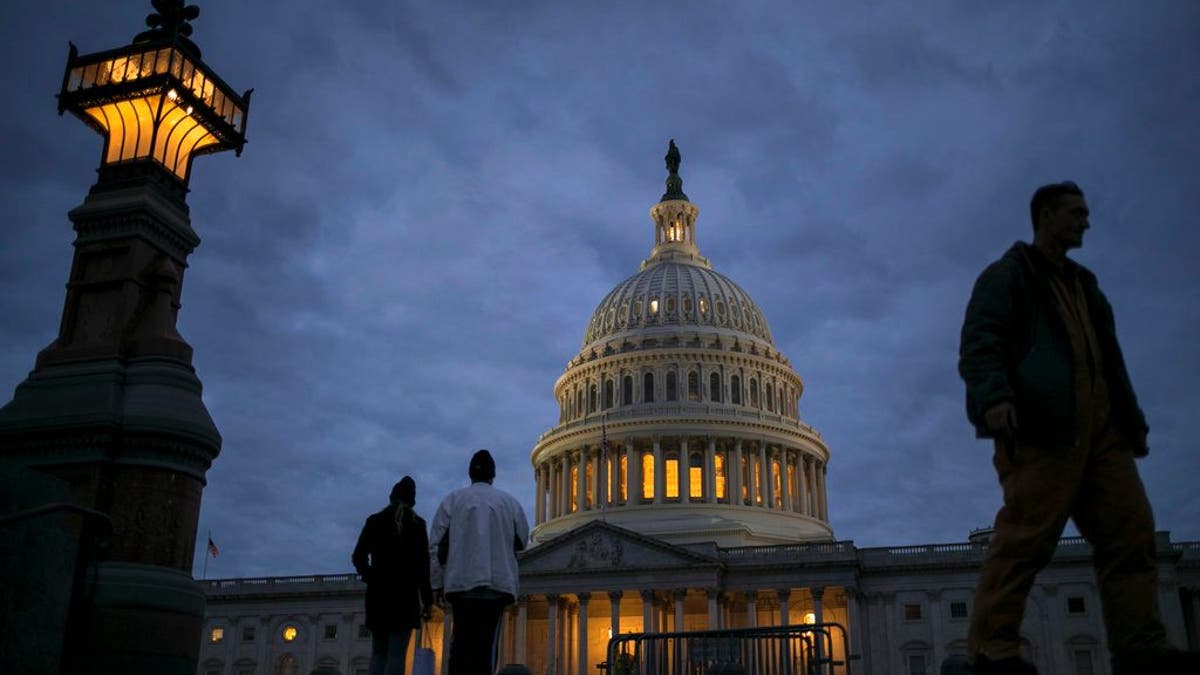 Welcome to Fox News First. Not signed up yet? Click here.
Developing now, Friday, Feb. 9, 2018
The House has approved a budget deal that reopens the government after a temporary shutdown took effect overnight
FOX NEWS EXCLUSIVE: The top Democrat leading a congressional investigation into President Trump's alleged ties to Russia was offered contact with the author of the discredited Trump dossier, according to text messages obtained by Fox News.
The 2018 Winter Olympics officially opens Friday with a parade of athletes into the Olympic Stadium in Pyeongchang, South Korea
The Trump administration secretly reached out to Iran to propose a prisoner swap, according to a report
A California Democrat active in the #MeToo movement is accused of groping a male staffer
THE LEAD STORY – TEMPORARY OVERNIGHT SHUTDOWN ENDS: An overnight government shutdown has come to an end after the House approved a budget deal that funds the government through March 23 ... The House vote was 240 to 186. The bill now goes to President Trump to sign.
The stalemate began when Sen. Rand Paul, R-Ky., repeatedly objected to a quick vote on the deal struck by Senate Majority Leader Mitch McConnell, R-Ky., and Senate Minority Leader Chuck Schumer, D-N.Y. Paul, vehemently opposed to "Obama-era deficits," objected to the increases in government spending by $300 billion under the bipartisan deal and wanted a recorded vote on reversing the bill's spending increases. Paul's objections pushed the Senate votes on the budget deal past midnight into early Friday, sparking the temporary government shutdown.
FOX NEWS EXCLUSIVE: TOP DEM OFFERED CONTACT WITH TRUMP DOSSIER AUTHOR: Sen. Mark Warner, the top Democrat on the Senate Intelligence Committee who has been leading a congressional investigation into President Trump's alleged ties to Russia, had extensive contact last year with a lobbyist for a Russian oligarch who was offering Warner access to former British spy and dossier author Christopher Steele, according to text messages obtained exclusively by Fox News ... "We have so much to discuss u need to be careful but we can help our country," Warner texted the lobbyist, Adam Waldman, on March 22, 2017. "I'm in," Waldman, whose firm has ties to Hillary Clinton, texted back to Warner.
LET THE WINTER GAMES BEGIN: Expect to see athletes from around the world participate in the opening ceremony for the 2018 Winter Olympics ... The spectacle will start on Friday at 8 p.m. local time (6 a.m. ET) at the Pyeongchang Olympic Stadium in Pyeongchang, South Korea. A staple of the Opening Ceremony is the athletes' parade, which features delegations from competing countries. This year, the delegations from North Korea and South Korea are expected to march together under a unification flag.
DIRECT CHANNEL TO IRAN?: The Trump administration secretly reached out to Iran in December to propose creating a direct channel to negotiate the release of prisoners held by each side, the Wall Street Journal reports ... However, Iran didn't respond and has refused to engage with U.S. officials on the offer, despite subsequent offers. The reported U.S. offer represented the first time since President Trump took office that the administration had signaled its willingness to engage in a potential prisoner swap.
#METOO BACKLASH: A California Democrat who was featured in Time magazine's "Person of the Year" issue for her role in the anti-sexual harassment #MeToo movement has been accused of drunkenly groping a male legislative staffer at a softball game in 2014 ... Assemblywoman Cristina Garcia allegedly stroked the then-25-year-old staffer's back, tried to squeeze his buttocks and attempted to grab his crotch as he walked away from her. The staffer, Daniel Fierro, worked for Assemblyman Ian Calderon at the time. He did not immediately report the incident. But in January, he told Calderon, who then reported it to Assembly leaders. Garcia was "clearly inebriated" during the 30- to 35-second episode, Fierro said.
AS SEEN ON FOX NEWS
BUSH BADGE OF HONOR: "The president should wear the tired Bush critiques as a badge of honor. Trump is doing what previous administrations were unwilling or unable to do." – Laura Ingraham, on "The Ingraham Angle," slamming former President George W. Bush's criticism of President Donald Trump's immigration policies during an appearance in Abu Dhabi. WATCH
'A ROTTEN DEAL': "Actually, we're going to bring back Obama-era deficits. I was elected to combat Obama-era deficits." – Sen. Rand Paul, on "Your World with Neil Cavuto" explaining why he held up the Senate's vote on a massive budget deal. WATCH
ACROSS THE NATION
NYPD ignored more than 1,500 federal requests to detain immigrants last year, official says.
Omarosa on 'Celebrity Big Brother': Trump tweets haunted me, had to 'serve' my country.
Prison for woman, 19, who livestreamed drunken-driving crash that killed sister.
2018 WINTER OLYMPICS
Who are the richest U.S. Winter Olympians?
Appeals by 47 Russians against Olympic bans rejected.
North Korea sanctions tested by Nike, Samsung products.
MINDING YOUR BUSINESS
Dow has second-worst day ever. What's going on? | What will Jamie Dimon do this time?
Retirement savings: Money in accounts like IRAs, on average, now tops $100,000.
Pepsi challenges Coca-Cola with sparkling water line.
NEW IN FOX NEWS OPINION
At National Prayer Breakfast, was Donald Trump channeling Paul Harvey?
Canceling a father-daughter dance is an incredible example of political correctness gone out of control.
Todd Starnes: Godless! Atheists complain about gospel music at MLK Day celebration.
HOLLYWOOD SQUARED
Rose McGowan's former manager Jill Messick, embroiled in Weinstein scandal, commits suicide.
Uma Thurman's 'Kill Bill' crash could have resulted in 'decapitation,' stunt expert says.
Kim Kardashian sparks outrage with topless photo taken by 4-year-old daughter.
DID YOU HEAR ABOUT THIS?
Why the sun will soon get dimmer.
MillerCoors launching fruit-flavored cheap beer aimed at millennials.
Study finds beetle has hugely disgusting survival mechanism.
STAY TUNED
On Fox News:
Fox & Friends, 6 a.m. ET: Pollster Scott Rasmussen explains the "one major difference" between 2010 and 2018 midterm elections; Mike Huckabee and Ben Shapiro weigh in on the budget battle woes in Congress; Turning Point USA founder Charlie Kirk discusses the threats faced by conservative college students.
Tucker Carlson Tonight, 8 p.m. ET: Kansas Secretary of State Kris Kobach on why he wants to bring the citizenship question back to the U.S. census.
On Fox Business:
Mornings with Maria, 6 a.m. ET: Guests include: House Ways and Means Committee Chairman Kevin Brady; Jim Kallstrom, former FBI assistant director; Rep. Dave Brat; Howard Lutnick, Cantor Fitzgerald chairman and CEO.
Varney & Company, 9 a.m. ET: Maryland State Sen. Richard Madaleno; Michele Rigby Assad, former undercover officer in the National Clandestine Service of the CIA; Jack Ablin, Cresset Wealth Advisors Chief Investment Officer; Ron Paul, former Texas congressman.
Cavuto: Coast to Coast, Noon ET: David Stockman, former budget director under President Reagan.
On Fox News Radio:
The Fox News Rundown podcast: The 2018 Winter Olympics are underway in Pyeongchang, South Korea. Fox News foreign correspondent Simon Owen discusses ongoing tension between the U.S. and North Korea as the opening ceremonies begin. ISIS and Al-Qaeda have been pushed out of their respective territories, but their methods are evolving. Fox News' Lucas Tomlinson and Bryan Llenas explain. Plus, commentary from Fox News Sunday host Chris Wallace.
Want the Fox News Rundown sent straight to your mobile device? Subscribe through Apple Podcasts, Google Play, and Stitcher.
The Brian Kilmeade Show, 9 a.m. ET: Chris Wallace and Chris Stirewalt take on the battle over the budget in Congress and the implications of the second government shutdown in two months. Geraldo and David Bossie take on the top political headlines of the day. eHarmony CEO Grant Langston talks Valentine's Day.
#OnThisDay
1964: The Beatles make their first live American television appearance on "The Ed Sullivan Show," broadcast from New York on CBS.
1950: In a speech in Wheeling, W.Va., Sen. Joseph McCarthy, R-Wis., charges the State Department is riddled with Communists.
1870: The U.S. Weather Bureau is established.
Fox News First is compiled by Fox News' Bryan Robinson. Thank you for joining us! Enjoy your day, and weekend! We'll see you in your inbox first thing Monday morning.