FOX NEWS FIRST: California burns, Hillary silent on Harvey sex scandal, Ivana Trump exclusive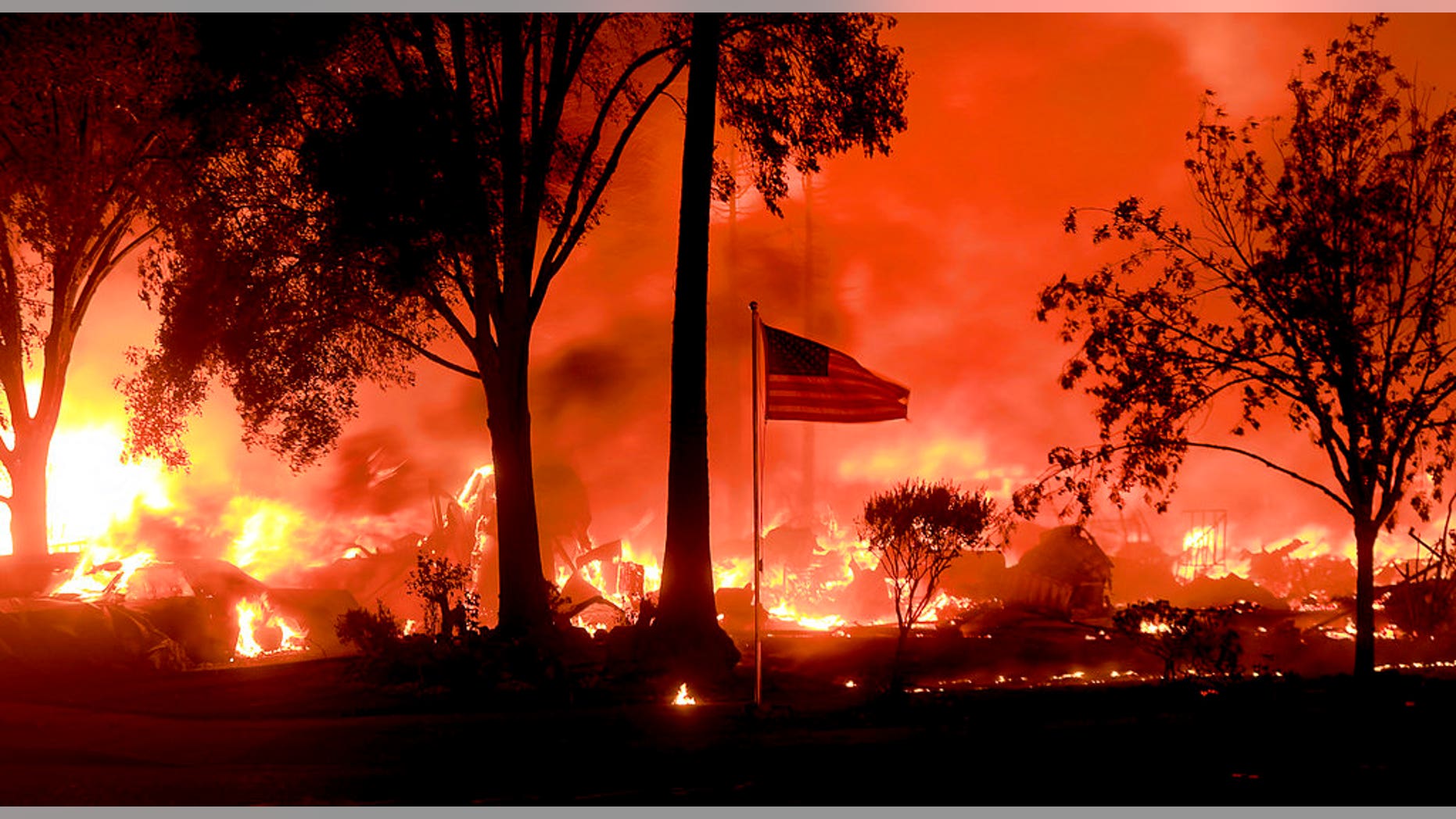 TOP OF THE MORNING
It's Tuesday, Oct. 10, 2017. Welcome to Fox News First, your place for all the news you need to start the day. To have your early morning news emailed directly to your inbox, subscribe by clicking here.
Here's your Fox News First 5 - the first five things you need to know today:
California is in a state of emergency as wildfires have killed at least 10 people, destroyed 1,500 homes
Hillary Clinton is facing growing pressure to denounce campaign donor and pal Harvey Weinstein over sex harassment allegations
Supporters of ESPN's Jemele Hill are outraged over her network suspension
The FBI is citing "black identity extremists" as new domestic terrorist threats 
TUNE IN: Cable News Exclusive - President Trump's ex-wife Ivana Trump speaks out on her dustup with first lady Melania Trump on "Fox & Friends" today at 6 a.m. ET
Let's take a closer look at these stories ...
THE LEAD STORY: At least 10 people are dead and more than 100 are reported missing as wildfires continue to rage through much of Northern California's wine country, authorities said ... Scott Alonso, communications director for Sonoma County, said family members have been reporting those missing in calls to a hotline in the county. He said it is possible that many or most of the missing are safe but simply can't be reached because of the widespread loss of cell service and other communications. The San Francisco Chronicle reported that the fire has grown 2,000 acres since Monday afternoon and is now at 27,000 acres. The 14 fires destroyed at least 1,500 homes. California Gov. Jerry Brown has declared a state of emergency in Napa, Sonoma and Yuba counties because of wildfires that the governor says are threatening thousands of homes.
HILLARY'S SILENCE IS DEAFENING: Hillary Clinton has remained silent about Hollywood mogul Harvey Weinstein, her friend and a wealthy campaign donor, days after he was accused of sexually harassing actresses and women who worked for him -- and the pressure is building on the former presidential candidate to speak up ...  Weinstein contributed $46,350 to Clinton during her presidential candidacy, as well as to HILLPAC, a committee Clinton used to support other Democrats while she was a senator, according to The Associated Press. The embattled Hollywood producer also has made massive donations to the Clinton Foundation. The foundation says on its official website that Weinstein gave in the range of $100,001 to $250,000 through June 2017. Days after the accusations against Weinstein surfaced, Clinton's Twitter page has made no mention of the story -- but she did have time to plug her children's book and a talk at Stanford University.
Why does this matter? Given the accusations Bill Clinton has faced of being a womanizer and sexual predator over the years - and the fact that Hillary has stayed by his side - the former presidential candidate's credibility as a feminist is further damaged the longer she stays silent. Also, the silence of the liberal Hollywood elite over Weinstein, avoidance of the scandal, and the Democratic Party's attempts to distance itself scream hypocrisy. Weinstein and his family have given more than $1.4 million in political contributions since the 1992 election cycle, virtually all of it to Democratic lawmakers, candidates and their allies, according to the nonpartisan Center for Responsive Politics.
Featured on FoxNews.com: (1) Ex-NY Times reporter: Paper refused to run Weinstein sex story in 2004 (2) 'It's a New York thing': SNL creator Lorne Michaels on why Weinstein was left out of show
Everything you need to know about the Harvey Weinstein sex scandal
ESPN's JEMELE HILL SUSPENDED FOR TWO WEEKS: Supporters of Jemele Hill, the controversial ESPN anchor who called for fans to boycott the NFL after labeling President Trump a "white supremacist" on Twitter, are outraged over her suspension for separate remarks she made about the Dallas Cowboys ... Hill was suspended Monday for violating ESPN's social media guidelines a second time. She called on fans through Twitter to take indirect action against the Dallas Cowboys after owner Jerry Jones told players they would be benched if they didn't stand up during the national anthem. Rev. Al Sharpton said the suspension "should NOT go unanswered. ESPN and advertisers will hear from us!" Rosie O'Donnell tweeted "We are with you," adding the hashtag #systemicRACISM.
A NEW DOMESTIC TERROR THREAT: The 2014 shooting of Michael Brown in Ferguson, Mo., has spawned a violent domestic threat from "black identity extremists" - BIEs - who have stepped up attacks on police, according to an explosive new report by the FBI's counterterrorism division ... The warning, first reported by Foreign Policy magazine, says that "it is very likely BIEs proactively target police and openly identify and justify their actions with social-political agendas commensurate with their perceived injustices against African Americans ..." Brown, an African-American 18-year-old, was shot in August 2014 after struggling with white police officer Darren Wilson. Although Brown's supporters claimed it was a deadly case of police brutality, Wilson was cleared of wrongdoing and resigned in November 2014. The shooting led to protests in Ferguson that then spread to other parts of the country. It gained added momentum after subsequent racially charged police shootings, spurred on via social media and the group Black Lives Matter.
FOX NEWS EXCLUSIVE: President Trump's ex-wife Ivana Trump will address alleged friction between her and first lady Melania Trump in an exclusive cable news interview with Ainsley Earhardt on "Fox & Friends" today ... On Monday, first lady Melania Trump's office fired back at Ivana after she boasted of her access to the White House and even referred to herself as the real "first lady." In an interview with "Good Morning America" to promote her new book "Raising Trump," Ivana Trump said she and the president speak "about once every 14 days."
"I have the direct number to White House, but I [don't] really want to call him there because Melania is there," she said. "I don't want to cause any kind of jealousy or something like that because I'm basically first Trump wife." She added with a laugh: "I'm first lady, okay?"
But Melania Trump's office said there "is clearly no substance to this statement from an ex."
"This is unfortunately only attention-seeking and self-serving noise," the first lady's communications director, Stephanie Grisham, said in a statement to Fox News. Tune in to "Fox & Friends" starting at 6 a.m. ET to watch the interview!
ABOUT LAST NIGHT
HARVEY'S HYPOCRITES: "Hollywood loves to wave the self-righteous finger. People want a leg up and Harvey Weinstein is an extremely powerful man and an absolute bully." – Actor Dean Cain, on "Tucker Carlson Tonight," addressing reports that Hollywood celebrities turned a blind eye to Weinstein's alleged sexual harassment for years. WATCH
BANNON UNCORKED: "[Corker] doesn't have the guts to get back in the [2018] race. He got out because he saw what happened in Alabama." – Former White House Chief Strategist Steve Bannon, on "Hannity," addressing the friction between Sen. Bob Corker and President Trump and Corker's decision not to seek re-election. WATCH
MINDING YOUR BUSINESS
AIG sees third-quarter catastrophe losses of about $3 billion.
Security CEO in charge of Route 91 Harvest festival targeted in the Las Vegas massacre speaks out.
Lou Dobbs: NFL players that protest the flag are ingrates.
Puerto Rico's governor responds to the Jones Act waiver expiring.
NEW IN FOX NEWS OPINION
Cal Thomas: Why criticize Harvey Weinstein? Restraint is passé and uncool, right? So anything goes.
The Democrats' IT scandal just got even more bizarre.
Sean Hannity: Americans victimized by liberal cultural hypocrisy.
Tomi Lahren: 'Hollywood, you don't do what's right, you do what's popular.'
HOLLYWOOD SQUARED
John Wayne Gacy clown paintings, other artwork to hit auction block.
Seth Rogen slammed for trying to get Costco to stop selling conservative writer Dinesh D'Souza's book.
Real Housewives star NeNe Leakes issues apology for sexual assault comments on stage.
Jessie James and Eric Decker reveal they're expecting their third child in heartwarming video.
DID YOU HEAR ABOUT THIS?
Giant Trump pin cushion turns heads at Michigan-based art competition.
Sexy Stranger Things costume draws backlash from fans.
Beware radioactive wild boars: Hunters in Sweden concerned about Chernobyl's frightening legacy.
Unsent text message OK as valid will, says court.
STAY TUNED
On Fox News:
Fox & Friends, 6 a.m. ET: President Trump's ex-wife Ivana sits down with Ainsley Earhardt for a cable exclusive interview.
The Daily Briefing with Dana Perino, 2 p.m. ET: Former first lady Laura Bush and Condoleezza Rice speak out in a rare interview.
On Fox Business:
Mornings with Maria, 6 a.m. ET: Rep. Lee Zeldin explains why President Trump should not recertify the Iran nuclear deal; PACIV CEO Jorge Rodriguez gives the latest developments on recovery efforts in Puerto Rico; John Sculley, former Apple CEO and Zeta Global's co-founder, takes on the business hot topics of the day.
Varney & Co., 9 a.m. ET: NFL Hall of Famer Joe Namath takes on the national anthem protest controversy.
Cavuto: Coast to Coast, Noon, ET: Karl Rove sounds off on the war of words between President Trump and Sen. Bob Corker and more.
The Brian Kilmeade Show, 9 a.m. ET to 12 noon ET: Laura Ingraham gives insight on the Harvey Weinstein sex scandal and Rep. Ron DeSantis discusses hurricane relief efforts and more political hot topics.
#OnThisDay
1966: The Beach Boys' single "Good Vibrations," by Brian Wilson and Mike Love, is released by Capitol Records.
1957: The TV series Zorro, starring Guy Williams as the masked hero, premieres on ABC.
1935:  The George Gershwin opera "Porgy and Bess," featuring an all-black cast, opens on Broadway, beginning a run of 124 performances.
1845: The U.S. Naval Academy is established in Annapolis, Maryland.
Thank you for joining us on Fox News First! Enjoy your day, and we'll see you in your inbox first thing Wednesday morning.