FOX NEWS FIRST: Asylum-seeking 'caravan' migrants challenge Trump; Netanyahu makes case to withdraw from Iran deal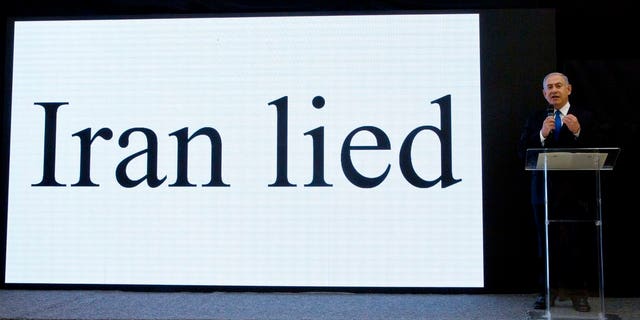 Welcome to Fox News First. Not signed up yet? Click here.
Developing now, Tuesday, May 1, 2018
President Trump calls the Iran nuclear deal 'a horrible agreement for the United States' after Israeli Prime Minister Benjamin Netanyahu's presentation alleging Iran is lying about its nuke program
Nearly 200 migrants from the 'caravan' that traveled across Mexico will seek U.S. asylum in a direct challenge to the Trump administration's immigration policy
Special Counsel Robert Mueller outlined more than 40 questions he wanted to ask Trump in a possible interview for the president's legal team earlier this year, according to reports
The Trump administration announces it will delay tariffs on the European Union, Canada and Mexico ahead of talks with China this week
TUNE IN: Fox News' Bret Baier and Martha MacCallum to moderate the West Virginia GOP Senate primary debate Tuesday at 6:30 p.m. ET
THE LEAD STORY - NETANYAHU TRIES TO SWAY TRUMP IRAN DECISION: President Trump called the Iran nuclear deal a "horrible agreement for the United States" in response to Israeli Prime Minister Benjamin Netanyahu's bombshell allegations about Tehran's covert activity – but stopped short of saying whether he'd abandon the deal ahead of a looming deadline ... The president addressed the claims during a Rose Garden press conference Monday, moments after Netanyahu held a dramatic presentation revealing intelligence he says shows Iran is lying about its nuclear weapons program. "That is just not an acceptable situation," Trump said. Trump said Netanyahu's claims show Iran is "not sitting back idly." Trump has repeatedly expressed a desire to exit the Iran deal, which was signed during the Obama administration. A crucial deadline for re-certifying the deal is on the horizon.
CARAVAN 'INVASION' AT THE BORDER: Almost 200 migrants parked at the nation's busiest border crossing are planning to seek asylum in the U.S. following their dramatic journey in a caravan through Mexico, setting up a showdown with the Trump administration over immigration and asylum policy ... Eight women and children entered a border facility on Monday to formally file asylum papers, with the rest to follow soon, organizers said. Immigration officials confirmed the facility had begun "processing undocumented arrivals again." The caravan, which reached the border with San Diego after an approximately 2,000-mile trip, once included more than a thousand people. It is now down to a few hundred. The migrants' decision to seek asylum comes just one day after U.S. officials closed the border facility there because it was at capacity.
MUELLER'S OUTLINE FOR TRUMP: Earlier this year, Russia Special counsel Robert Mueller outlined for President Trump's legal team more than 40 questions he planned to ask in a possible interview with the president, according to reports ... The list of questions, leaked by unnamed sources and reviewed by The Wall Street Journal, focuses mostly on Trump's decisions to fire former FBI Director James Comey and to dismiss former national security adviser Mike Flynn, who has pleaded guilty to lying to investigators about his contacts with Russia. One question, the New York Times reported, focused on whether the president had contacted Flynn about possible immunity or a pardon.
POTENTIAL TRADE WAR AVOIDED - FOR NOW: The Trump administration announced that it would wait another 30 days before deciding whether to impose tariffs on steel and aluminum imports from the European Union, Canada and Mexico -- temporarily avoiding a potential trade war with the 28-member bloc ahead of crucial trade talks with China this week ... The White House also said it had reached an agreement with South Korea on steel imports following discussions on a revised trade agreement, the outlines of which were previously announced by U.S. and South Korean officials. The administration also announced that it had reached agreements in principle with Argentina, Australia and Brazil on steel and aluminum that will be finalized shortly.
THE ROAD TO THE 2018 MIDTERMS: Fox News Channel is launching the America's Election Headquarters 2018 midterm election series with the West Virginia GOP Senate primary debate Tuesday ... Bret Baier and Martha MacCallum will moderate the event at the Metropolitan Theatre in Morgantown, W. Va., from 6:30 to 7:30 p.m. ET. The three candidates who reached a threshold of 10 percent in a Fox News poll and will participate in the debate are U.S. Rep. Evan Jenkins, the state's Attorney General Patrick Morrisey and businessman Don Blankenship.
AS SEEN ON FOX NEWS
UNFUNNY BONE: "Substitute 'slavery' for 'abortion' and see how funny it is." – "Daily Wire" editor Ben Shapiro, on "The Story with Martha MacCallum, slamming comedian Michelle Wolf for her crude performance at the White House Correspondents' Dinner and her joke where she said people "shouldn't knock [abortion] until they try it." WATCH
'ANIMUS' FOR THE PRESIDENT CONFIRMED: "Tasteless, aggressively unfunny, and it was frankly sad for her." – Laura Ingraham, in her opening monologue on "The Ingraham Angle," saying the White House Correspondents' Association's choice of comic Michelle Wolf as its dinner emcee proved the media are "brimming with hatred" for President Trump. WATCH
MAINSTREAM MEDIA MADNESS
Kathy Griffin curses up a storm on ABC's 'The View' during profane Trump rant.
Megyn Kelly warns NBC News colleagues who defend Tom Brokaw.
Trump says 'fake news' going 'bonkers' with false stories of White House turmoil.
NY Times Metro editor resigns after investigation, citing mistakes.
THE SWAMP
Woman says Mo. Gov. Greitens 'coaxed' her into sexual encounters.
Roy Moore, ex-Senate candidate, files lawsuit claiming political conspiracy against him.
Detroit released from active state oversight of finances.
ACROSS THE NATION
Parkland victim Meadow Pollack's father sues Deputy Scot Peterson.
San Francisco announces needle cleanup team amid crackdown on street littering.
Controversy after Confederate battle flag raised over liberal North Carolina county.
Teen shamed for wearing 'racist' dress to prom, sparking cultural appropriation debate.
MINDING YOUR BUSINESS
Apple iPhone sales stoke worry ahead of earnings report | Apple stock buyback, dividend program announcement expected
Boeing to buy aerospace parts maker KLX for about $3.2 billion in cash.
Best and worst large cities to start a business.
FOX NEWS OPINION
Cal Thomas: Trump needs to study up on North Korea's history of duplicity before meeting with Kim Jong Un.
Van Hipp: Roosevelt and Patton -- Two Americans who helped save the Free World.
Christian Jacob: The virtual human is here -- how much are you willing to share about yourself with the world?
HOLLYWOOD SQUARED
Rapper with ties to Snoop Dogg issues 'Crip alert' for Kanye West for Trump support.
Alec Baldwin says Rob Schneider 'has a point' in criticism of 'SNL' Trump impersonation.
R. Kelly slammed by Time's Up leaders for alleged sexual misconduct.
DID YOU HEAR ABOUT THIS?
PHOTO: Giant alligator nearly the size of a car stops traffic on Texas highway.
NASA sets sights on Mars with historic InSight launch.
Movie theater forced to issue dress code after customers keep showing up in pajamas, bathrobes.
STAY TUNED
On Fox News:
Fox & Friends, 6 a.m. ET: A breakdown of Israeli Prime Minister Benjamin Netanyahu's case for pulling out of the Iran nuclear deal; Rob O'Neill examines how far the U.S. has come in the fight against terror seven years after he killed Usama bin Laden; Condoleezza Rice gives the inside story on her new book; 'Breakfast with Friends' from West Virginia ahead of Tuesday's prime-time GOP Senate debate.
America's Election Headquarters: Tune in at 6:30 p.m. ET as Bret Baier and Martha MacCallum moderate the West Virginia GOP Senate primary debate!
On Fox Business:
Mornings with Maria, 6 a.m. ET: John Calamos, Calamos Founder, Chairman and Global chief information officer; John Koudounis, Calamos CEO; Tim Sloan, Wells Fargo & Company CEO and president; Maya MacGuineas, president of the Committee for a Responsible Federal Budget; Timothy Mayopoulos, Fannie Mae CEO; Julie Sweet, Accenture North America CEO; Rep. Jeb Hensarling.
Varney & Co., 9 a.m. ET: Major League Baseball Hall of Famer Cal Ripken, Jr.; Orange County, Calif. supervisor Michelle Steel.
Cavuto: Coast to Coast, Noon ET: Former Sen. Joe Lieberman.
The Intelligence Report, 2 p.m. ET: Corey Lewandowski; Andy Puzder; Rep. Dianne Black.
After the Bell, 4 p.m. ET: Rep. Tom Reed; Michael Cutler, retired senior special agent for the United States Immigration and Naturalization Service.
Lou Dobbs Tonight, 7 p.m. ET: Condoleezza Rice; Victoria Toensing and Joe diGenova.
On Fox News Radio:
The Fox News Rundown podcast: A caravan of hundreds of migrants arrived at the U.S.-Mexico border, and they are now seeking asylum. Fox News' William La Jeunesse is at the border and gives the latest on the standstill. Comedian Michelle Wolf is in hot water over her White House Correspondents' Dinner routine, where she targeted members of the Trump administration. Fox News Radio White House correspondent Jon Decker and Fox News talk radio host and comedian, Tom Shillue, discuss why her jokes fell flat. Plus, commentary from Judge Andrew Napolitano.
Want the Fox News Rundown sent straight to your mobile device? Subscribe through Apple Podcasts, Google Play, and Stitcher.
The Brian Kilmeade Show, 9 a.m. ET: The caravan of migrants at the U.S.-Mexico border and Trump's upcoming key moves on the Iran deal and North Korea will be the key topics of the day. Guests include: Former Secretary of State Condoleezza Rice as she also discusses her new book, "Political Risk"; Allen West; Karl Rove; Chris Stirewalt; and Andy Puzder on the Trump administration's decision to delays tariffs on EU, Canada, Mexico ahead of China talks.
#OnThisDay
2011: President Barack Obama announces the death of Usama bin Laden during a U.S. commando operation (because of the time difference, it was early May 2 in Pakistan, where the al-Qaeda leader met his end).
1967: Elvis Presley marries Priscilla Beaulieu at the Aladdin Hotel in Las Vegas. (They would divorce in 1973.)
1898: Commodore George Dewey gives the command, "You may fire when you are ready, Gridley," as an American naval force destroys a Spanish squadron in Manila Bay during the Spanish-American War.
Fox News First is compiled by Fox News' Bryan Robinson. Thank you for joining us! Enjoy your day! We'll see you in your inbox first thing Wednesday morning.