Florida man gives chilling account of trying to save father, daughter from sinking van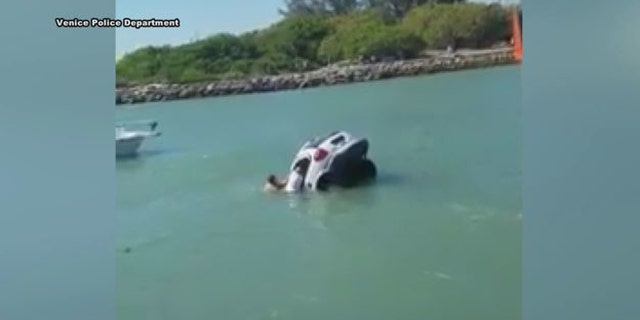 A man who jumped into action to try to rescue a father and daughter from a sinking van in Florida gave a chilling account of his efforts to save the pair before they drowned.
Police in Venice said the incident happened Monday afternoon around 4:20 p.m., when the van left the roadway, hit a park bench, stopped, then backed up and ended up driving over rocks into the Venice Inlet leading to the Gulf of Mexico.
The driver, 64-year-old Carol Hayden, and her father, 88-year-old Eugene Harden, didn't make it out of the van, according to police.
Tim Cobb told FOX 13 Tampa he jumped into the water off a jetty after he saw the van go in.
"They were frozen with fear, but they were trying to get out," Cobb told FOX 13. "I want the family to know they did everything to try and get out."
2 BODIES PULLED FROM CENTRAL PARK WATERS IN 2 DAYS, POLICE SAY
Witness video obtained by the Venice Police Department and posted on the city's Facebook page shows rescuers and bystanders frantically trying to gain access to the van as the tidal current dragged the submerged vehicle out towards the Gulf of Mexico.
One person in the video used a hammer to break out a back window of the van, and Cobb can be heard yelling to ask someone to break another window as nearby boats tried to help.
Cobb told FOX 13 he made eye contact with Eugene when he swam up to the vehicle.
"He was pulling on the handle," Cobb said. "I had both of my feet up against the van trying to get the door open, but with thousands of pounds of water pressure it just wouldn't budge."
CRANE OPERATOR RESCUED NEARLY 200 FEET ABOVE DOWNTOWN TAMPA
The whole incident happened within minutes, but Cobb said it felt much longer.
"It was the most disappointing thing I've ever gone through in my life," Cobb said. "It felt like an hour by the time the van actually went down. It was heart wrenching, frustrating. I really thought I could do something to help."
Several hours later, police were able to locate the vehicle and activate the airbags to help pull it from the water. The crash is still under investigation pending further review and a Medical Examiner's Report, according to police.