Five-alarm fire ravages San Francisco construction site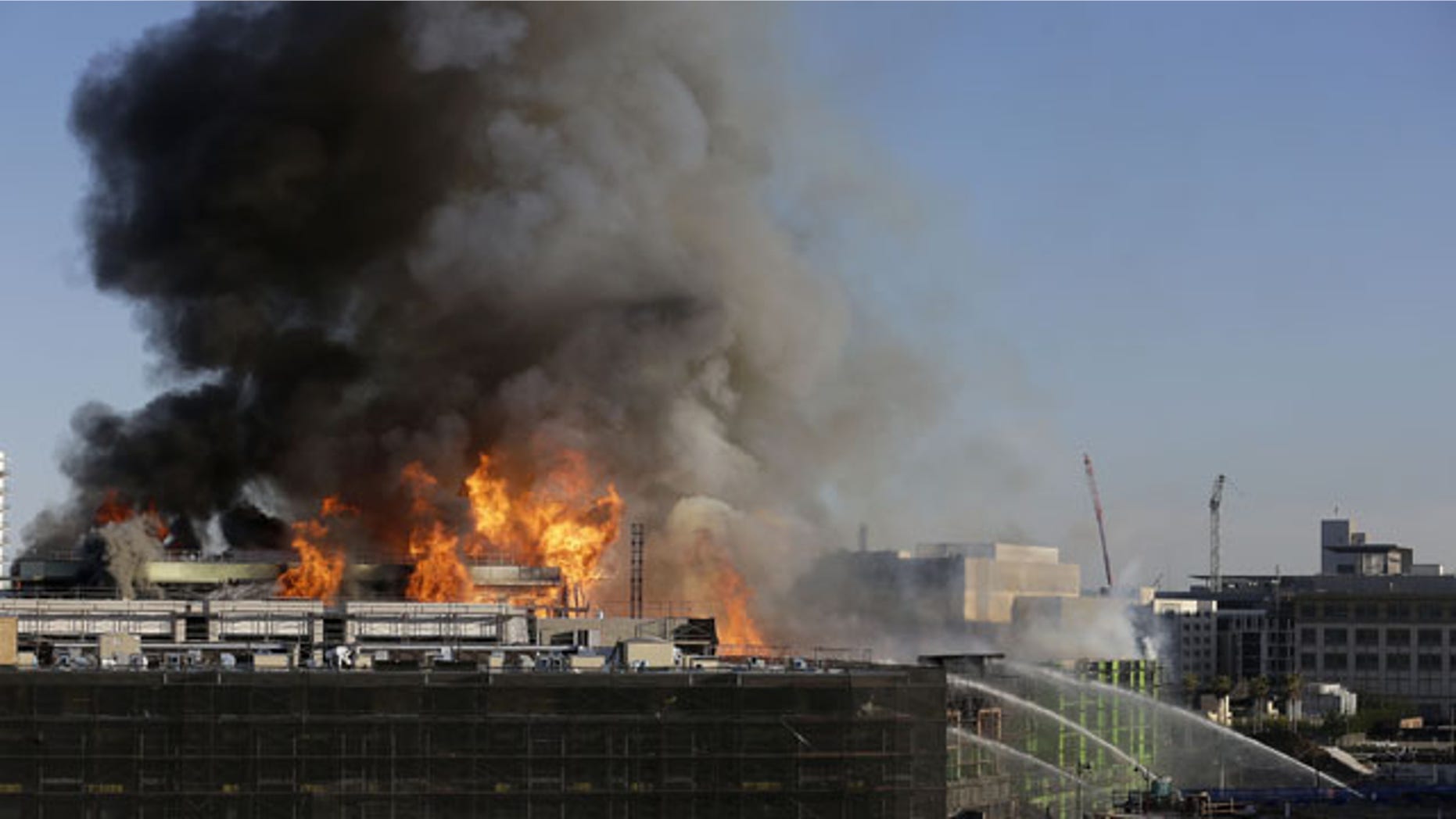 A fast-moving fire at a San Francisco construction site Tuesday afternoon forced nearby buildings to be evacuated and sent a plume of smoke into the air that could be seen across the Bay Area.
The five-alarm fire began at around 5 p.m. local time and ravaged a high-rise building under construction in the Mission Bay neighborhood of the city, leading to the collapse of a wall of the structure about an hour later. As daylight waned, the flames calmed and the smoke turned from black to white.
About 150 firefighters responded to the scene, and teams were expected to remain there throughout the night. San Francisco Fire Department spokeswoman Mindy Talmadge said that one firefighter suffered second-degree burns to his face. No other injuries were reported.
The cause of the blaze was not immediately clear.
Fire-suppression systems had not yet been installed in the building, making the battle more difficult, Talmadge said. Fire Chief Joanne Hayes-White praised firefighters for ensuring that the blaze did not spread to neighboring buildings, calling it "a great save."
"Thanks to the leadership and determined action of our Fire Department, the very real potential of severe damage to other homes, businesses, and structures in the neighborhood was avoided," San Francisco Mayor Ed Lee said in a statement Tuesday night. "The Fire Department will continue to investigate the cause of the blaze and the City and the Red Cross will work closely with any displaced residents of nearby homes."
It was not immediately known how many residents had been displaced by the fire.
Eli Brill, 31, told KTVU that he came home to his apartment at the Strata at Mission Bay, across the street from the burning building, after the fire had started. After crews refused to let him in the building, told them that his dog was still in his apartment. A firefighter escorted Brill to retrieve the animal.
Another Strata resident, 25-year-old Hisham Bajwa, said he could see the fire start to burn outside his window shortly before 5 p.m.
"There were two main points of fire, one on the left and one on the right," Bajwa said. "It got pretty big pretty fast."
The Mission Bay neighborhood is a onetime industrial area that lies along the San Francisco Bay. It is home to a University of California, San Francisco medical campus and is close to AT&T Park, the San Francisco Giants stadium.
The Associated Press contributed to this report.