Custody Battle Keeps Arizona Mom and Daughter Stuck in Bahrain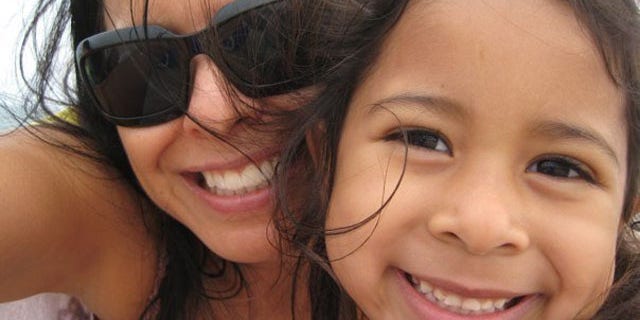 EXCLUSIVE: Yazmin Maribel Bautista wants desperately to get out of Bahrain, but she says she won't return home to the U.S. without her 5-year-old daughter -- and that's something her ex-husband says will never happen.
Bautista, 43, of Phoenix, is locked in a bitter child custody dispute with her 28-year-old ex-husband, Sadiq Jaffar Al-Saffar, over their daughter Fatima, who was born in 2004 when her parents lived in Arizona.
Fatima wasn't even 2 years old when her father left her mother and went home to his native Bahrain, where he got engaged to a much younger woman. But despite having been abandoned, Bautista traveled to visit with her ex-husband in Bahrain last year, lured by the promise of a new job and a chance for her daughter to spend time with her father -- an information technology worker -- in his native country.
But now that his ex-wife and daughter are in Bahrain, Al-Saffar has filed for custody of the little girl -- and a judge in the small Mideast country has ruled that the little girl, a native-born American, cannot go home with her mom.
Bautista, who also has a son from a previous relationship, says she and Fatima were blocked from leaving Bahrain on two occasions last year -- on Sept. 26 and Oct. 19. On one occasion, she said, officials from the U.S. Embassy there advised her to speak with a judge after clearing immigration.
"Once you talk to him, you and Fatima can go your way," Bautista recalled the embassy official saying.
But "[t]he judge told me Fatima could not leave Bahrain because her father did not want her to leave," Bautista says. "They told me, 'If you want to leave, you can leave. But the girl stays.' Obviously, I wasn't going to leave my baby."
That "nightmare," as Bautista calls it, occurred nine months ago, and it caught the eye of her senator, John McCain, who sent a letter in January to Bahraini Ambassador Houde Erza Ebrahim Nonoo, urging her to "expeditiously resolve" the custody dispute and allow Bautista and Fatima to return home. State Department officials in Washington also are closely following the case.
Alongside her daughter, who she said cries constantly and has too many "blue days" away from home, a broke, unemployed and nearly broken Bautista said in an interview that she continues to stay with friends in Bahrain while awaiting her next court date on June 23. That's when witnesses will be asked to testify on her competency as a mother, she said.
"Fatima is not the same little girl she was when she arrived in Bahrain," Bautista said. "She has crying spells. She misses home, she misses her brother. That's where our home is -- our home is in Arizona."
Al-Saffar, meanwhile, accused Bautista of not adhering to their custodial arrangement, which grants him custody of Fatima three days a week. He is now seeking full custody of the little girl, he told FoxNews.com.
"What she's trying to do is take my daughter back to Phoenix so I cannot see her," Al-Saffar said. "She just wants to take my daughter and leave. She's completely abandoning me from my daughter."
Al-Saffar said he hasn't seen Fatima for more than a month, and the ongoing turmoil is "not something that's good" for his daughter. He claims Bautista tried to leave the country without his knowledge after he arranged a teaching job for her last August.
"She did not even call me to let me say goodbye to my daughter," Al-Saffar said. "I did not even know she was taking my daughter and actually leaving."
Al-Saffar said he learned of Bautista's attempt to leave the country only because he received an e-mail notification related to the airline ticket he purchased for her.
"If she were to have left, I would have never seen my daughter again," he said. "I will never get a visa."
Al-Saffar denied allegations that he lured his ex-wife to Bahrain under the pretense of setting her up with a job and a place to stay in his family's residence with the intention of trapping her there.
"I do confirm that this is not true," he said. "Why would I wait until the last minute?"
Bautista said she and Al-Saffar met in early 2004 at a café in Tempe, Ariz. She said Al-Saffar, a student at Arizona State University, told one of her friends that he was interested in her. On May 27, 2004, they married in a civil court ceremony. Bautista was five-months pregnant at the time, she said.
"We had good times at the beginning," she said. "We tried to have a happy life; to have a happy relationship."
She said she supported the family while her husband studied computer engineering. Fatima was born on Oct. 14, 2004, just months before Al-Saffar's graduation.
The first sign of trouble came when Al-Saffar's father came to visit from Bahrain, Bautista said. She said her husband's family was unaware that the two had married and that they had a baby daughter.
"I really don't know what my husband told his father at the time, but I told him, 'We are a family now, we have Fatima,'" she said. "He was hiding Fatima from [his family] as well. I wanted him to tell his family that he's a married man with a daughter."
Al-Saffar traveled to Bahrain in January 2005, only to return to Phoenix in April, when he got a job working at an airline. He returned to Bahrain in September 2005, Bautista said. It was at the airport, she says, that she found out it was the beginning of the end.
"He told me, 'By the way, I am not coming back, I am staying in Bahrain,'" she said. "I asked him to please stay until her first birthday, but he said, 'I can't, I can't, I can't.'"
Aside from sporadic phone calls, Bautista said she did not hear from Al-Saffar again until February 2006, when he returned to Phoenix to spend two weeks with his sister. She said Al-Saffar declined to take her and Fatima back to Bahrain, and she said her sister-in-law told her she would never be part of their Muslim family.
Al-Saffar left Arizona again and returned in September 2006 -- this time as a newly engaged man. At the time, Bautista said she no idea that her husband had found love elsewhere.
"He used my house like a hotel, he slept there but spent all his time with his friends," she said. "He was acting different, so I asked him, 'Do you have somebody else?'"
Al-Saffar told FoxNews.com he became engaged to his second wife in early 2006 but waited until 2008 to remarry in Bahrain. Bautista says Al-Saffar admitted to marrying someone else as early as April 2006.
"She is a Muslim and, of course, she's younger," Bautista said of Al-Saffar's 24-year-old wife. "He actually took me for a ride. Was he planning this from the beginning? Probably -- I believe it was a game to him. "
Bautista filed for divorce in 2008 and, by last August, the couple had been working on a plan to unite Fatima with her father and to arrange a job for Bautista, who was unemployed at the time. On the promise of an apartment, a job and other amenities, Bautista agreed to go to Bahrain to "see how it was," she said.
"I left my family, my friends and my son to give it a try, to bring Fatima to her father," she said. "I was very naïve, yes, I know. And, like an idiot, I went back to Bahrain with my daughter."
Once at the Al-Saffar home, Bautista said her ex-husband's relatives told her she was not to be alone in the same room with Al-Saffar, and they accused her of trying to ruin his new marriage.
"They weren't accepting of me," she said. "They wanted to take my daughter from me."
The hostile living situation ultimately drove her to live in a hotel, and eventually in a homeless shelter when funds ran dry.
"That was the most depressing thing that I've gone through," Bautista said. "I had never set foot in a shelter before."
Bautista's plight caught McCain's attention in January, when he wrote to Bahrain's ambassador calling for "urgent personal attention" to the matter.
"Ms. Bautista contends that she, not Mr. Al-Saffar, is the legal custodian of their daughter," McCain's letter read. "She states that she was granted both a legal divorce from Mr. Al-Saffar and sole custody of Fatima by the Superior Court of Arizona in the United States of America. Ms. Bautista further notes that Mr. Al-Saffar signed legal documentation acknowledging that he was aware of said legal proceedings in Arizona and that he agreed to submit to the court's jurisdiction."
Through a spokeswoman, McCain declined comment for this article, including whether embassy officials had responded to his inquiry.
Sahar Hakeem, Ambassador Nonoo's secretary, said the ambassador was out of the country due to a medical issue and was unreachable. Hakeem had told FoxNews.com on Tuesday that "no one" in the embassy in Washington was aware of Bautista's case.
Andy Laine, a spokesman for the U.S. Department of State, said the agency and the U.S. Embassy in Manama were "closely" following the case.
"The U.S. Embassy in Manama continues to raise this case with the government of Bahrain to ensure it receives the attention it deserves," Laine wrote FoxNews.com.
Meanwhile, Edgar Bautista, Yazmin Bautista's 24-year-old son, is hopeful he will soon be reunited with his mother and half-sister. They have not spoken in more than two weeks, he said.
"It's kind of hard to keep in touch," he told FoxNews.com. "I just want my mom and my sister to come back home to Phoenix, to just come back to their regular lives and more forward."
Bautista said she wants the exact same thing for her daughter.
"This is not life for us," she said. "We're going back."