Controversial 'One State Under God' license plate goes on sale in Texas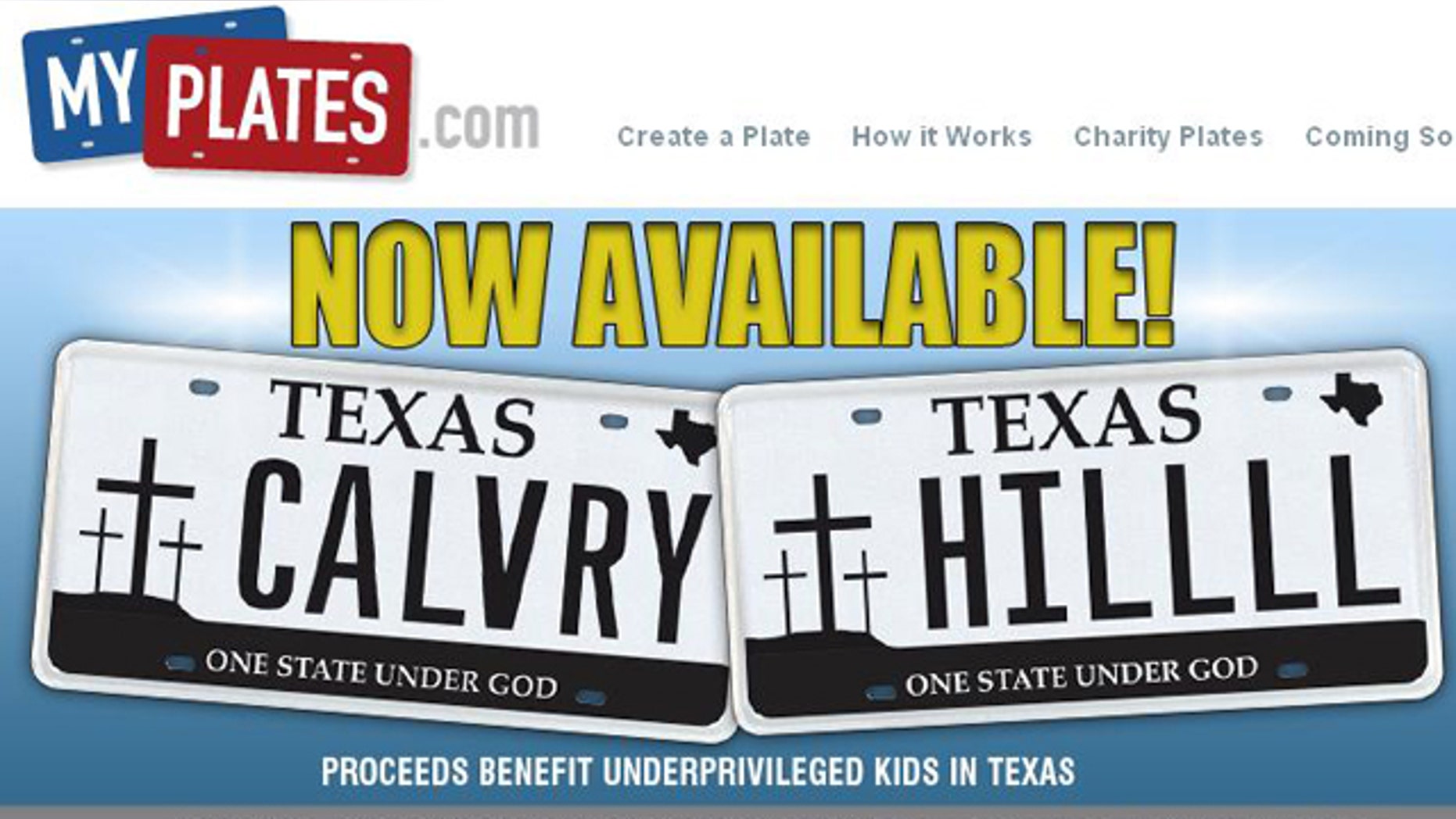 A license plate that declares Texas "One State Under God" went on sale this week, despite an outcry from critics who say government tags shouldn't be endorsing religion.
The license plate, which was narrowly approved in December by the governing board at the state's Department of Motor Vehicles, also features the words and image of the Crosses at Calvary, the site where the Crucifixion of Jesus is said to have occurred. Each plate costs $55, with some proceeds going to a group that works with underprivileged children.
Despite criticisms from religious liberties groups since the board's 4-to-3 approval, the specialty license plate was made available Monday for drivers to order online at www.myplates.com.
"I think you want to be very careful when you give government the authority to favor a particular religion in an official way such as this," Dan Quinn, communications director for the Texas Freedom Network, told FoxNews.com.
"That's what bumper stickers are for," Quinn said of religious decorations on vehicles. "We support religious freedom for everybody. The question is: Do you need government approval for that? We don't want government having that authority."
The group had previously blasted the plate as "disrespectful," saying in a December press release on its website that "It's become pretty clear that our governor [Rick Perry] is dismissive of religious beliefs other than his own, and now his governmental appointees have voted to send a message that Texas is unwelcoming to the religious faiths of some of its citizens."
But the plate's designers note that purchasing the plate is voluntary and that it supports a good cause.
A portion of the proceeds from the license plates will go to Glory Gang, a non-profit organization that works with at-risk youths in Nacogdoches County.
Kelvin Wade, the group's assistant director, said the money will be used to purchase school supplies and holiday gifts, among other items.
"Basically what we're trying to do is help inner-city kids," Wade told FoxNews.com.
Wade said that while he believes the reach of government should be limited, he does not agree with a complete separation of church and state.
"To have the government's hand too deep into the church would change the very nature of what the church is all about," he noted. But, he said, "I have a problem with the separation of church and state here in this area and worldwide."
"We believe the new plate will appeal to a lot of Texans who believe as we do – who will like knowing that sharing a Christian message from their cars will also help kids in need," Glory Gang board member Matt Rocco told The Christian Post.
Anyone can propose a specialty license plate design, according to Texas Department of Motor Vehicles public information officer Adam Shaivitz.
Any individual, non-profit organization or for-profit entity can send their proposal to My Plates, the department's official vendor -- as was the case with the "One State Under God" design, Shaivitz said.
This process "requires the sponsor to submit a deposit of $4,615, which is refunded to non-profit organizations after 500 of your plates are sold or renewed," according to a department brochure. After the proposal has been approved by the vendor, the design then goes before the department for review, Shaivitz said.
"License plates proposed through My Plates must meet legibility and reflectivity standards. However, license plates created using this method do not have to conform to a TxDMV design template, allowing you a larger variety of design options, like having your plate created in full color," the guidelines state.
Non-profit organizations can also apply to create a new license plate directly through the department. A third option calls for interested individuals to approach their legislator, though "new license plates created through this process tend to be for the benefit of state agencies, or are in honor of members of the military," the brochure states. Any bill from the Texas Legislature that proposes a new license plate must pass both the state House and Senate, and be approved by the governor.